Keystone Light
| Molson Coors Canada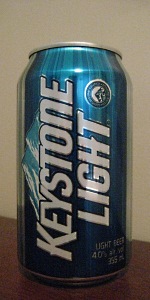 BEER INFO
Brewed by:
Molson Coors Canada
Ontario
,
Canada
molson.com
Style:
Light Lager
Alcohol by volume (ABV):
4.00%
Availability:
Year-round
Notes / Commercial Description:
Brewed according to the quality standards of Coors Brewing Company, Golden Colorado, U.S.A. Keystone Light is affordable beer that is always SMOOTH from start to finish.
Added by slitherySOB on 04-10-2013
Reviews: 2 | Ratings: 66

1.03
/5
rDev
-40.1%
look: 1 | smell: 1 | taste: 1 | feel: 1.25 | overall: 1
I don't know what's worse. A bad flavoured beer, or a bland beer. This is the blandest beer I've ever had. It pours this pale, lighter than piss yellow. My own urine has a naturally darker colour. Starts out with a huge head, which quickly fades to nothing. I could visually see the head shrink before I even took my first sip. Smells like... Nothing. Nada. Zip. I don't know if I'm suffering from a cold, have a sinus infection, snorted coke, but I could detect no aroma whatsoever from this beer. None. It was as though I had a glass of water in front of me. I mean, I couldn't even detect any off scents. Tastes, well... My first sip had a flavour of wet cardboard, but that was gone after my second sip. After you swallow, your mouth feels like it just had a beer. Not so much a taste, but a sensation. But while in the mouth? Nothing. Nada. Zip. It was like I was drinking carbonated water. Seriously. I couldn't even detect an adjunct taste. No sweet corn, no rice, no barley, no hops. Nothing. Mouthfeel is thin and watery. Overcarbonated. I'd drink this beer if it were free and nothing else was available. But if given the choice between this or cold tap water, I'd take the tap water.
1,194 characters

2.45
/5
rDev
+42.4%
look: 2.25 | smell: 2.25 | taste: 2.5 | feel: 2.25 | overall: 2.75
First off..I am not a "Light Beer" guy ,however I do drink em from time to time @ sporting events,and NASCAR races ..why? because when it is 95 Degrees out,along with 85% Humidity,I want to slam back some Ice Cold beers,but not get so shitfaced that I pass out from the heat,or fall down the fucking steps,and "Light Beer" is a really good choice when you want to drink a bunch of cold ones,enjoy the entire Race/Game and be able to make it back to the campground &/or "RV" ~"Keystone Light:" is NOT an "Awful Beer",is it a good beer?..perhaps not,but it is super cheap,and has a very low A.B.V. [4%]~i Agree there is not much flavor,and pretty much taste like most American Macro light Lager beers,in other words rather Bland and almost zero Hop flavor~but @ the same time I Absolutely believe "Light Beers" have their place,I usually do not buy them,or search them out in any way,shape or Form,but I have NO Problem drinking an Ice Cold Keystone Light,when all I want is a cold beer on a hot day,so [IMHO] Keystone Light is not the swill so many people make it out be,but that is to be expected on a Beer site such as this one,where snobbery and hatred for All "Lagers" pretty much is par for the course~
1,207 characters
Keystone Light from Molson Coors Canada
1.72
out of
5
based on
66
ratings.