Old Town Draught House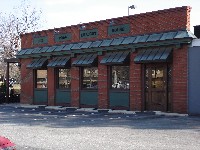 PLACE INFO
Type:
Bar, Eatery
1205 Spring Garden St
Greensboro
,
North Carolina
, 27403-2433
United States
(336) 379-1140 |
map
oldtowndraughthouse.com
Notes:
No notes at this time.
Added by Loki
Reviews: 8 | Ratings: 11
Reviews by Beeranator:

More User Reviews:
3.89
/5
rDev
-2.8%
vibe: 4 | quality: 4 | service: 3.5 | selection: 4.25 | food: 3.5
3.43
/5
rDev
-14.3%
vibe: 4 | quality: 4 | service: 3 | selection: 3.5 | food: 2
I am a regular here, they mostly have your average brews on tap, Sweetwater, Bells, Natty Greens, typical European brews, and all the major domestics. Food is ok, I don't expect outstanding food at a bar.
What draws me here is the atmosphere. The waitresses are always helpful in making a selection on brew. Even when the bar is busy you get checked on in a timely manner if you sit bar side. There are always TVs running with sports or news on. The music is usually something i like or can stand. The bartenders are very friendly to talk to and don't mind holding a conversation with you if they are not busy. The food does come out in a timely manner.
Over all this is my go-to bar in town. They always have a few rotating taps, traditional favorites in case I'm not feeling adventurous, good food, friendly and knowledgeable staff, and it isn't a rough bar. Most people you meet are very nice, I have never seen a fight break out in or around the bar.
958 characters

3.78
/5
rDev
-5.5%
vibe: 3.5 | quality: 4 | service: 4 | selection: 3.5 | food: 3.5
Was in town to take a test at the testing center, and decided to stop by here afterwards to reward my self with a pint. It was right in the limbo time between lunch and dinner, but there were still a decent number of people there. I sat at the bar right in the center of the place. There's a couple of TVs with sports/news going on at the time. Hadn't had lunch yet so I did order some food. Got the chicken fingers appetizer. Not bad. Typical pub food. Chicken was a little on the greasy side, but still pretty good. Their beer selection was alright. Of course there were the main Natty Greene's beers there, about 5 of them actually. The typical Sweetwater and Highland there as well. Some average European brews on tap. The surprises were SN Bigfoot, and Bell's Expedition, along with a couple other Bell's offerings, on tap! I ordered the Expedition. Not a bad little place to stop for a bite and pint. Though it's not the best beer-stop in the city, I'd come back for sure.
978 characters
4.14
/5
rDev
+3.5%
vibe: 4 | quality: 4 | service: 4.5 | selection: 4
I stopped by here for a lunchtime beer today. Located right on the campus of UNCG, this would be a cool place for a college kid to get some good beer. The happy hour special of the day was Natty Greenes Pale Ale for $2/pint, so naturally, I chose that.
I did some paperwork while drinking and the atmoshpere was fairly condusive to mindless. I was there at high noon so the place was packed. It smelled great inside and I was kind of regretting eating earlier in the day. The food looked pretty damn tasty.
The beer selection was nice. They had 17 taps total and only two of them were of the macro variety (if you count PBR and Hoegaarden). Natty Greenes, Duck Rabbit, Foothills were all represented as well as some other nice regionals.
Service was spot on and the waitress was very friendly. I would certainly be here often if I lived in the area or was a student.
870 characters
3.73
/5
rDev
-6.8%
vibe: 4 | quality: 4 | service: 3.5 | selection: 3.5
Decent place here overall. I was able to walk around and hit a bunch of these places on Wednesday when I got into town. Seemed rather unassuming from the outside but I was pleasantly surprised for sure. Nice small crowd and friendly bartenders welcomed me in the door right away, Smell of something nice coming from the kitchen caught me off guard. Few taps, saw a nattys a rogue, a few others, nothing terribly earthshattering but it seemed to do the job, pints were reasonable and overall the place seemed rather nice. I would go here again for sure.
552 characters
4.08
/5
rDev
+2%
vibe: 3.5 | quality: 4 | service: 4.5 | selection: 4
Pretty small corner bar near UNC Greensboro, packed with young folks for the Wednesday specials. Great prices on a nice variety of tap brews. Although I see a few smokers in the place it is very well ventilated and not much of an issue on this night. Good tunes, a noisy crowd and generally a fun atmosphere, especially if your under thirty. I enjoyed myself none the less. About twenty taps including a number of local brews from Natty Greene's and Highlands as well as Two Hearted Ale and Oberon from Bell's along with Hoegaarden, Boddingtons, Guinness, Red Oak Lager and a few more macro types. They apparently have a kitchen but I had already enjoyed a satisfying meal at Sticks and Stones. I didn't see anyone eating here, just young drinkers. Generally good music, plenty of retro. It's tight quarters but the bar covers a good portion of the space and there are a few booths and tables available as well. Seems pretty clean as college hangouts go. Bathroom was small but clean. This is not the natural draw for us senior citizens but service was very prompt and the beer is decent for this area. Bartenders are hard working, very efficient this night, one guy and one girl keeping pace with a good sized crowd. And $3 pints on a Wednesday night! It deserves to be high on the list for Greensboro beer drinkers. This and Sticks & Stones, so far...
1,353 characters
4.28
/5
rDev
+7%
vibe: 4 | quality: 4.5 | service: 4.5 | selection: 4 | food: 4
This is a really nice place to visit when you are in town. The atmosphere is usually quite nice, the rowdier college-types usually go elsewhere. Here you get a good mix of UNCG students, faculty, and friendly locals. The bartenders are usually friendly and attentive, though generally the women are better than the men bartenders. There are 17 taps. Nowadays, about 6 or 7 of these are going to be Natty Greene's brews, which has its pros and cons. Generally, there is a Natty Greene's beer of the day that is great bargain, but it limits the number of breweries represented. The food is quite good for bar food with a decent selection.
636 characters
3.63
/5
rDev
-9.3%
vibe: 3.5 | quality: 3.5 | service: 4 | selection: 3.5 | food: 3.5
This place is right on the campus of UNCG so you get some of the typical college crowd that hasn't quite discovered good beer. However, the beer selection here is pretty good if not overly adventurous and the service is attentive (she was easy on the eyes too). The food here is typical but slightly above average pub fare. I had a better than decent grilled turkey. This is a good spot to come if you are looking for a chill-out place with a younger crowd. With the beer specials, the price is definitely right and the location is convenient.
543 characters
4.4
/5
rDev
+10%
vibe: 4 | quality: 4.5 | service: 4.5 | selection: 4.5 | food: 4
With 20+ rotating beers on tap, Old Town has one of the largest draught beer selections in the area. Right on UNCG's campus, the bar has a great mix of college students, faculty, staff, and locals. Great atmosphere with mostly young hot girls and a few pretty cool guys working the bar. They have daily pint specials and rotate your more well know beers like Newcastle and Anchor to smaller beers like Schimsaw, Real Seal, John Courage, and many more. The variety is always good. The have domestic mass produced beers for other if you want. But why would you when you can get a pint of Courage for $3?
The food is good to average. I wouldn't go there just for the food, but it is by no means bad. The menu has a good variety and leans a little toward California style sandwhichs and entrees. But the beer more than makes up for the food. One of my favorite spots in Greensboro.
Edit: Upon revisiting Old Town, they have expanded their menu and increased their food quality. The food is good and they have a broad selection.
1,029 characters
Old Town Draught House in Greensboro, NC
4
out of
5
based on
11
ratings.