Apricot Weiss
| Crane Brewing Company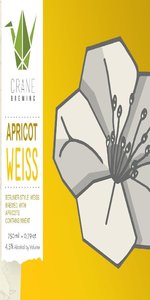 BEER INFO
Brewed by:
Crane Brewing Company
Missouri
,
United States
cranebrewing.com
Style:
Berliner Weissbier
Alcohol by volume (ABV):
4.50%
Availability:
Year-round
Notes / Commercial Description:
No notes at this time.
Added by Bosoxfan20 on 12-08-2015
Reviews: 14 | Ratings: 59
4.21
/5
rDev
+4.5%
look: 4 | smell: 4.25 | taste: 4.25 | feel: 4 | overall: 4.25
Poured out a slightly hazy golden yellow color with a tiny fizzy head of foam. It smelled of tart, fresh apricots. Nice apricot flavor with a yeasty bite. Nice and tart with a puckering finish.
193 characters
3.98
/5
rDev
-1.2%
look: 4 | smell: 4 | taste: 4 | feel: 3.75 | overall: 4
if it aint broke dont fix it. i have been impressed with all of the variations on this beer, but am now getting to that point where i would rather taste a brand new beer from these guys entirely instead of try the next fruit in the same recipe. i mean, obviously its working, these beers are awesome, but you sure dont want to lose that innovative side that got you here in the first place. this is very good, maybe not as fruit (or vegetable!) forward as some of the others in this series of beers, but the fruit is really authentic apricot, fuzzy and ripe and sweet, and the base beer is wheaty and soft enough, as well as not too acidic, to really compliment it well. the fruit is bright all the way through, and there are some white wine and honey notes of nuance here that make this pretty distinct. its just a little thin in body this go around, and maybe a tad short on carbonation, but another fine take on this style. these guys are doing a great job, and this is a great beer, but i am ready for something new now...
1,026 characters

4.41
/5
rDev
+9.4%
look: 4.25 | smell: 4.5 | taste: 4.5 | feel: 4.25 | overall: 4.25
Poured from a 25 oz bottle into a tulip glass. Appearance is hazy yellow gold with a clean look overall. The head is initially 3 fingers thick but dissipates fairly quickly. Smell is clean tartness, lemon, wheat, and some funk. Taste follows the nose with the apricot flavors not the focus but playing nicely with Berliner base. There is a candied Apricot flavor mixed in, but it doesn't have overly artificial notes. Mouthfeel is fairly light but very refreshing. There is good carbonation and tartness on the finish. Overall this is a very good but fairly light Berliner with nice clean flavors. This is not a fruit bomb but has nice subtle flavors.
651 characters
3.84
/5
rDev
-4.7%
look: 1.75 | smell: 4 | taste: 4 | feel: 3.75 | overall: 4
Pours a hazed gold with one finger of fast falling beige colored head. Some sediment as the bottle drains. No head retention or lacing, very turbid
S: Peach & apricot
T: Follows the nose, a little tartness, lemon up front. Apricot, pear & lemony tartness as this warms. Tartness, lemon sweet tart in the finish along with acidity
MF: Light body & carbonation. Carbonation picks up as this warms
Good take on the style, but the apricot doesn't really bring much more to this style these guys are fixated on
517 characters
3.37
/5
rDev
-16.4%
look: 3 | smell: 3.5 | taste: 3.25 | feel: 3 | overall: 3.75
750 mL bottle. Pours hazy orange with a big white head that doesn't last but a moment. Smells of apricot, wheat, some yeasty phenols. Tastes of apricot, but it isn't the freshest apricot. Like an apricot concentrate or candy or something. Strong wheat and mineral flavor in the back end. High carbonation, to the point of changing the flavor. Light body. Nice. Could use some actual tartness beyond just the little lemony tang it has.
443 characters
3.3
/5
rDev
-18.1%
look: 4 | smell: 3.25 | taste: 3.25 | feel: 3.75 | overall: 3
Big foamy airy 1 finger head fades at a needmed pace, nice lacing, hazy amber honey yellow orange color.
Nose some candied apricot, some apple aroma too, jammy fruit, maybe a touch of creamy wheat, some weird mineral and sour thing maybe sulfur, ester icky.
Taste brings candied apricot, apple ester thing again, creamy wheat, toasted notes, banana, little mineral maybe sulfur like thing, no Berliner Weiss really, candy notes. Finish sweet sticky weird, mineral thing, little bitterness.
Mouth is med bod, decent carb, little flemmy sticky thing.
Overall sad panda.
571 characters
3.32
/5
rDev
-17.6%
look: 4 | smell: 3.25 | taste: 3.25 | feel: 4 | overall: 3
Shared with JLindros, received as an extra in a trade.
A - Poured into a Kate the Great tulip a lightly hazy amber hue with a thin white finger head that fades to leave light lacing and a thin blanket.
S - Aromas of light apricot jam, faint apples, light wheat.
T - Taste is similar to the nose, rather sweet, super super faint stone fruit. More like candied apricot. Very very light wheat. Not much else.
M - Mouthfeel is lightly carbonated, fluffy, crisp.
O - Overall this was a rather underwhelming beer. Barely any apricot and even less Berliner notes. Super unfortunate.
Serving Type: bottle
607 characters
4.76
/5
rDev
+18.1%
look: 4.5 | smell: 4.75 | taste: 4.75 | feel: 5 | overall: 4.75
This is one of the best beers/Berliner Weiss I have ever had. This was incredible. There was plenty of tart sour in the nose with apricot going throughout the beer. The taste has the perfect balance between the subtle cereal grains, the tart flavors from the microorganisms, and the sweetness from the apricots. You could probably count on one hand the number of berliner weisses that are better than this one (you might not even fill one hand). This is a must have.
466 characters

3.9
/5
rDev
-3.2%
look: 4.25 | smell: 3.5 | taste: 4 | feel: 4 | overall: 4
Crackling with effervescence from the sparkling white head, it's audible from four feet, popping from atop the cloudy, yellow gold.
Salt, wheat, fruity sweetness are all present on the nose. Rings of a gose at first sniff. nothing terrible, but it's not the enveloping aroma of an IPA or stout.
Salty, sweet, refreshing, tart and completely novel with the subtle addition of the apricot.
Dry, with sharp carbonation that may detract from what is otherwise a pretty good beer.
481 characters
4.03
/5
rDev 0%
look: 2.75 | smell: 3.5 | taste: 4.25 | feel: 4.75 | overall: 4.25
Pours a cloudy gold color. 1/2 inch head of a white color. Slight retention and slight lacing. Smells of bacterial funk, slight hops, hint of salt, and fresh citrus. Fits the style of a Berliner Weissbier. Mouth feel is sharp, crisp, tart, and slightly dry. There is also an average carbonation level. Tastes of fresh citrus, slight hop, and a hint of wheat. Overall, weak appearance, good aroma, great feel, and the body while subtle is good and very well blended.
473 characters

4.09
/5
rDev
+1.5%
look: 4 | smell: 3.75 | taste: 4.25 | feel: 4 | overall: 4.25
On tap: cloudy orange. Zero head, zero lacing. S: faint citrus fruit. Malt comes though to let you know it's a beer. T: tart citrus. Juicy, like a soured mimosa. F: crisp, slight pucker. I: nothing out of place.
211 characters

4.14
/5
rDev
+2.7%
look: 4.25 | smell: 4 | taste: 4.25 | feel: 3.75 | overall: 4.25
Pours a hazy, opaque watery orange, reminds me of orange Airborne fizzy tablets. Nice foamy, white head that dissipates quickly. No lacing left behind. Has a bit of a sour warhead and apricot/citrus smell. Taste is a bit sour (in a good way). It also has some nice apricot notes. Mouth feel is good. It feels a bit harsh in the carbonation, but it feels good for the style. NIcely done. Overall, good beer. Maybe a bit of refinement to come, but it's very good. Excited to see where Crane Brewing goes!
502 characters

4.57
/5
rDev
+13.4%
look: 4.5 | smell: 4.25 | taste: 4.75 | feel: 4.75 | overall: 4.5
Pours a murky orange color with a fizzy white head that disappears instantly. Smell is apricot and sour with the fruit playing the lead role. Taste is apricot with a good amount of lacto tartness. The feel is medium with a good amount of carbonation, perfect for the style. This is another wonderful beer from Crane Brewing.
324 characters
4.17
/5
rDev
+3.5%
look: 4.25 | smell: 4 | taste: 4.25 | feel: 4 | overall: 4.25
Opaque orange with a thin cap of white foam.
Aroma was noticeably fruit forward with a well defined juicy apricot presence.
Taste was tart and juicy, again plenty of apricot character and a clean lacto tartness. Body was a little heftier than most Berliners, sort of pulpy and smooth with wheat and yeast.
Overall a solid first offering from this brewery's first bottling. Would drink a bunch in the summer.
409 characters
Apricot Weiss from Crane Brewing Company
4.03
out of
5
based on
59
ratings.