Big Horn Buttface Amber Ale
| C.B. & Potts Restaurant & Brewery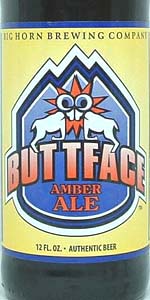 BEER INFO
Brewed by:
C.B. & Potts Restaurant & Brewery
Colorado
,
United States
cbpotts.com
Style:
American Amber / Red Ale
Alcohol by volume (ABV):
not listed
Availability:
Year-round
Notes / Commercial Description:
No notes at this time.
Added by Oxymoron on 09-19-2005
This beer is retired; no longer brewed.
Ratings: 8 | Reviews: 7
Reviews by Oxymoron:

3.46
/5
rDev
-8%
look: 3.5 | smell: 2.5 | taste: 4 | feel: 3.5 | overall: 3.5
You don't have to be a butt head to enjoy Buttface. This amber ale pours a pretty chestnut brown color with limited red hues and a good frothy head and limited lace. The head and lace dissipates over time. The smell is light but traces of a nutty flavor with a good roasted malt to it.
The taste is very smooth. An almost English Ale quality but a American influence makes it a definite Amber. A slightly nutty flavor is noticeable with a good roasted malt makes a good mix. Limited hop flavor but some earthy traits are noticeable. A good body with little carbonation. This is a good beer that I always got when I go to Potts. Ordered right from the tap as it's not as good from bottles.
693 characters
More User Reviews:

3.75
/5
rDev
-0.3%
look: 4 | smell: 4 | taste: 3.5 | feel: 3.5 | overall: 4
Clear, amber-coppery bronze in hue with a trickle of gold; the color is beautiful. Beige head, at the apex the foam was two fingers tall. Good head retention, the bubbles slowly faded to a soapy cap. There was plenty of spotty lacing. I'd say this is a very lovely beer!
Very agreeable caramel-malty nose with biscuits at the back; plus there is a trace of fruitiness. Not much in the way of hops. Clean otherwise. I'd rather have a malty Amber Ale with caramel and biscuits than a hoppy Amber with a boring malt bill. Moderate potency. Inviting!
The palate doesn't quite live up to the nose but it is quite tasty nevertheless. Faint biscuit flavors, some caramel but it gets pushed aside by some juicy fruitiness. Again, not much hop flavor but this is a well-balanced beer. It is sweet but not cloying. I'd say this is an above-average Amber Ale.
Medium/medium-light in body, low but natural carbonation, the mouthfeel is kind of dull but it doesn't hamper the flavors.
I never head of this beer before I tried it and I was only vaguely aware of the brewery. I quite like this beer. Often Amber Ales bore me to tears but I could drink Buttface with glee. It is worth a try, IMO. Thank you to the kind sir who gave the six-pack to my girlfriend who passed it lovingly on to me.
1,295 characters
3.71
/5
rDev
-1.3%
look: 4.5 | smell: 3.5 | taste: 3.5 | feel: 4 | overall: 4
this pours a beautiful amber/red color with a nice creamy head, great retention, and good lace.
The aroma is clean and faint with caramel notes dominating, slight fruity hop background, some floral notes, and toasted bread crumbs.
The taste is very balanced with fruity hops, peachy notes, and sweet caramels.
Medium bodied, slightly creamy, smooth, and crisp.
Best beer in the place. Nice balance on the malty, toasty side.
431 characters
3.8
/5
rDev
+1.1%
look: 3.5 | smell: 3.5 | taste: 4 | feel: 3.5 | overall: 4
Pours copperish amber with a thin creamy head that becomes a lasting, bubbly patch.
The smell is of light cherry fruitiness. Lightly toasted grains and caramel are hinted at. Nice but soft.
The taste is of caramel/toffee with a light toastiness. Cherry-like fruitiness emerges more as it progresses. A slight spicy bitterness keeps the sweetness relatively balanced. Candy-like sweetness in the finish.
A bit watery, but not enough to fall apart. Smooth in a light to medium body with a pleasant aftertaste.
Bottom line is that it's nothing super-special, but a nice interpretation of an amber ale. Sweet, but with some balance. Easy-to-drink/"sessionable".
Thanks to bitterbill for including this one. I liked it!
729 characters
2.9
/5
rDev
-22.9%
look: 3 | smell: 3 | taste: 3 | feel: 3 | overall: 2.5
Presentation: 12 oz longneck, label could definitely use an update - looks like it was designed in a freshman photoshop class. No date, ABV - in fact no information about the beer at all other than the brewing location.
Appearance: Dark red/amber color, thin head, decent retention.
Smell: Malt sweetness, just a bit of grain in there.
Taste: Rather sweet, a bit of caramel malt flavor in there.
Overall impression: The sweetness dominates, but the flavors are decent. Fairly drinkable, but a little too sweet for my tastes.
528 characters
3.87
/5
rDev
+2.9%
look: 3.5 | smell: 4 | taste: 4 | feel: 3 | overall: 4
Purchased at Wilbur's Liquors in Ft Collins as part of a mixed 6 Pack.
This pours from 12oz bottle(brewed and bottled in Ft Collins) a clear amber with a quickly dissipating head of foam. By the the time I finished typing that, the only remains of the foam is a ring around the glass and there's almost no lacing.
The smell has some caramel malt and nutiness in it. A good nose, imho.
The taste is nice. I get some sweet malt, a heeping helping of grain, and a nice nutty flavour. Over all, this is a sweet Amber but it doesn't go overboard and become cloying. I like sipping on this Amber and I'm not a huge fan of the style. The body is on the thin side but the flavours kind of cover that flaw and it's pretty lightly carbonated so for me, it has a nice drinkability factor going on. I'd say that if you see some, try some. You may be pleasantly surprised as I was. Good stuff.
889 characters
3.5
/5
rDev
-6.9%
look: 3.5 | smell: 3.5 | taste: 3.5 | feel: 3.5 | overall: 3.5
Poured from 12 oz bottle into pint glass
Appearance: a sudsy off-white head slowly dissipates with nice lacing. Color is a deep amber with plenty of streaming carbonation.
Aroma: rich roasted barley malt, a hint of coffee, some fruit and some mild herbal hops. Mouthfeel: light and watery, slightly astringent and a somewhat dry finish.
Flavor: medium roasted barley, caramel, raisins, earthy and herbal bitterness.
Overall: a pleasant and drinkable beer, represents the style well.
486 characters
Big Horn Buttface Amber Ale from C.B. & Potts Restaurant & Brewery
3.76
out of
5
based on
8
ratings.