Gnarly Oak Winter Bock
| Minhas Craft Brewery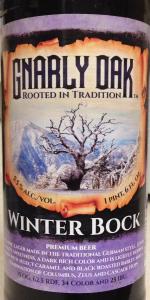 BEER INFO
Brewed by:
Minhas Craft Brewery
Wisconsin
,
United States
minhasbrewery.com
Style:
Bock
Alcohol by volume (ABV):
5.50%
Availability:
Winter
Notes / Commercial Description:
No notes at this time.
Added by Guitars_and_beer on 12-30-2013
This beer is retired; no longer brewed.
Reviews: 9 | Ratings: 25

2.79
/5
rDev
-17.5%
look: 3.5 | smell: 3.25 | taste: 2.5 | feel: 2.5 | overall: 2.75
22 oz bottle pours a dark brown color, almost black, with a small cap of tan head. Fades pretty quick to a collar and not much lace.
Nose is liquid Toostie-Rolls, sweet dark caramel for sure. Light roast and a little vanilla. Smells decent, but a little on the sweet side.
Taste shows some acrid roast and the sweetness is dialed back a little. The malt feels unsubstantial and the mouthfeel too thin. The flavors have an artificial flavor to them that is not pleasant. This one is about on par with the Hazelnut Dark I had a few weeks ago - even at 50% off it is still not worth buying. Definite drain pour potential here.
625 characters

2.93
/5
rDev
-13.3%
look: 3.5 | smell: 3 | taste: 3 | feel: 2.5 | overall: 2.75
Poured dark, good two finger head, light lacing.
smelled sweet, mostly chocolate and caramel, a little roasted coffee.
tastes too sweet for my likes, caramel and vanilla notes laced with a little bitter coffee.
not bad for a gift pack, bargain price beer.
No, I would not buy or give as gift.
296 characters
2.99
/5
rDev
-11.5%
look: 4 | smell: 3 | taste: 3 | feel: 2.25 | overall: 3
Poured this brew straight into the chalice style glass that came in a 3 pack Gnarly Oak sampler I got for Christmas. First thing I noticed was the motor oil complexion of the beer which is something I actually look for in a beer. The aroma of caramel and sweetened hops makes it presence known immediately, but is not overpowering. The taste is overly sweeteed for a 5.5% ABV brew, which leads me to believe there are artificial sweeteners and ingredients in here. The worst part of this beer is the acidic aftertaste that stays on the tongue after swallowing, which seriously is kind of gross. Overall not a bad beer, but based on this beer I would probably not recommend Gnarly Oak to people.
694 characters

3.33
/5
rDev
-1.5%
look: 3.5 | smell: 3.5 | taste: 3.25 | feel: 3.25 | overall: 3.25
"A classic lager made in the traditional German style. It has a malty sweetness, a dark rich color and is lightly hopped. Made with select caramel and black roasted carley and a combination of Columbus, Zeus and Cascade hops." Brewed in the style of a German Bock, available as a winter release under the Gnarly Oak brand series. Available in 22 oz. bottles.
Poured from a 22 oz. bottle to a Gnarly Oak tulip glass. Served above 57 degrees Fahrenheit.
(Appearance) Pours a foamy crisp head of a medium tan color over a deep cola brown body with mild, lively carbonation. Retention is average and there is little to no lacing in the glass. 3.5
(Smell) Very mild and easygoing aroma. Mildly toasted caramel bread with a moderate sweetness, light fruitiness and mild roasted malt backbone. Prominent features include liquid chocolate and toffee. Potency is medium. 3.5
(Taste) Sweetened grains with forward notes of caramel syrup and stone fruit. Very light roast on the finish, some bakers chocolate and a very mild blend of earthy hops with a light bitterness. Generally enjoyable if not overly sweet throughout. 3.25
(Mouthfeel) Texture is velvety smooth, mildly viscous and lightly dry. Carbonation is moderate, generating a moderate frothiness and a medium crispness. Body is medium/heavy for the style, medium overall. Balance is sweet over earthy and grainy bitter. Alcohol presence is very low and there are no off characters to note. 3.25
(Overall) An incredibly sweet Bock beer by Minhas, while it has generally enjoyable flavor, the imbalance slowed drinkability which even beers like the Bock are well known for. I could use a milder bodied and less sweetened bock in the future as these will be overall favorable in comparison to Winter Bock- most German Bocks have mastered the balance between flavor and quaffability, and I recommend those above this beer. Avoid. 3.25
Minhas Craft Brewery's
Gnarly Oak Winter Bock
3.31/5.00
1,943 characters

3.45
/5
rDev
+2.1%
look: 3 | smell: 3.5 | taste: 3.5 | feel: 3.25 | overall: 3.5
Pours nearly black with deep amber highlights into the included Gnarly Oak chalice glassware. Limited carbonation and almost no lace, though.
Nose is roasty, clean,and malty. I get caramel and toffee notes most prominently. Pleasant.
Taste is smooth and roasty, with a little touch of chocolate and fruit in there somewhere. Nice body, and sturdy, but not an overpowering brew. I liked this one most of the way through the tasting, until the end, when the sweetness overtook me a bit. Still, a solid brew here.
512 characters
3.49
/5
rDev
+3.3%
look: 3.75 | smell: 3.5 | taste: 3.5 | feel: 3.25 | overall: 3.5
This is part of the Gnarly Oak gift pack I bought at Walgreens over the holidays, $12.99 for three 22 ounce bombers and a glass. Winter Bock is my first selection, so let's see how it is. Served in the Gnarly Oak glass, the beer pours dark brown with about a half inch light tan head. Head retention and lacing are both decent enough. The brew smells like roasted malt, bittersweet chocolate, caramel, and some cola. Taste is similar to the aroma, it tastes like cola, roasted malt, cocoa, and a slight dark fruit flavor. Mouthfeel/body is light/medium, with a good amount of carbonation. Not too bad overall, I think it's worth a try.
635 characters

3.87
/5
rDev
+14.5%
look: 4 | smell: 3.75 | taste: 4 | feel: 3.75 | overall: 3.75
Pours out a dark brown color with light brown hues towards the bottom of the glass. The head is light tan, thick and bubbly and thins out to about one and a half fingers thick. There is a medium to light lacing that accompanies the bock.
Light alcohol aroma overall, light roasted malts, mild butter, apple butter and light chocolate.
It's light on the tongue, sweet overall with very mildly bitter malt notes and hints of raisin and apple.
This light-bodied bock goes down well and the alcohol is well hidden.
512 characters
3.87
/5
rDev
+14.5%
look: 3.5 | smell: 4 | taste: 4 | feel: 3.5 | overall: 3.75
Pours a nice initial 2 finger head, but this is a bit too much for the style. Head retention is fair. Pours a nice brown color which I can see my fingers through
Smell is of toasted and caramel malts. Some slight notes from hops come through with a bit of citrus spicy notes. A little bit of roastiness comes through as well.
Taste is of caramel malts. Very sweet. Decent bitterness too balance, but the sweetness does dominate quite a bit.
Sticky on the tongue from the sweetness. The carbonation is a bit high which I take some points away for.
This is a decent attempt at the style. Nothing to write home about but good, never the less.
644 characters

4.32
/5
rDev
+27.8%
look: 4.25 | smell: 4 | taste: 4.5 | feel: 4.5 | overall: 4.25
I got this as part of a three-pack of 22oz. bottles, that contained this beer, their Hazelnut Dark, their Chocolate Stout, and a nice stout glass, which is what I'm drinking this out of.
A: Pours dark amber with a thick tan head that dissipated slowly.
S: Malty with an earthy undertone.
T: Malty with chocolate aftertaste.
M: Good mouthfeel. No alcohol presence at all. Good carbonation.
O: This is a pretty good beer. I didn't find anything to dislike about it. It was good and crisp, with a malty-chocolaty flavor that makes you want to take another sip. I may have to try it again in the near future.
609 characters
Gnarly Oak Winter Bock from Minhas Craft Brewery
3.38
out of
5
based on
25
ratings.