The Dutch Nation
| Minhas Craft Brewery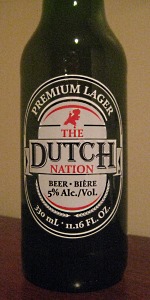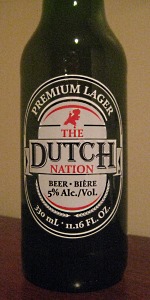 BEER INFO
Brewed by:
Minhas Craft Brewery
Wisconsin
,
United States
minhasbrewery.com
Style:
American Adjunct Lager
Alcohol by volume (ABV):
5.00%
Availability:
Year-round
Notes / Commercial Description:
No notes at this time.
Added by biboergosum on 03-01-2014
This beer is retired; no longer brewed.
HISTOGRAM
Ratings: 3 | Reviews: 2
2.31
/5
rDev
+24.2%
look: 2.5 | smell: 1.5 | taste: 2.75 | feel: 3 | overall: 2
1.65
/5
rDev
-11.3%
look: 2.25 | smell: 1 | taste: 1.75 | feel: 2.25 | overall: 1.75
A- Hmmm....typical Minhas look.....slightly hazy sparkling apple juice comes to mind. There is little to no head....just a patchy working of a foam layer over top the brew. Lacing is minimal, with any foam that initially sticks to the glass quickly sliding back into the liquid and leaving behind a watery looking film. There seems to be ample carbonation that again reminds me of sparkling cider bought from the grocery store. Underwhelming at best.....
S- Good gawd this smells terrible! I'm pretty sure there is very little barley used and plenty of corn and leftover grits used in the boil....it almost smells like rotten wet leaves....urine like but sweeter. No hop presence and just......just not good!
T- Yeah this isn't great tasting either.....I agree that there is some melon fruit but it's overripe and going musty. Huge corn syrupy sweetness and metallic to boot. The finish is a blend of hop flavoring and tin.....it reminds me of juice that has been sitting out all day but it's cold and dampened down.
M/O- Thin bodied, very fizzy and cardboard like blandness is the best way to describe this on the palate. I'm not convinced this is made in "Sunny Alberta" either.....I rarely buy anything Minhas and am ashamed that I sunk low enough to buy this garbage, and all for only $6.99 I might add!!.....the owners of this "brewery" should be ashamed as well to be marketing swill like this, and believe me, this is SWILL! I won't buy this ever again and I recommend steering very clear of this one!
1,521 characters
1.62
/5
rDev
-12.9%
look: 1 | smell: 1.5 | taste: 1.75 | feel: 2 | overall: 1.5
330ml bottle, a takeaway from the Pizza Brew in Calgary. No indication of where this was actually made, but it's not hard to guess. Could they be any more slavish in their mimicry of Heineken's branding (psst, the Dutch Corporate Nation's IP lawyers, my finder's fee is actually quite reasonable)?
This beer pours a hazy, super-pale purple-tinged dishwater colour, with one finger of rapidly disappearing fizzy, slightly bubbly dirty white head, which leaves a bit of coral reef lace around the glass as things settle. What fresh evil have I brought upon myself?
It smells of sweet, fruity, er, banana mush, some further stale melon and citrus notes, pithy pale malt, soaked corn bread, and a musty earthiness. The taste is still fruity, but less so, the mix of banana, melon, and bland citrus taking a back seat to the weak corn and sour grainy malt mainline, with an additional bit of dead leaves and dirty moss rounding things out.
The bubbles are pretty sedate, hardly making time at all, the body well on the lightweight side, expired fruit juice 'smooth', and almost beyond clammy. It finishes off-dry, I suppose, that generically fruity adjunct malt still mostly obfuscated, and thus getting away with it.
It's hard to say with Minhas whether there's something actually off with one of their myriad offerings, or it's just made that way. Here, we have a Premium (snicker) Lager, that looks like shit, smells like that juice from concentrate that you forgot about in the back of the fridge, and tastes more or less the same. This is one of the worst beers that I've ever had, that weirdly enough, doesn't really taste bad, in the traditional Minhas sense. What utter craftsmanship.
1,691 characters
The Dutch Nation from Minhas Craft Brewery
Beer rating:
1.86
out of
5
with
3
ratings