Axe Head Malt Liquor
| Minhas Craft Brewery
BA SCORE
59
awful
29
Reviews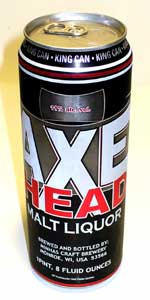 BEER INFO
Brewed by:
Minhas Craft Brewery
Wisconsin
,
United States
minhasbrewery.com
Style:
American Malt Liquor
Alcohol by volume (ABV):
11.00%
Availability:
Year-round
Notes / Commercial Description:
No notes at this time.
Added by BuckeyeNation on 10-10-2008
Reviews: 29 | Ratings: 37

2.36
/5
rDev
+16.8%
look: 3 | smell: 2 | taste: 2.5 | feel: 2 | overall: 2.5
Clear pale yellow with a big fluffy white head that fades fast. The nose is comprised of dusky metallic grits, green apple and grain alcohol. The taste is much like the smell, sweet grits and appleskin mascerated in corn liquor. The alcohol is relatively well hidden for such a high ABV. This stuff is evil, for $1.09 and at 11% ABV, one single 40 oz could do serious damage (I guess that's the point). I chickened out after about 8 oz though.
443 characters
2.17
/5
rDev
+7.4%
look: 2.5 | smell: 3 | taste: 2 | feel: 2 | overall: 1.5
appearance: generic in color. no head. basically what you expect.
smell: wow, im surprised i could find any fruit past the alcohol. it definitly tells you what you're getting into.
taste: this is a beer to be slammed and forgotten about to end you're night on.
262 characters
1.82
/5
rDev
-9.9%
look: 4 | smell: 2 | taste: 1.5 | feel: 2 | overall: 1.5
I saw a sampler pack from the Minhas brewery at Westside today.
I figure the stuff in it was okay, so for balance, I also picked up a
super duper tallboy of Minhas Axe Head Malt Liquor.
A careful pour got me a couple fingers of stiff foam over a clear
honey colored brew. Carbonation is extremely active, the nose
is corn syrup and alcohol. The flavor is sweet bubble gum balanced
by a hard alcohol burn. It's true that you may encounter bubble gum
flavors in your finer Belgian ales, but in this case it's like working on
a giant wad of Bazooka while sipping Everclear. Mouthfeel is pretty
full, but it would have to be to get you to 11% alcohol by volume.
Otherwise it's also pretty crisp but it's probably due to the burn. Not
good unless you're looking for the middle way toward a bender. For
me, a drain pour.
817 characters
1.97
/5
rDev
-2.5%
look: 3.5 | smell: 1.5 | taste: 2 | feel: 2 | overall: 2
Malt Likkapalooza XI is the first time in this venerable series that two glasses of jet fuel from the same brewery will be facing off. Hard to be sure, but Axe Head might be the same beer as Rock Head. In any case, it's the highest ABV malt liquor in the world not named Sonoran 100. We don't need no fancy-schmancy, silk-screened bottles. A 40 ounce bottle with a screw-top is the only way to go.
Bright marigold with lemon colored trim. Hmmm... the colors are identical. Might these be the same beer with different water contents? The heads suggest that isn't the case. This one is slightly darker (French vanilla), has a higher quality texture and is leaving more and better looking lace. Go figure.
It isn't surprising that fusel alcohol is much more prominent in the higher ABV beer. It isn't totally kerosene-like, but there isn't the sort of sweet, floral fruitiness that the best malt liquors bring to the table. Nasty was expected... boring was delivered.
Both beers have a surprising amount of flavor. I didn't say that it was good flavor. Axe Head tastes like corn squeezins and fermented fruit soaked in sugar syrup. Believe it or not, alcohol is papered over pretty well. Well enough for someone used to drinking 100-proof liquor neat to get *ucked up in a hurry if he insists on drinking this swill too quickly.
The mouthfeels are pretty much identical. At least enough so that I could not tell them apart if blinded. If I drink enough of this stuff, blindness might be right around the next corner. The beer is medium-full, without being sticky, and has middle-of-road bubbles.
In the final reckoning, a more appealing appearance is the reason why Axe Head wins Malt Likkapalooza XI. I've also decided to reward it with a higher drinkability score since the flavor is *slightly* better. Yes, it's drinkable for the style, but I'm not stupid enough to drain the entire 40 ounce bottle.
1,904 characters
Axe Head Malt Liquor from Minhas Craft Brewery
2.02
out of
5
based on
37
ratings.