Minhas 75 Light Lager
| Minhas Craft Brewery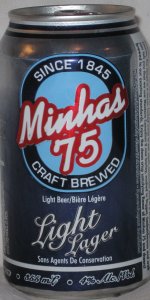 BEER INFO
Brewed by:
Minhas Craft Brewery
Wisconsin
,
United States
minhasbrewery.com
Style:
Light Lager
Alcohol by volume (ABV):
4.00%
Availability:
Year-round
Notes / Commercial Description:
No notes at this time.
Added by eallured on 09-12-2009
This beer is retired; no longer brewed.
Ratings: 5 | Reviews: 5
Reviews by RJUGA03:
2.96
/5
rDev
+30.4%
look: 3 | smell: 2 | taste: 3 | feel: 3 | overall: 4
A- Golden pale yellow with s very unremarkalbe head (much like a macro lager).
S-Slightly sweet and yeasty.
T-Sweet with subtle malt and hops noted.
M-Initially it hits your mouth with a nice tingled punch and it flows into a simple thin/ watery/ light finish.
D-It is a very drinkable beer and for the price you wouldn't mind pissing away your hard earned $.3116 cents per can. I pay much more for mega-macrobrewed beers and this one achieves the job much better for a lot less. This is my economic stimilus beer!
514 characters
More User Reviews:
2.62
/5
rDev
+15.4%
look: 2.5 | smell: 3 | taste: 2 | feel: 2.5 | overall: 3.5
Thanks to woodychandler for the trade. Has a pale yellow color with a 1/2 inch head. Smell is mild, some sweetness, a hint of corn. Taste is very bland, some mild corn, really not much in the way of flavor at all. Feels watery in the mouth and has good drinkability. Overall not much to like about this beer.
308 characters
2.58
/5
rDev
+13.7%
look: 3 | smell: 2.5 | taste: 2.5 | feel: 3 | overall: 2.5
Kinda mixed feelings about this one. Friend bout a 24 pack last night for $7, so I guess you get what you pay for.
It looks like any light lager, maybe slightly paler than the rival that comes to mind -- Lacrosse Light.
Smell is somewhat strangely sweet, hard to pick up any actual beer ingredients in the smell though. Grainy I suppose, maybe some sweet corn...
Taste isn't awful, but it barely tastes like beer. Not much in terms of hops, but rather it almost has a blueberry taste that combines with a weak malt-liquor flavor. I won't say it exactly tastes like the can, but it's damn close.
Overall, and to my surprise, there are worse beers out there, but at 4% even, this is a fairly weak beer -- and there's only one reason to drink something like this, and it isn't to sip it...
790 characters

1.86
/5
rDev
-18.1%
look: 3 | smell: 2 | taste: 1.5 | feel: 2 | overall: 2
I had picked up a 6 pack of cans, to add a new can to my collection, and to send to the CANQuest's Woody.
I was waiting to add the review til the picture was approved, and then forgot about this review (and equally forgettable beer)
From Notes: Pours from the can like any other light lager, slightly pale yellow, 1/4 inch of white foam that disappears after the first sip.
Smell is grainy, sweet, corn, and some alcohol burn (even in this light version).
Taste is also as expected, sweet with adjuncts, no real malt or hop flavor, metallic aftertaste.
Overall, not very good but as expected. You get what you pay for.
619 characters

1.32
/5
rDev
-41.9%
look: 3 | smell: 1 | taste: 1 | feel: 3 | overall: 1
Another day, another CAN on the endless CANQuest. This one came to me via a CANTrade with BigBry in CANada, so the markings are partially en Francais, but it was clearly a Minhas product.
From the CAN: "How does Minhas 75 deliver so much refreshment with only 75 calories and 2.7 grams of carbohydrates? We could tell you but then we would have to kill you. Relax - we are just kidding! Of course, the recipe is a secret, locked away in our vault, accessible to only a selected few. However, we CAN tell you that we use Western CANadian 2 row barley, malted in Biggar, Saskatchewan and craft brewed to our exacting standards. Enjoy the clean, crisp, satisfying flavor of Minhas 75 and cheers!" The cynic in me has many responses, but I will allow the beer to speak for itself.
Well, it sure looked like Light Lager - a finger of rocky, explosive bone-white head with low retention following the pour. Color was a light lemon-yellow with NE-quality clarity. Nose had a grape-y pungency that I have noticed in a lot of Minhas beers. It is reminiscent of grape bubble gum, somewhere between sweet and tart, but not pleasant in a beer, either way. Mouthfeel was medium, but the sourness of the taste on the tongue was overwhelming. It was like a bad white wine. My principles forbid a drain pour, but Gad! this was awful! The finish just left me gasping for air, hoping for a quick finish. Not only is this not going into a cooler, I would not allow even my most hated enemy near it.
1,482 characters
Minhas 75 Light Lager from Minhas Craft Brewery
2.27
out of
5
based on
5
ratings.