Dismiss Notice
Triple 777
| Minhas Craft Brewery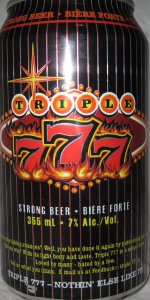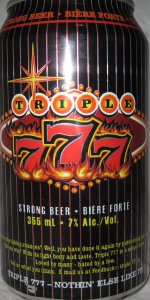 BEER INFO
Brewed by:
Minhas Craft Brewery
Wisconsin
,
United States
minhasbrewery.com
Style:
Euro Strong Lager
Alcohol by volume (ABV):
7.00%
Availability:
Year-round
Notes / Commercial Description:
No notes at this time.
Added by woodychandler on 06-23-2010
This beer is retired; no longer brewed.
HISTOGRAM
Ratings: 7 | Reviews: 5
None found.
More User Reviews:
1.91
/5
rDev
-13.2%
look: 3 | smell: 2 | taste: 2 | feel: 1.5 | overall: 1.5
355ml can - the logo very convenience store lottery counter. 'Loved by many, hated by a few', huh?
This beer pours a clear, very pale straw colour, with two fingers of thin puffy white head, which leaves some decent webbed lace around the glass as it evenly recedes. It smells of fruity, sugary pale malt - very much like white grape juice. The taste is thin adjunct malt, some overripe apple mush, stale grape juice, and an overarching metallic booze edge. There are bubbles, but they are lost in the mire. Any 'body' comes from the wayward fruity sugars, and is lightweight at best. It finishes, um, less sweet, but only due to a resurgence of dry, astringent alcohol.
Another of the many offerings from this prolific 'brewer', with no resemblance to actual beer. This is much more of an alco-pop - look out Four Loko! As for their haughty slogan - so far they're half-right - the latter half, that is.
906 characters
2.8
/5
rDev
+27.3%
look: 3 | smell: 3 | taste: 2.5 | feel: 3 | overall: 3
Thanks to woodychandler for the trade. Poured from a 12 oz. can. Has a golden color with a 1/2 inch head. Smell is mild, alcohol is present. Taste is of alcohol up front, some apple?, a bit sweet at the finish. Feels light in the mouth and has average drinkability. Overall there is nothing special about this one.
314 characters

2.95
/5
rDev
+34.1%
look: 4 | smell: 4 | taste: 2.5 | feel: 2.5 | overall: 2.5
Doesn't taste any better or any worse than other high alcohol beers that I have tried in the past! I have never tasted a good high alcohol beer in my life! They all seem to have a sweet taste to them.
200 characters

1.11
/5
rDev
-49.5%
look: 2 | smell: 1 | taste: 1 | feel: 1.5 | overall: 1
CAN Minhas be any more clever? They produce this beer for the CANadian market and call it "Strong Beer". I have no idea what that means, but I am sure that it is some variation on a lager. Feel free to update the style if you CAN dope anything out from this offering.
From the CAN: "Strong Beer - Biere Forte - Triple 777" "So you like taking chances? Well, you have done it again by purchasing this beer, but did you win? With its light body and taste, Triple 777 is a unique brew. Loved by many, hated by a few. Tell us what you think. E-mail us at
[email protected]
". I just may do that! "Triple 777 - Nothin' Else Like It!"
It was explosive from the moment that I cracked the CAN open! It fizzed up and threatened to explode right out of the CAN. I had to let it settle briefly before attempting any kind of pour. It would not have mattered how gentle I was, this was determined to foam up. It finally settles into just over a finger of thick, bone-white head with excellent retention. Color was a slightly hazy lemon-yellow. Nose smelled strongly of cereal adjuncts. Oh man, was this destined to be bad. Mouthfeel was thin with a taste like grape soda pop. How do they achieve this shite? Finish left me gasping for air between its unnatural sweetness and its ghastly heat. Jesus, I will bet that my E-mail will not be responded to. Awful, awful, awful.
1,369 characters
2.65
/5
rDev
+20.5%
look: 3 | smell: 3 | taste: 2 | feel: 2.5 | overall: 3.5
There isn't a beer on the market here in Canada that can compare to this so-called beer, ever time you buy it you do not know what to expect, sometimes you get a strong hint of of a real beer and other times a strong flavor of apple, a sweetness that cannot really be properly labeled...just yuck, sorry Minhas is it the water?
But then again I am not a snob alcohol drinker, therefore I drink to get a buzz, and if I get the buzz I am looking for then I will give Triple 777 a high rating, it's cheap, comes in monster cans, and get's the job done, would I bring this beer to a party to impress everyone how cool I am, never, would I buy this beer to go online and just cruise around the Internet for hours on end...Hell Ya!
My local liquor store sell's out of Triple 777 monster six packs every month but nobody admits to drinking it, it truly has a love hate relationship, I can't drink more than six in one night or I will feel like a homeless drunk.
954 characters

Triple 777 from Minhas Craft Brewery
Beer rating:
2.2
out of
5
with
7
ratings