Dismiss Notice
Dismiss Notice
Minhas Light
| Minhas Craft Brewery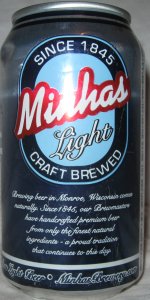 BEER INFO
Brewed by:
Minhas Craft Brewery
Wisconsin
,
United States
|
website
Style:
Light Lager
Alcohol by volume (ABV):
4.00%
Availability:
Year-round
Notes / Commercial Description:
No notes at this time.
Added by biggred1 on 09-27-2010
Reviews: 8 | Ratings: 17

1.69
/5
rDev
-15.9%
look: 2.5 | smell: 1 | taste: 2 | feel: 2 | overall: 1.5
The CANQuest (TM) rolls on, thanks to my having gotten the hang of resizing photos for submission. I have a bunch of CANs that I was holding in abeyance until I could get a picture uploaded since they look better unopened, IMHO. This was one of them. CAN you dig it?
From the CAN: "Brewing beer in Monroe, Wisconsin comes naturally. Since 1846, our brewmasters have handcrafted premium beer from only the finest natural ingredients - a proud tradition that continues to this day."; "Calories 97, Carbohydrates 3.6g, Protein 0.73g, Fat 0g". I include these stats because although the CANs look very similar, this is NOT Minhas 75.
The Crack & Glug produced two fingers' worth of fizzy bone-white head that burbled and popped its way out of existence. Color was a pale lemon-yellow with the barest hint of a chill haze. Bear in mind that when I type "pale", we are talking REALLY light in this case. Nose had that now-familiar Minhas grape bubble gum odor that seems to be a product of whatever poor yeast strain they have overworked to the point of near death. Mouthfeel was thin, not quite watery, and with a taste like drying tobacco in the mouth. It was almost passable if you like that sort of sweetish smell and taste. Finish reminded me of my youth when we used to chew tobacco, especially Red Man. I gave that stuff up a long time ago and CANnot recommend either it or this to others. Minhas!
★
1,400 characters
2.85
/5
rDev
+41.8%
look: 2.5 | smell: 2.5 | taste: 3 | feel: 3 | overall: 3
Poured from a 12 oz. can. Has a pale yellow color with a 1/2 inch head. Smell has some light hints of corn, but is odorless for the most part. Taste has more flavor than I expected. Corn, grains, some malts, a bit of green apples. Feels light in the mouth and overall is a mediocre beer. Considering the brewery and the beer style, mediocre is pretty good in this case.
★
369 characters

1.33
/5
rDev
-33.8%
look: 2 | smell: 1.5 | taste: 1 | feel: 1.5 | overall: 1.5
Pale straw with a dirty white head that actually lasts a minute or so before shrinking to a thin film. The nose is green apple, creamed corn and something else vegetal that is not pleasant. Yeah..Minhas light is not good. Metallic and cooked veggies with a touch of corn syrup. Light and fizzy bodied. You really can't do much worse at any price. Avoid.
★
353 characters
2.92
/5
rDev
+45.3%
look: 2.5 | smell: 3 | taste: 2.5 | feel: 3.5 | overall: 3.5
Appearance - Light yellow. Very clear and very bubbly. Short and very short-lived sudsy white head.
Smell - Light and very sweet pale malts. Corn and candy.
Taste - Sweet and corny, but obviously quite light. Light pale malts with no apparent hops character. Slight metallic tang and a little bit of a cloying aftertaste.
Mouthfeel - Light and crisp.
Overall - Pretty inoffensive and refreshing. Judging by some of Minhas' other efforts, this could be much worse. As is, it's a decent low priced stand in for the more flavorful of the macrolager lights.
★
557 characters
1.66
/5
rDev
-17.4%
look: 2 | smell: 1 | taste: 2 | feel: 1 | overall: 2
So it was $2.29 for a 6 pack. Decided to take a shot with the goading of my co-worker.
Pours super pale yellow, huge head that actually leaves a bit of lacing on the plastic hotel cup (I'm classy fuck you).
Smell is um..not pleasant. something offputting about it. Not beery at all.
Taste is, well I've had worse, tastes like a macro light, no worse than Bud light and a crap load cheaper.
Mouthfeel is water, strike that, it's carbonated water. Kinda like H2OH, if you've ever had that.
Drinkability. I've already 4 in, and have one more to finish, along with 2 more New Glarus, the fact that I can still type after 10 beers in the last hour says to me that it is pretty sessionable. Not that it tastes good, but at this point I'm really not getting the full flavor, and it hasn't made me puke yet, so bottoms up.
In short, cheap beer, not objectionable if you are just looking to get hammered in the cheapest way possible and you have something against malt liquor. But if you want beer, then don't buy this.
★
1,016 characters
1.9
/5
rDev
-5.5%
look: 1.5 | smell: 1.5 | taste: 2 | feel: 2.5 | overall: 2
Bought a case a few weeks ago. It was cheap and I didn't really want to spend too much on beer at the time. 10 dollars for a 30 pack, will do.
Not even going to pour this into a glass, it's not worth it.
Smell: Very fruity. That's about all I get. Fruitiness and maybe the slightest bit of a used up hop smell.
Taste: Well, it's light alright. Water, fruit, corn, and a ghosting of stale hops. Can't really expect too much from this.
Mouthfeel: Decently carbonated and very thin. Watery the whole way through. It goes down very easy to say the least.
Overall, it's not vomitrocious. It's not good either. I can't say I will be picking this one up again.
★
658 characters
3.23
/5
rDev
+60.7%
look: 2.75 | smell: 2.75 | taste: 4 | feel: 3.5 | overall: 2.25
Well....better than bud light and quite honestly if u drink light beer this is a good alternative to the big brand guys it has better flavor and ur paying 9.50$ for 24 beers
★
173 characters
1.73
/5
rDev
-13.9%
look: 1.5 | smell: 1 | taste: 1.5 | feel: 1 | overall: 3.5
Bought a case of this (24pack) for 5 bucks... hard to beat that!
A- Pale yellow, a bit of fizzy head that immediately reduces to nothing.
S- Doesn't smell like much.. Maybe a bit of hops mixed with lots of water..
T- Tastes just like it smells... like water and bit of sweetness coming from something. The good news is it doesn't leave too much of an aftertaste.
M- The mouthfeel? Put water in your mouth and see for yourself.
D- This beer is pretty sessionable for me. While I dont think the taste is great, the lack of a bad aftertaste is a plus for me, and I have no problem throwing 10-15 of these back in a night. I can't say the same about some other macro brews.
If you are looking for the cheapest reasonable beer possible to get drunk, I'd recommend Minhas. It definitely isn't any worse than your typical Macro brews, but about a third of the price. If you are looking for good beer, avoid at all costs.
★
919 characters
Minhas Light from Minhas Craft Brewery
-
out of
100
based on
8
ratings.