Rhinelander Mystical Jack Traditional Ale
| Minhas Craft Brewery
BA SCORE
76
okay
28
Reviews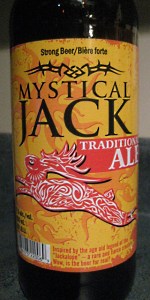 BEER INFO
Brewed by:
Minhas Craft Brewery
Wisconsin
,
United States
|
website
Style:
English Strong Ale
Alcohol by volume (ABV):
7.00%
Availability:
Year-round
Notes / Commercial Description:
No notes at this time.
Added by biboergosum on 09-29-2011
Reviews: 28 | Ratings: 87
3.03
/5
rDev
-3.5%
look: 3 | smell: 2.5 | taste: 3 | feel: 3.5 | overall: 3.5
Poured into a tulip glass
Appearance: Dark mahogany color, very little light is seen through. Just the way I like my beers
Smell: You will need to get close to smell. Aroma is almost gone, as if not there.
Taste: Satisfying from not having much of an aroma. Well balanced, tasting the malts in the beginning then the hops hit as you finish the drink
Mouthfeel: Definitely not a light beer, but don't expect anything heavy like a porter or stout. Being a traditional ale, this brew tasted and felt nice.
Overall: This is probably the one I like best of the bombers I have had from the Minhas Brewery. Give it a try< and I'm sure you'll be, atleast somewhat, satisfied.
★
676 characters
3.57
/5
rDev
+13.7%
look: 3.5 | smell: 4 | taste: 3.5 | feel: 3 | overall: 3.5
A flavorful and balanced obscure ale that seems of ESB origins, but with greater body, taste, and strength.
The jackalope-themed beer opens with a clear brown color for a somewhat cola-like appearance. Fluid and froathy foam gives a slightly tanned hue that struggles for retention and lace.
Strong malty aromas portray bold elements of toast, molasses, nuts, and heavily toasted grain. Balanced hop aromas provide a grassy, piney, and overall earthy scent.
Flavors of sweetness are pitted against bitterness for an earthy-sweet bit of caramel, barley, corn, buttered toast, sorghum, raw grain, tree bark, earthen peat, walnuts, fresh brewed wort, freshly cut grass, and resiny pine. Balanced but not overly complex, the beer fares well but not nearly to the degree of the 80 ibu calling on the label.
Full bodied to start, the beer's sweet weight dissipates and allows for a grainy sweet finish and earthy bite that hinges on grain husk astringency.
An oddly appealing beer with a heavy emphasis on sweetness, without full maltiness. This leaves me wanting much more malt crispness and less raw sweetness. The claimed high hopping rates also leave me wanting more.
★
1,171 characters
2.68
/5
rDev
-14.6%
look: 4 | smell: 3.5 | taste: 2.5 | feel: 2 | overall: 2
650ml bottle. Apparently inspired by the 'legend' of the Jackalope. What sort of grotesque hybrid does that imply here?
This beer pours a clear, very dark golden brown colour, with two fingers of foamy, puffy, almost creamy beige head, which leaves a thin paint job of lace around the glass in its not-too-hasty wake. It smells of bready, grainy malt, some oily nuttiness, and leafy, earthy hops. The taste is somehow sour, edgy fruit, over a stunned grainy malt, underpinned by some metallic booze, and beaten down, mugged earthy hops. The carbonation is average, the body on the light side (physically - metaphorically that's a whole other story), more than mildly astringent, and quite palate-depressing. It finishes a little sweet from the struggling 'malt', the acerbic, yet not really warming, booze cementing its stranglehold on this beast.
Wow, it started off so well, what could have gone wrong? I'll tell you - Minhas has found a new way to fuck with me - instead of obviously flaw-ridden, bottom of the barrel lagers, they're now pushing pseudo-craft offerings, which ring with the same sensibility as BMC's similar ilk (and they're in bombers, to boot!). This one looks good, smells decent enough, and then, whooosh - through the trap door you go. Like my previous experience with their, heh, chocolate stout, the aphorism "lipstick on a pig" was never more apt, and to play into their label chicanery: no, I wish that this beer was not for real, cheapest bomber around or not.
★
1,491 characters
Rhinelander Mystical Jack Traditional Ale from Minhas Craft Brewery
76
out of
100
based on
28
ratings.