Tundra Ice
| Minhas Craft Brewery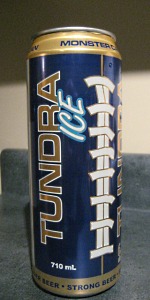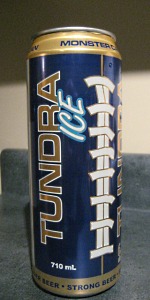 BEER INFO
Brewed by:
Minhas Craft Brewery
Wisconsin
,
United States
minhasbrewery.com
Style:
American Adjunct Lager
Alcohol by volume (ABV):
6.20%
Availability:
Year-round
Notes / Commercial Description:
No notes at this time.
Added by biboergosum on 11-05-2011
HISTOGRAM
Ratings: 10 | Reviews: 5
None found.
More User Reviews:

1.66
/5
rDev
-8.8%
look: 3 | smell: 2 | taste: 1 | feel: 2 | overall: 2
Tony Knipling of Vecenie Distributing in Millvale, PA presented me with an Anderson Valley Bahl Hornin' glass in the shape of a CAN at the end of my co-hosting Beer School. If you don't think that I am going to be using the hell out of THAT glass, you are so mistaken that you need to go to Beer School!
From the CAN: "Tundra Ice Lager Beer [-] Strong Beer [-] Biere Forte"; "Warning: Please Drink Responsibly [-] Never Drink and Drive [-] If You Are Pregnant, Avoid Alcohol"; "No Preservatives [/] Sans Agents De Conservatives"; "Tundra Ice Lager Beer Is Brewed & Packaged By Minhas Craft Brewery".
Oh, yes! My arch-nemesis Minhas again rears its ugly head. I am going to cut them some (just a wee tiny dram) slack on this one since the football lacing and the name are an homage to the Green Bay Packers and the frozen tundra of Lambeau Field. "So what?" you may ask and with good reason. I have never given Minhas anything but the needle, so what has changed? Simple. The Stillers play at the Pack this year and I am desirous of a ticket, so I am hoping for good karma by soft-pedaling my review.
The Crack left me with a little splash of beer on my finger, so I gave it a moment to reset and come back up to the line before the Hike & Glug. The glass took the handoff like an old pro and we were off and running. The offensive, I mean, offense mounted a finger of rocky, fizzing, bone-white head before careening headlong into the unrelenting humidity that seemed to blanket the playing field. The new glass, however, was the winner on the play as it allowed the upturned CAN to rest atop it, draining its remaining liquid into the glass. The referee signaled for a return to the line of scrimmage and so I peered in for a better look. The color was somewhere between sunshine-yellow and golden-yellow and rather than call a time-out for review, King Midas and Croesus CANceded the point and went with sunshine. Upon returning to the action on the field, the nose revealed that the cotton CANdy vendor was nearby and I got up to get away from the beer and to see what else might be available, like a noose to hang myself with in the Men's. It was now 3rd Down and I girded myself for the coming onslaught of the offensive, I mean, offense. Wham! Oh, my poor, aching tongue! It spared nothing in coming at me with everything that it both had and didn't have. It had a taste that would make a team of eleven maggots cringe. It didn't have any redeeming value. Suddenly, it began to snow, followed by a brief rain and now we were skidding around on ice, hence its name! I could find no traction and as the kicker came on for the field goal, I feared the worst. Sure enough, wide right! Namely, a wide turn around the kitchen counter and right into the sink and the drain. I wouldn't give this swill to John Randall or any of the other Vikings. Come to think of it, I am not a Packers fan, either, with Da Bears as my secondary team. A round for the home team and I am going home.
This has been a presentation of the National CAN League and all broadcast rights are held by the CANmissioner, Woody Chandler. See you on Su, 22 Dec 2013, either in-person or back here in the CANmissioner's office.
3,201 characters
2.31
/5
rDev
+26.9%
look: 3 | smell: 2 | taste: 2.5 | feel: 2.5 | overall: 2
710ml 'Monster' can. Don't quite get the football lacing imagery on the label.
This beer pours a clear medium golden colour, with a ton of dense foamy off-white head, which leaves some actual fish cracker image (huh) lace around the glass as it slowly (again, huh) abates. It smells of sweet grainy (pastry-like, almost) malt, corn mash mostly (ok, not pastry-like), and surprisingly zingy medicinal leafy hops. The taste is sweet bready malt, corn and grain awkwardly joined, for no one's gain, a subtle saccharine booziness, and that weird floral essence that I've come to associate with Minhas' products, some bad, some just not quite so bad. The carbonation is rather sedate, the body medium weight only through a sugary, cloying end run (see what I did there), and smooth only to those with a crazy sweet tooth. It finishes sweet, the creeping unholy bready malt mostly pushing all else out.
Weird-ass American pastime associations aside, this beer is equally strange in its manifestation - less skank than expected, and more malt, even if that malt doesn't exactly warrant a gold star. Still a bit too cloying for outright enjoyment; maybe mix some lowered expectations into your next tailgate party?
1,208 characters
2.09
/5
rDev
+14.8%
look: 2.5 | smell: 2.25 | taste: 2 | feel: 1.5 | overall: 2.25
Scraping the bottom of the barrel with Minhas again.
Hazy orange with rapid rising carb streams, the surface foam lasts a few seconds before dissipating to a thin ring around the edges, some stray lace on the opposite side.
Aroma is depressing, saccharine sweet, metallic, and full of wet paper oxidation.
As it warms, there are notes of sweet creamed corn. Blech.
Taste is harsh, some table sugar, crackers, apple juice, and envelope glue.
Not a tasteful melange, unfortunately.
Feels awful, like sucking on a penny or 9V battery. Super astringent, slick and filmy.
Gross stuff, even if just collecting the can and ticking shitty beer, I still feel ashamed.
664 characters

2.02
/5
rDev
+11%
look: 2.25 | smell: 2 | taste: 2 | feel: 2 | overall: 2
Another 6 pack of previously seen cans, one for the can collection, the rest to trade to other collectors out of range of the Minhas brand.
This beer pours a clear, gold yellow color, big fizzy white head. Big bubbles pop, and then fade away, might have left a thread or two of lace.
It smells of sweet grain, corn and wet vegetable, and some musty hops.
The taste starts quite sweet, corn and grains, seems to be a bit of aspirin-like aftertaste.
The carbonation is high, lots of bubbles and a tingly on the tongue, light weight, cloying aftertaste.
Again, following Woody's CANquest mantra, must finish the whole can for it to count.
638 characters

2.52
/5
rDev
+38.5%
look: 1.5 | smell: 2 | taste: 3 | feel: 2.5 | overall: 2.5
Cloudy, pale yellow appearance with lots of foamy head that slowly settles down leaving no lacing. Smell consists of corn, lots of sugar and a hint of booze. Not the first impressions of a quality beer.
Taste consists of corn, bread, lots of sweetness and booze. Has some grain and slightly medicinal. Surprisingly, the taste is very light overall but seems very unbalanced. Light bodied with low carbonation. Aftertaste is a weird dry, grainy taste.
Overall, seeing "Minhas" and "Strong" I thought I was going to be blown away with a sugary cough syrup taste. This isn't to bad for a stronger Adjunct Lager mainly because its bad qualities are hard to taste. I'd recommend this for shotgunning.
697 characters
1.44
/5
rDev
-20.9%
look: 3 | smell: 1.5 | taste: 1.25 | feel: 1 | overall: 1.5
1.33
/5
rDev
-26.9%
look: 3 | smell: 1.25 | taste: 1 | feel: 1.5 | overall: 1.5
Tundra Ice from Minhas Craft Brewery
Beer rating:
1.82
out of
5
with
10
ratings