Rhinelander Underworld Double IPA
| Minhas Craft Brewery
BA SCORE
71
okay
11
Reviews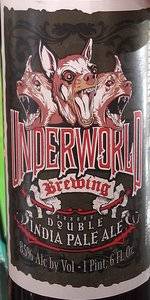 BEER INFO
Brewed by:
Minhas Craft Brewery
Wisconsin
,
United States
minhasbrewery.com
Style:
American Double / Imperial IPA
Alcohol by volume (ABV):
8.50%
Availability:
Year-round
Notes / Commercial Description:
No notes at this time.
Added by notchucknorris on 12-16-2011
Reviews: 11 | Ratings: 22

1.32
/5
rDev
-45.9%
look: 3 | smell: 1 | taste: 1 | feel: 2 | overall: 1.5
This beer was something I was really interested in trying. I was curious to see how this old brewery would be with making a style like this. The beer was poured out and it looked pretty decent, yellow in color with a white head on top. The smell of the beer is a major travesty... I'm not picking up hops at all on the nose... just grains and if ANY hop aromas are in there at all they're very earthy. The taste of the beer tastes nothing like a Double IPA of any kind. It's mostly all malt and basically no bitterness at all. The mouthfeel is thin and has no oily feel or piney sharpness to it at all. Overall this beer is a disaster in my opinion. I looked at the IBU's on this and for some reason the IBU's are actually higher on the regular IPA... My thoughts are someone switched the recipes or something. There is no way that a Double IPA should have an IBU ranked lower than 80 or 90. I wouldn't drink this beer again, it's needs some serious help.
955 characters

1.74
/5
rDev
-28.7%
look: 3.5 | smell: 2 | taste: 1 | feel: 2.5 | overall: 2
A - Well it looks like a DIPA. Burnt orange in color with very little head.
S - I just get a lot of grain; it smells like a pilsner. I read the label again and it clearly stated it was a Double IPA???
T - Just awful. As the nose would suggest it tastes like a pilsner; a bad one at that. It tastes like a Budweiser or Coors original. NO hops at all here and maybe a little bit of malt.
M - Light with a moderate carbonation.
O - I can't believe this is labeled as a Double IPA because it doesn't even taste like an IPA. It lacks any hop bitterness; malty sweetness or flavor. I think this brewery is trying to pull a fast one on the public with this beer. I couldn't even get through half the bomber before pouring the rest down the drain. STEER CLEAR OF THIS BEER!!!
772 characters
1.77
/5
rDev
-27.5%
look: 2.75 | smell: 2 | taste: 1.5 | feel: 1.75 | overall: 1.75
A - Poured a nice dark color. However, right off that bat, something that dark is going to be malty, especially for an IPA.
S - Very bready, yeast, unfiltered, stale fruit.
T - Very incomplete, bready, yeast, stale fruit, you know the stale fruit I'm talking about, the molded orange sitting on the counter or fridge.
M - Syrupy, boozy.
Over - Sorry this is terrible. I made something that tasted exactly like this on my first time brewing. There is very little hop profile in this, to be honest, there is no hop profile. The flavor tastes like someone let fruits sit in the fermentation thinking it would take the characteristics? I'm gonna go with peach? Just a very poorly executed. I got this for $2 at my local Fresh n Easy, and I'm honestly ready to ask for my $2 back.
779 characters

1.81
/5
rDev
-25.8%
look: 3 | smell: 2 | taste: 1.5 | feel: 2 | overall: 1.75
This is not a good beer. The taste is something like rotting fruit. More like a bad Hefeweizen than an american ale. I bought a bottle at Fresh and Easy for $1.99 and, even at that price, it's not a good buy.
Double IPA in name only - just because calling it wimpy, drunk debutante beer is bad marketing.
305 characters
1.99
/5
rDev
-18.4%
look: 3.5 | smell: 2 | taste: 1.5 | feel: 3 | overall: 2
My bottle poured up kind of flat. I poured quickly to conjure up a head but it fell down quickly and there was little CO2 release to be seen. The color is a lovely golden amber. The first taste impresses with a bold maltyness and then... sort-of just hangs there. The finish is just a syrupy malt with a metallic edge to it.
Where are all the hops?! To me it seems they used double the malt but didn't increase the hops to balance it. Frankly, I think it tastes like it isn't finished fermenting yet. This ale might score better if they labeled it as something different like, say, cheap flat strong ale. Labeled as a double IPA , it fell way short of my expectations.
670 characters
2.33
/5
rDev
-4.5%
look: 3 | smell: 2.5 | taste: 2 | feel: 3.5 | overall: 2
Appearance - Pours a nice hazy orange with a finger width head, average retention, and the resulting lace is sparse but sticky.
Smell - Heavily malted, sweet and bready. The hops are there, but well hidden behind the malted aroma.
Taste - Thick, syrupy malt body overshadows almost all trace of bitterness. Hops are vastly underrepresented here, but a touch of citrus pokes through here and there.
Mouthfeel - Full-bodied. Average carbonation.
Overall - I can't wait to finish this beer so I can never drink it again. Woefully unbalanced toward malt, in fact comes across as malt liquor more than a DIPA.
609 characters

2.7
/5
rDev
+10.7%
look: 2.5 | smell: 2.5 | taste: 2.5 | feel: 3.5 | overall: 3
Thanks to my brother for bringing this over for me to try. He said, "It looked interesting and I thought that you would like it".
Poured from a 22 oz bottle with a code on the bottle (?) into a pint glass.
A: Pours a golden color with a bigg fizzy head that dissipates quickly to nothing and leaves little lacing if any at all.
S: There are no hops. Smells like malt: bread and floral aromas.
T: Tastes sweet and malty. This must be what a Double IPA is like because it reminds me of a Dogfish Head 90 Minute IPA that I had recently and didn't like (Istill have one bottle in the refrigerator). I thought "double" IPA would mean a lot of hops.?! It is just malt.
M: It is not really easy to drink but better than the Dogfish Head Double IPA that stuck in my throat. It is overly sweet for me but doesn't the alcohol taste that the Dogfish Head did.
O: Not my favorite beer! I will probaly stay away from Double IPAs.
925 characters

2.8
/5
rDev
+14.8%
look: 3 | smell: 3 | taste: 2.5 | feel: 3 | overall: 3
My mom picked this up for me the other day at Fresh and Easy.
Appearance- copper color, almost no head
Smell- breadiness, minimum amoun tof hops
Taste- not bad but not what I would expect, minimum hops, malt flavor
Mouthfeel- medium bodied
Drinkability- ok I don't think I would buy it again but I would drink it if somebody gave it to me.
344 characters

3.02
/5
rDev
+23.8%
look: 4 | smell: 2 | taste: 3.5 | feel: 3 | overall: 3
My friend said he picked this up at the store in a 2 pack for $6. Nervous....
A: Looks harmless enough. Dark golden color with a thin off white head.
S: At first, this smelled pretty good. A nice (albeit gentle) hit of citrus and some floral hops alongside some faint breadiness. As it warmed, it started smelling flat out gross. Reminded me of hot wet cardboard that's been sitting in the trash for a week.
T: To be honest, the taste wasn't terrible. There was a bit of hop flavor there alongside some smooth malt flavors. I couldn't get by the smell though after a while and couldn't wait for this to end.
617 characters
3.29
/5
rDev
+34.8%
look: 3.25 | smell: 3 | taste: 3.5 | feel: 2.75 | overall: 3.5
Served from a 22oz bomber into my House Greyjoy pint glass. Bought from Fresh & Easy for $2.22 all together with tax and CRV.
Appearance: Doesn't really look as pretty as the standard IPA. Pours a rich golden amber color with barely a finger of white foamy head that disappeared quickly and left almost no lacing.
Smell: The regular IPA didn't taste anything at all like an IPA, and the smell of this double is giving me cause to prepare for the same experience, Smells a lot like an AAL with only a slight hoppy aroma.
Taste: Yep, once again tastes nothing like an IPA. Almost no bitterness, very little hoppiness. I'll admit that it's still pretty tasty. Very slight floral taste with hints of citrus, but is quickly overpowered by malt and bread.
Mouthfeel: Light with a little more than moderate amount of carbonation.
Overall: Don't go into this expecting a Double IPA. I feel a lot of the negative reviews are due to this beer tasting nothing at all like what you would expect from this style. I'm not sure what label would suit this beer better, but it's pretty tasty and I'll definitely get it again, especially considering its price range.
1,153 characters
3.58
/5
rDev
+46.7%
look: 4 | smell: 3.5 | taste: 3.5 | feel: 4 | overall: 3.5
Poured from a 12-oz. bottle into a pint glass. Color was honeyish. About 1 ½ inches of finger head. Sporadic bubbly finish.
Smelled citrus hops with lemon dominating. Some late bitter smells as well.
Not too much like the smell. Strong alcohol bite. Lemon citrus hops.
Medium body. Creamy texture. Clean, crisp and refreshing. Average carbonation.
It was a surprisingly decent beer. I don't know why I'd think otherwise, but still.
440 characters
Rhinelander Underworld Double IPA from Minhas Craft Brewery
2.44
out of
5
based on
22
ratings.