Underworld India Pale Ale
| Minhas Craft Brewery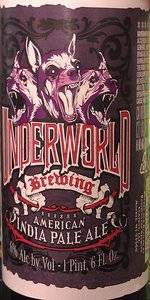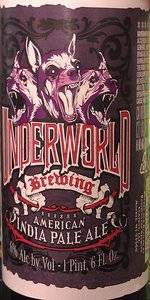 BEER INFO
Brewed by:
Minhas Craft Brewery
Wisconsin
,
United States
minhasbrewery.com
Style:
American IPA
Alcohol by volume (ABV):
6.00%
Availability:
Year-round
Notes / Commercial Description:
No notes at this time.
Added by BucannonXC5 on 03-15-2012
HISTOGRAM
Ratings: 10 | Reviews: 5
Reviews by BucannonXC5:
3.39
/5
rDev
+29.9%
look: 4.5 | smell: 3 | taste: 3.5 | feel: 3 | overall: 3.5
Poured from a bottle into a pint glass. About 1 ½ fingers of head. Color was caramel amber, but a bit clear. White lacing on the top that lasted throughout the pour. Nice spread out film on the sides.
Smelled citrus hops, mostly lemon on the top. Some pine in there, too. Not bad, but nothing too spectacular.
Pretty similar to the nose. Nothing too crazy, nothing too extraordinary, nothing to special. Got the citrus notes, but it was fairly blah.
Medium body. Thin, watery texture. Average-to-soft carbonation. Bitter abrupt finish.
Probably a bit too in the hole to rate this, but I did it anyway. Very good look but the rest was very average.
662 characters
More User Reviews:

3.11
/5
rDev
+19.2%
look: 4 | smell: 3 | taste: 3 | feel: 3 | overall: 3.25
Bought this at Fresh&Easy for $1.99 plus tax and bottle deposit. Poured from a bomber into a standard pint glass.
Appearance: This is a really pretty beer. Two fingers of thick off white head that had decent retention and left a beautiful lacing. Poured a hazy caramel/copper color.
Smell: Doesn't really smell like an IPA. You can still smell the citrusy hops in there, but the malt/grain was just as prominent which isn't what I'm used to in an IPA.
Taste: Another reviewer mentioned that he had to keep questioning whether or not this was really an IPA, and I can echo that sentiment. They could advertise this as an amber ale and no one would argue against it. The hop flavor/bitterness is incredibly down played (a lot of standard pale ales are much hoppier than this), and the maltiness is much more pronounced. That said, it still tastes pretty good. Especially when comparing it to other beers that cost $2 for 24oz.
Mouthfeel: Moderate amount of carbonation, medium body.
Overall: Nothing extraordinary, but I'd drink it again. If you have a decent amount of change in your pocket and you want to feel fancy, this is an alright beer. Just don't go in expecting anything spectacular.
1,197 characters

2.33
/5
rDev
-10.7%
look: 3 | smell: 2.5 | taste: 2 | feel: 3 | overall: 2.25
A: Cloudy appearance, nice caramel color.
S: Not a bad smell, didn't give me any hint as to what was coming, though.
T: Fruity. Combined with the slight alcohol taste leads me to think of rotten fruit.
M: Light carbonation. not bad.
O: Way too fruity for me.
262 characters

1.4
/5
rDev
-46.4%
look: 2 | smell: 2 | taste: 1 | feel: 1 | overall: 1.5
Poured from a 22 oz. bottle into a pint glass.Pours murky dark copper color with a 1 finger head. Smells like a very light hint of citrus with a bunch of dirt, malt and some sweet booze. Taste like rust and lemon. Mouth feel is watery with some tingly carbonation
This is downright horrible. I think I'm gonna take it back to fresh n easy and try to get my $1.99 back. This beer makes bud light look like a gem.
413 characters

1.88
/5
rDev
-28%
look: 4 | smell: 1 | taste: 2 | feel: 2 | overall: 2
Fresh and Easy normally has very good items. Trust me when I say this, THIS IS NOT ONE OF THEM. It sells for a meager $2 per 22 oz Bomber. With that being said I still feel like I over payed. I bought 2 of these so me and my friends could experiment with them. We had it out of a pint glass, out of an IPA Tulip glass, and a Pilsner.
Appearance- This Ipa looked very beautiful, it poured a Hazy-Brownish Copper color. The large amount of carbonation gave it a very nice look with the bubbles rising from the laser etches on my glasdware. But that is about where my compliments stop.
Smell- Maybe I am just spoiled living in San Diego where there are hundreds of great IPAs. This smelled nothing like an IPA that I am accustomed to. No hoppy aroma, no citrus, somewhat piney. It smelled like stagnant mountain water.
Taste- While drinking it I kept asking myself, is this really an IPA? It tasted like an old amber ale, no real hop note to it at all. Its not very complex, the only thing you can taste is the malt. Needs much more HOPS! It seems like they added the Hops too early in the brewing process and burned away all bitterness.
Overall- Its a $2 Bomber, you really get what you pay for. Try it out for yourself.
1,226 characters
Underworld India Pale Ale from Minhas Craft Brewery
Beer rating:
2.61
out of
5
with
10
ratings