Reppin' Red
| Minhas Craft Brewery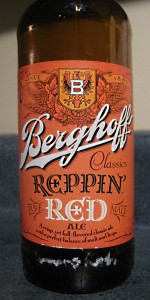 BEER INFO
Brewed by:
Minhas Craft Brewery
Wisconsin
,
United States
minhasbrewery.com
Style:
American Amber / Red Ale
Alcohol by volume (ABV):
5.40%
Availability:
Year-round
Notes / Commercial Description:
No notes at this time.
Added by dhannes on 08-28-2012
This beer is retired; no longer brewed.
Reviews: 7 | Ratings: 13

1.6
/5
rDev
-43.7%
look: 1.75 | smell: 2.25 | taste: 1.25 | feel: 2 | overall: 1.25
I picked this up as part of a build-your-own six pack for $9.99 at the Binny's store in Bloomingdale, IL, making it $1.67 for a single 12oz bottle. No freshness date, but this is a new offering from the Berghoff/Minhaus people, so I'm sure it's very fresh.
The beer poured a crystal clear amber/red color with a 1½-finger off-white head that dissipated in seconds and left no lacing whatsoever.
After giving it a few swirls, all I could pick up was a sugary hard candy smell along with some malt and a touch of alcohol.
Yuk! Terrible mineral water and chemical taste. If you can get through that there is some sweet caramel malt flavor underneath and not much else.
Watery thin with medium high carbonation.
Another crappy beer from a sub par brewery.
★
757 characters

2.06
/5
rDev
-27.5%
look: 3 | smell: 2 | taste: 2 | feel: 2 | overall: 2
12 oz. bottle, no bottled on date present. However, the label near the top does say copyright 2012 on it. I have had this beer before and was unimpressed, but I figured I'd give it another go.
A - Poured into a Boulevard tulip glass, pours the most amber looking colored beer I have ever seen, half finger of thin white soda-pop head, audibly sizzling away, with a heavy stream of carbonation rushing to the top. Significant lacing, for whatever reason.
S - Smells like straight up malt, chemicals, and dust. Nothing else.
T - Watery and malty. No real flavor to speak of here. I have had other "Berghoff" beers from Minhas before, and was also unimpressed with those. Very carbonated / chemical tasting. It pains me to say that if I had a choice, I might honestly choose Miller Lite or Miller Genuine Draft or some other water beer over this beer. I wish I could say that I might enjoy this beer on a hot Indian summer day, grilling up some redneck BBQ, but I still don't think that would improve this beer's chances at all.
M - Mouthfeel is watery and clears out quick.
Overall, I will probably never drink this again unless I am feeling overly adventurous one night. The label proudly exclaims 'since 1887'. Well, I would sure loved to have tried it back then before the inclusion of phenols and other chemical advents, maybe it was better.
Minhas Brewing Berghoff Reppin' Red ---2/5.
★
1,393 characters
2.61
/5
rDev
-8.1%
look: 3 | smell: 2.5 | taste: 2.5 | feel: 2.75 | overall: 2.75
355ml bottle, from the Pizza Brew in NE Calgary, notes from Aug 2013.
This beer pours a clear, medium bronzed amber hue, with two fingers of puffy, but mostly fizzy pale beige head, which leaves little in the way of lace as things quickly settle.
It smells of astringent caramel malt, stale bar top nuts, a flinty stoniness, and skunky weedy, leafy hops. The taste is more nutty and caramelized malt, a hint of corn syrup, a bit of apple and pear fleshiness, and mildly vegetal leafy, woody hops.
The bubbles are actually active and perceivable, the body medium-light in weight, and kind of tacky and pithy in its attempt at smoothness. It finishes off-dry, the touched caramel, weak nuts, and bland vegetal hops not really adding anything to the cause.
Another red/amber/brown/purple ale made by contract brewers that seems to have been designed by blind yaksmen. Not altogether off-putting, but really lacking in balance and real-world craft beer fullness. A less than helpful description for Minhas' step into headier territory, I know, but I've tried many times, and that's apparently the best I've got, at least today.
★
1,127 characters
2.75
/5
rDev
-3.2%
look: 3.5 | smell: 3.5 | taste: 2.5 | feel: 2 | overall: 2.5
12 oz bottle poured into a Brewers pint glass.
Appearance- Amber in color with a very small of bubbly white head with some minimal lacing.
Smell- Lots of citrus and bready malt
Taste- Woah a malt bomb. Very interesting. Not sure how to take this. It definitely nweda to be much more balanced with hops.
Mouthfeel- Also very odd. Light in mouth but heavy going down the throat. Almost causes gulping in the throat.
Overall- This is way below Berghoffs Rock River Red. I can understand wanting to make multiple reds with different tastes, but the complete lack of hop balance kills the beer for me.
★
601 characters
3.63
/5
rDev
+27.8%
look: 4 | smell: 3.5 | taste: 3.5 | feel: 3.5 | overall: 4
A pleasant, malty beer with a nice red/amber color and light but aromatic hops. This was a fresh batch with new packaging. The old Berghoff red was not as clean tasting and balanced; whether this was due to the new beer being fresher or reformulated I am not sure but at $4.99 a six pack and 5.4 ABV it's a great value.
★
319 characters

3.73
/5
rDev
+31.3%
look: 4 | smell: 3.5 | taste: 3.75 | feel: 4 | overall: 3.75
An interesting brew out of Illinois that I believe I picked up in Eau Claire, Wisconsin back in October. Color is a nice clear copper with pinkish hues, mellow and bland, but pleasant, all capped with fine and fluffy tan lace. Superb retention! I'm guessing the addition of rye to the bill is to thank for that. Aromatically it is caramel, bready, grainy, and a little sour. Up front, taste is bready or crackery at the base, with caramel and toffee or brown sugar strongly pronounced, as described. Before long middling hop bitterness sets in, accompanied by mild peppercorn notes (from hops and/or rye), both underscored by the relatively high carbonation. For all that complexity and balance, it's surprisingly smooth. Medium-bodied with a nice crisp finish. Off the top of my head, it seems different from say New Belgium's Fat Tire or Stone's Levitation, but it is equally delicious, if not better. I also appreciate the Germanic heraldry looking thing on the label. That's a third of the reason it caught my eye in the first place (the other thirds being it containing rye, and then the fact that it's a beer).
★
1,116 characters

3.91
/5
rDev
+37.7%
look: 2.5 | smell: 4 | taste: 4 | feel: 4 | overall: 4
Bought a 6-pack from the local Woodman's for $4.99 (Beghoff's is switching to new packaging, and seemingly reduced the price for both the old and new packaging to clear out the old packaging).
A=Subpar for an amber...more golden than red. Foam, however, is a nice yellowish white, about two fingers, and steady for over a minute. Somewhat cloudy body.
S=Sweetness, e.g. honey. If it weren't for the head, I would think it was a glass of honey. Citrus hops are present as well.
T=Unexpectedly nice...sweet, with a nice hop backbone. Flavors include honey and apple. Way sweeter than most ambers...yet rather enjoyable.
M=Smooth and drinkable, with moderately low carbonation. Sweetness makes it hard to drink quickly, but 2-3 could easily be consumed in the course of an evening.
O=Better than I expected...somewhat in between an amber ale and a pale ale...I imagine this would be great with barbecue or by itself.
★
928 characters
Reppin' Red from Minhas Craft Brewery
2.84
out of
5
based on
13
ratings.