Good Times Ice
| Minhas Craft Brewery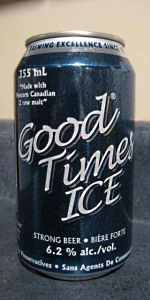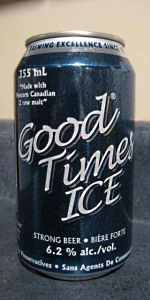 BEER INFO
Brewed by:
Minhas Craft Brewery
Wisconsin
,
United States
minhasbrewery.com
Style:
American Adjunct Lager
Alcohol by volume (ABV):
6.20%
Availability:
Year-round
Notes / Commercial Description:
No notes at this time.
Added by biboergosum on 01-26-2013
This beer is retired; no longer brewed.
HISTOGRAM
Ratings: 4 | Reviews: 2
Reviews by biboergosum:
1.72
/5
rDev
+5.5%
look: 2.25 | smell: 2 | taste: 1.5 | feel: 2 | overall: 1.5
355ml single can, another generic beyond belief offering from every beer nerd's favourite nightmare of a brewery, and apparently only available at your friendly neighbourhood Liquor Depot outlets, 'round here.
This beer pours a clear, pale golden straw colour, with one hefty finger of surprisingly puffy, foamy, and dirty white head, which leaves a sticky array of hilly horizon lace around the glass as it quickly absolves itself of any inherent responsibility.
The smell is semi-sweet fruit pale malt, weirdly warm and equally compromised, and I guess, some seriously plastic notes. The taste is underwhelmingly diluted, sweet nail polish alcohol, equally saccharine rice-borne cereal malt, some pithy, stale pear and apple fruitiness, and a sour refuse character that you really can't forget once exposed to.
The bubbles are generally rather low-key, the body a striving, but nowhere near adequately qualified medium weight, and smooth in that sold your only soul to a less than worthy devil manner. It finishes sweet, in a dead-eyed, intractable manner, nothing more, nothing less.
Gah. Another craptastic offering from this LCD brewer, one who lacks the humor to openly admit what they actually do - their concepts of 'premium' and 'quality' obviously procured from a different dictionary than mine. Sure, there's slightly more alcohol is this here sideshow, but that unfortunately has little bearing on the overall desirability of an already thoroughly shitty beer, full stop.
1,488 characters
More User Reviews:
2.79
/5
rDev
+71.2%
look: 3 | smell: 2.75 | taste: 2.75 | feel: 2 | overall: 3.25
I'll start this off by saying this beer (at my local Wine and Beyond) is $14something for a 15 pack. Including deposit and taxes. So it's a cheap beer, and cheap beer attributes are to be expected. That being said, for a strong, cheap beer, I was pleasantly surprised as I got to know it.
I wouldn't recommend pouring this beer into a glass, as it has a pale golden color but with a lackluster dirty head to it that seems "sticky" when interacting with the glass. Although it does look inviting if seen immediately after the pour, as it's color it's quite nice and the head is still intact.
The smell is a sweet maltyness, but balanced for what it is. Not much from me to say, but it is a heavy smell, almost like preparing you for the wild ride on which you are about to embark.
The taste. This is a widely disputed topic among the mates and I, as it starts off pretty terrible. Heavy, molasses-ridden, malty, strawy and dense flavor with an overwhelming sweetness to it that just has nowhere to go for what it has to offer is at the forefront of a first swig. The molasses really brings itself out as you near halfway, as it lingers on your palette and in the lips. It's thick, heavy, and feels viscous for a beer. But, as the beer nears halftime, the tastebuds tired and worn, that sweetness that didn't have a place decided it's time to shine. It comes through like a train plowing throw a fresh Canadian snowfall, replacing the straw rice flavor, and although the molasses hangs around like a frat boy on the dance floor, and the lack of carbonation is like dinner with the in-laws where the father likes to exclaim how much his firm as pushed sales that month (while you secretly know that he lost his job months back and hasn't told the wife), that sweetness comes to the rescue and rounds out the experience as you finish off your first Good Times Ice. One thing to note that I found interesting is the lag of alcoholic taste punch that similar cheap, strong lagers present. It's almost as if the thick body is masking this effect. Nevertheless, after this first experience with Good Times Ice, each subsequent experience gets better and better (and no I don't mean as the night progresses - rather each "fresh" sober experience with the lager). Eventually there comes a point where one is able to actually enjoy this beer. And when that time comes, a new outlook on the lager is attained.
Overall, this is a pretty abysmal offering; BUT, it's definitely a novelty that rewards you if you can stick around while the others are picked up. It's been a wild ride with this lager - so much so that the local Wine and Beyond has upped its stock from 3 cases on hand to 7 since I began this journey. Would I recommend this? Honestly, I don't think this is a beer one simply recommends. Rather, it is a beer that presents itself as something that has potential as you pass by it in the beer store. Like the prologue of a well written story, it leaves you wondering, "What's next? What should I expect if I continue?" So with this in mind, I leave the choice to you. I mean hey, at least you'll be bringing Good Times.
3,150 characters
1.02
/5
rDev
-37.4%
look: 1.25 | smell: 1 | taste: 1 | feel: 1 | overall: 1
As my buddy who introduced me to this beer says 'Check out this cursed swill I'm drinking tonight'. No recommended.
115 characters
Good Times Ice from Minhas Craft Brewery
Beer rating:
1.63
out of
5
with
4
ratings