Rúla Búla Irish Pub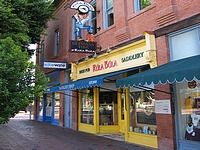 PLACE INFO
Type:
Bar, Eatery
401 S Mill Ave
Tempe
,
Arizona
, 85281-2838
United States
(480) 929-9500 |
map
rulabula.com
Notes:
No notes at this time.
Added by BigHead
Reviews: 9 | Ratings: 19
4.13
/5
rDev
+22.2%
vibe: 4 | quality: 4 | service: 4.5 | selection: 4 | food: 4
We were attending a workshop and came from out of town. We were staying at the Mission Palms Hotel which has easy access to Rula Bula's patio which is where we ended up on a hot day made cool by the misters surrounding the patio. A friend ordered the Hot Bollix Spicy Potato Balls and these were spicy and we joked about them for a while. I ordered the Reuben Sandwich which comes on marbled rye bread. For a side I skipped the chips for sweet potato fries. these were good but had cooled off before they could bring them to out table. To cool me off in addition to the misters I ordered a couple of Smithwicks. We had a great time here with the friendly and funny wait staff.
676 characters
2.75
/5
rDev
-18.6%
vibe: 3 | quality: 3 | service: 2 | selection: 3 | food: 3
This is your typical everyday stereotypical Irish American pu. There is absolutely nothing special about this place, and the inside looks like a reject set from the movie Titanic. The food here is typical dive-bar fried, tasteless food, none of the employees are Irish, of course, and the general motif seems to be an homage to Guinness and Boddington's. I highly doubt the authenticity of the Irish in this bar as most of the beers are American, although the menu boasts a few Irish favorites, but very very bland. This bar is in the Mill Ave District area right down the street from ASU, so expect a bunch of suburbanite college party idiots, that is if you can get into this tiny joint. Had this place been further away from ASU, I miaght have enjoyed it a little bit more. But as it is, this place is ok at best.
816 characters

4
/5
rDev
+18.3%
vibe: 4.5 | quality: 4.5 | service: 4 | selection: 3 | food: 4.5
Rula Bula is one of the best irish pubs in town.
Don't go here expecting craft brew heaven, expect all the irish favs... Boddigntons, smithwicks, guiness, pilsner urquell are the big boys on their tap. They have an amazing selection of Irish booze if you're into it.
This place is as legit as it comes for irish in az. It's in a building that used to be an old saddlery, right on mill avenue in the heart of tempe.
Regularly grazed by the fine eye candy of ASU, this is a good spot to go to if you like to stare, also if you like to eat... food that is.
They have the bombest irish food in all of AZ.
Bangers and mash, shepherd's pie, boxty, etc.
It's all exceptional, also, the best fish N' chips in town too.
714 characters

3.75
/5
rDev
+10.9%
vibe: 4 | quality: 4 | service: 4 | selection: 3 | food: 4
Rula Bula is an Irish beer bar on Mill Ave North of Arizona State Unviersity's campus. The inside of this bar is really amazing. You have to see it to understand. The entire inside of this place is wooden. There are wooden carvings on the wall, the bar, tables and chairs are wooden. There are old whiskey barrels on the walls. It looks like how someone would describe Ireland if the read a lot of turn of the century Irish literature.
This place offers about a dozen beers, mostly irish, people drinking Guinness and Smithwicks, there are other beers offered as well, Pilsner Urquell on draft among others. The beer is reasonable, maybe a bit on the high side, and the service is generally good.
This place serves really good Irish food, corned beef, shepherds pie, stuff like that. The food is kind of expensive, especially for how close to ASU it is, but the high costs keep the students outside. Its an interesting place, not a great place for beer advocacy but if you want an "authentic" Irish pub, this is the place in Tempe.
1,033 characters

3.4
/5
rDev
+0.6%
vibe: 5 | quality: 3 | service: 4 | selection: 2 | food: 5
I absolutely love Rula Bula, just not for the beers. The food and atmosphere is perfect for an Irish pub.
The beers are the boring, Diageo-produced usual suspects: Guinness, Bass, Harp, Boddington's, Pils Urquell. That's average quality to me for a bar listed on BA. The selection is weak.
But the food is great! Do yourself a favor and get the best fish and chips in Phoenix - I've tried three other award-winning fish and chips (though not at British Open yet) and none is even in the same vicinity. Rula Bula tastes as good or better than top-notch restaurants in the British Isles.
588 characters

3.53
/5
rDev
+4.4%
vibe: 4 | quality: 3.5 | service: 3.5 | selection: 3 | food: 4.5
Before there were craft beers, those who could not stand the big three opted for Guinness, Harp, and other elixirs from across the pond and felt blessed to have them available!
In a perfect world, every restaurant frequented by a beer geek would always have DFH 120, Dark Lord, Angel's Share and all of Russian River's treasures on draft. Unfortunately, in today's world there are times when friends, family and co-workers will want to go to a place that does not have the word 'brew' in the Bar or Restaurant name. In such an event, we in Phoenix are blessed to have Rula Bula on Mill Avenue in downtown Tempe.
The bar was built and transported to the United States…yadda yadda yadda. Don't bother with the bar because the outside patio and bar is where you want to be with heaters in the winter and misters in the summers…ok when it is 120 outside you can go inside and drink at the bar. Great bartenders and friendly servers make this a special place.
The service is good and almost any beer one would 'think' should be served in an Irish Pub. However, the big draw is their food: Irish Chips, Boxties, Bangers and Mash, Shepard's Pie, nice salads and slap your momma desserts!
Rula Bula offers great food, an outstanding patio, live music most nights, and original Irish craft beers....just no American craft beers.
1,337 characters

2.6
/5
rDev
-23.1%
vibe: 4 | quality: 3 | service: 2 | selection: 2 | food: 3
This is probably one of the most "authentic" Irish pubs in the phoenix area. The others don't look like an Irish pub, have very very poor beer selections, and lack a substantive Irish demography inside from both staff and patrons. Rula Bula defies most of these downfalls of Phoenix area Irish pubs.
Whether or not this pub was disassembled and shipped here I'm not sure, but it looks just like the other pubs claiming this accomplishment. Authentic menu selections round out the place nicely, though on the pricey side for both food and beverage.
Staff could be more polite, even if the patrons are not Irish (as I am not). Just not a comfortable, inviting feel to me. College yuppie clientele seem common.
Beer selection is a typical limited selection of British and Irish imports. Nothing special. If you must have an Irish pub and you're in Tempe then this is your place. If not, there are other places of interest to the BA in Tempe.
941 characters
2.96
/5
rDev
-12.4%
vibe: 4 | quality: 2.5 | service: 4 | selection: 2
Visited on a late night Tue and had the bartender run through the bottle list since I didn't see anything on tap that I wanted to drink. If you are a fan of half assed imports like Smithwicks, Guinness, Bass, Heineken, Harp, etc. then this is your kind of place. Last bottled beer mentioned by the bartender was "hefeweizen". Turned out it was Paulaner - so ok, something drinkable. Ordered one of those which came with a pint glass and relaxed while listening to some pretty decent talent on open mike night. More impressed with the singer/songwriters than I was with the beer. Pretty layed back and relaxing atmosphere that did not seem corporate or preconfigured at all - but kind of the opposite. Ok for a late night last stop, but not a place I would have more than one.
775 characters
3.8
/5
rDev
+12.4%
vibe: 4 | quality: 4 | service: 3.5 | selection: 3.5 | food: 4.5
I am always a sucker for Irish pubs, mostly due to my early infatuation with Guinness, and this place is a pretty good crowd if you can look past all the college kids (man, I feel old). It's one of those Guinness bars that supposedly made in Ireland and shipped over to the US and put together. It's neat, themed like a horse stable or barn. The selection of beers are nice, mostly imports. The Guinness is poured correctly here and it has a good flavor. The food is really good here, I enjoy the beef boxty a whole heck of a lot. No one complains when we go there to eat. A good joint to watch local Irish themed bands as well.
628 characters
Rúla Búla Irish Pub in Tempe, AZ
3.38
out of
5
based on
19
ratings.