Druthers Brewing Company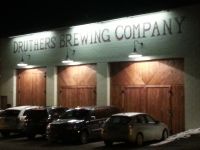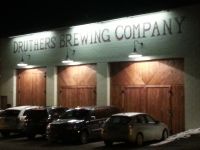 Brewery, Bar, Eatery, Beer-to-go
1053 Broadway
Albany
,
New York
, 12204-2505
United States
(518) 650-7996 |
map
druthersbrewing.com
Notes:
Recent ratings and reviews.
| Log in to view more ratings + sorting options.
Ratings by rorjets:

Reviewed by rorjets from Connecticut
4.31
/5
rDev
+11.1%
vibe: 4.25 | quality: 4.25 | service: 4.5 | selection: 4.25 | food: 4.25
Arrived around 5 pm after the NCAA Women's Basketball Tournament at the Times Union Center; the place was packed and we were told there was a 20 minute wait for a table, which was fine by us. The Hostess suggested getting a drink at the bar, so I got a couple of house brewed beers (Against The Current ale & Golden Rule Rye Lager) from the numerous taps to enjoy while waiting. I had barely returned to the entrance area, which has comfortable seating and a fireplace, when we were called for our tables - maybe a 10 minute wait at most. Our waitress was right there to take care of us, impressive considering how jammed the place was that evening. After deciding on our food I ordered a beer sampler - 6 five ounce beers for $14.00, a very fair price for 30 ounces of beer. We tasted every one while waiting for our meal. All the beers were good, some were outstanding. The 80 Shilling Scottish Ale was our favorite, with the Raspberry Porter not far behind. We both enjoyed our dinner - I had a Buffalo chiken individual pizza, and my spouse had the brisket sandwich. Good food & lots of good beer for two, for around $50, is an awesome deal! We don't get to Albany very often, as we are over 100 miles away, but this will be the place we return to anytime we do visit!
Mar 27, 2018
More User Ratings:
Reviewed by OmarRizzo from New York
1
/5
rDev
-74.2%
vibe: 1 | quality: 1 | service: 1 | selection: 1 | food: 1
Staff are consistently inhospitable and rude. Food is heavy and unappetizing. Although I love craft beer, I can't find a single one on the menu I enjoy.

I've tried to like this place, gone back several times since they have opened, but my most recent experience solidified my opinion. Whether just for drinks, lunch, or dinner with friends, I have had many unenjoyable experiences here.

Do yourself a favor and go to any one of the other local breweries or restaurants. There are many amazing options to choose from on the same block/street, where you'll find better food and drink, and the staff at those other businesses will act as if they want you to be there.
Aug 11, 2018
Reviewed by slander from New York
4.01
/5
rDev
+3.4%
vibe: 4 | quality: 4.25 | service: 3.5 | selection: 4.25
You know what's a long shitty day? Driving all the way up to northern Vermont from NYC. You know what's a shorter not a shitty day? Driving halfway and putting up in the cap region for the night and getting out early for the other half of the run. And if I can take in a beers about, then the day just keeps getting better...

Big 'ol brick space on the side of the road; Broadway, and all roads lead to. Long space with a dining side and a bar side; we chose the bar side as one who is me does. A large rec-a-tangle plank wood topped glossy laminated over bar with a lip, well band, vertical plank base in hues, and a foot box. Seating for nearly 3 dozen all around. Bar island holds a dozen tap piping barbell sporting logo Druthers handles (the word 'Druthers' spelled out in the shape of a bottle, it's pretty cool). Tiered booze & wine above and to the side, growls tucked behind the taps, and glassware shelved below.

Walls of brick and painted play with tall vertical panel windows, slanted rafter ceilings with red piping, and wide dark plank floorings. Drop single swirly bulb filament tracing the bar, wide pan lamps, track spots, strung baby lighting wrapping the piping, and drop lanterns throughout. Flats over the bar and in the corners. Large logo Druthers pieces and beer boards on the far wall. Spinny fans, they spin.

Nearly 2 dozen tables run around the bar; hightops, booths, shortys, and a large bar counter table thing. On the far side, nearly 2 dozen tables running up to the open kitchen; pizzas be happening, but not for us, having arrived 5 minutes after the kitchen closed (totally my doing having gotten home late and not being ready to a go-go, but shut up, Witzel). And a center square with cushy chairs around a fireplace with crushed glass (fire & ice).

12 taps; 11 house beers and a guest cider (Nine Pin). I went with the sampler of (6) 5oz samples for $14 served on a round rack hooked, and then 2 add ons for $2 thereafter. So, the 8 beers I got to (Druthers 80 Schilling Ale, 5.2%, malt bomb, imagine a Scottish Ale minus the Band-Aidy phenols I get all the damn time, thank you; Against the Grain smoked Hefeweizen, 5.5%, banananana, clove, light smoke, and again, no unpleasant phenols; Oatmeal Stout, 5.6%, oaty, coffee, chocolate, I dig; Fist of Karma, Brown Ale, 5.6%, sweetness and then it's got a bite; The Dare, Gose, 5.3%, low carbonation, tart, pleasant; Brevity Wit, 4.8%, kind of misses, better as it warmed; Druthers Amber, an ESB, 6%, nice bite, fruity esters; All-In IPA, 6.6%, Cascade, Amarillo, Magnum, bitterness abounds), and the 3 I didn't get to (Golden Rule Pilsner, 5.2%; Truth Serum, Tripel, 11%; Old Ale, 6.7%). Against the Grain smoked Hefeweizen, Oatmeal Stout, & The Dare Gose were my faves. And really, having doubled down on the potential Phenol band-aid beers, I was pleasantly surprised, no, I shouldn't say 'surprised', I was just happy to have found neither in that sort of shape. Well done, George.

Behind me bar side is the full on brewery; rows of tanks and kegs palletized. Funny setting up shop a mile up the road from your old haunt station but real estate being what it is, it is. Lots of room to grow in, anyway. Good tunes, nice folks, and some very well done beers. When in Albany…
Oct 30, 2017

Reviewed by magicderick from New York
4.88
/5
rDev
+25.8%
vibe: 5 | quality: 5 | service: 4.5 | selection: 5 | food: 5
This place kills it on every front. It's an old warehouse converted into a brewery/restaurant/bar with very tasteful hardwood all around. From the restaurant, you can see directly into the brewery and watch the beer you drink get made. The brewmaster is a biochemist who really knows how to get every beer perfect. The food is unreal. Not enough good things can be said about this place. It is in a part of Albany that no one thought would ever get out of an economic pit and because of Druthers and other establishments, the warehouse district of Albany will boom again soon.
Jan 05, 2017
Rated by Sammy from Canada (ON)
3.56
/5
rDev
-8.2%
vibe: 3.5 | quality: 3.25 | service: 4 | selection: 3.5
bustling restaurant with lots of their own taps. good service nevertheless. beer better than your average chain. lots of places to park.
Aug 22, 2016
Reviewed by livin4jc from New York
4.5
/5
rDev
+16%
vibe: 5 | quality: 4.75 | service: 4.5 | selection: 4 | food: 4.5
I might be a bit opinionated - but I really do like Druthers. Their menu isn't extensive, but good. Their beer selection isn't extensive, but good. This place is retro in an old warehouse north of the Nipper dog and next to the National Grid place. Parking can be a bit of a challenge, but it is very nice and you can watch them brew. Good service, fun vibe. Worth the trip.
May 30, 2016
Reviewed by jmdrpi from Pennsylvania
3.84
/5
rDev
-1%
vibe: 3.75 | quality: 3.75 | service: 4 | selection: 3.75 | food: 4
large open floorplan, it's in an old warehouse. Bar area, and seating on both sides. Glass wall looking into the brewhouse area. busy on a Friday night, but a wait for a table for 6 was still less than a beer at the bar long.

Medium sized taplist, but diverse. the 3 beers I had were all good, but not great. The food was good - huge portions and tasty. Our server was attentive.
Feb 13, 2016
Druthers Brewing Company in Albany, NY
Brewery rating:
3.9
out of
5
with
38
ratings