Staropramen Velvet
| Pivovary Staropramen
BA SCORE
83
good
11
Reviews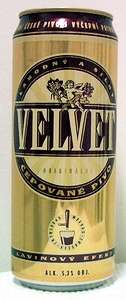 BEER INFO
Brewed by:
Pivovary Staropramen
Czech Republic
pivovary-staropramen.cz
Style:
Czech Pilsener
Alcohol by volume (ABV):
5.30%
Availability:
Year-round
Notes / Commercial Description:
No notes at this time.
Added by UnionMade on 03-04-2004
Reviews: 11 | Ratings: 20
3.4
/5
rDev
-5.3%
look: 3 | smell: 3 | taste: 3.5 | feel: 4 | overall: 3.5
I brought a nitro can of Velvet home from a recent trip to Prague. The beer poured a deep golden/amber color with decent creamy head. The smell was good some hints of fruit with some malts and hops. The taste was smooth and easy drinking, good balance of hops and malts. The mouthfeel was medium to light body minimal carbonation as expected from a nitro-can. Overall I thought the beer was a nice change of pace from standard Euro Czech Lagers/Pils.
450 characters
3.03
/5
rDev
-15.6%
look: 3.5 | smell: 3 | taste: 3 | feel: 2 | overall: 3.5
Poured red-brown out of a 500ml bottle with a white head that fell with a bit of lacing. The nose was fruity, mainly bananas with some malted notes. The taste was descent enough mostly bitter coffee with a bit of fruit but there was little, to almost no, carbonation that really made the beer fall flat for me (no pun intended). With a bit more bubbles it could have been a reasonably descent pilsner, but still nothing exceptional. Also, it cost me 40 crown at the corner store, which is at least 10 more than Pilsner Urquell, and a lot of other good pilsners at the bar.
572 characters
3.38
/5
rDev
-5.8%
look: 3.5 | smell: 3 | taste: 3.5 | feel: 3.5 | overall: 3.5
Served in bottle, totally different from the tap, I'll post my tap version later...
A: Dark red look with 0,5cm head.
S: Malts, brown sugar, coffee.
T: Malty lager with barbecue subtone.
M: Medium body with light carbonation.
D: The bottle version doesn't go near the tap.
277 characters

4
/5
rDev
+11.4%
look: 4 | smell: 4 | taste: 4 | feel: 4 | overall: 4
Wow, what a different beer. I have never seen a red beer do that. Like guiness but red.
appearance: cascading - deep dark brown-copper and reddish
smell: pleasant, low hoppness
taste: smooth rich, light
mouthfeel: tons of flavor
drinkability: Very easy for a red beer that cascades with the pour. gret beer, different
322 characters

2.65
/5
rDev
-26.2%
look: 2.5 | smell: 2.5 | taste: 2.5 | feel: 3 | overall: 3
Widget would cause a big spray on the open. Typical appereance with head. Body consist of malty makeup, detectable in the nose as well. Good stuff. Mouthfeel leaves a grittyness on the toungue. Carbonation decent. No hops, this flavour is malt dominated. Quenching, but with some character - good drinkability. Though, odd aftertaste on some swigs which ruined the otherwise fine, malty flavour. Falls apart alittle soon. Fine enough for not being anything distinct. Wouldn't have again, but happy to have once all the same.
As a side note, these Czech Widgets in the nitro cans seem to be quite different than those used by Guinness, and Irish beers. much larger and differently shaped. Obviously work the same way, but I'd be curious to know the technical differences, if any, or why the different widget at all.
817 characters
3.65
/5
rDev
+1.7%
look: 3.5 | smell: 3.5 | taste: 3.5 | feel: 4 | overall: 4
Seems to advertise itself like a red beer, though light colour. Very light body, yeasty head. Toatsty, Lightly malted, pale walts, wheat, caramel. Good bitterness at finish. A medium mouthfeel. Masterful brewing. Well hopped, thanks for bringing back Georgina.
260 characters
3.92
/5
rDev
+9.2%
look: 5 | smell: 3 | taste: 4 | feel: 4 | overall: 4.5
Had Velvet in a draught form several times and always enjoyed it. The 'snowstorm' in my ale glass was fascinating and change of color is one of the most beautiful things I've ever seen. The taste and aroma are not disappointing but not exceptional. We can expect more from such a beautiful beer. It's very drinkable, although.
Ernie,
somewhere in the Middle East
366 characters
2.85
/5
rDev
-20.6%
look: 3.5 | smell: 3.5 | taste: 2.5 | feel: 3 | overall: 2.5
440 ml nitro widget can, bought in Prague. Deep golden/amber colour, moderate creamy head. Pleasant but moderate fruity aroma with some malts and hops. Smooth and easy drinking, just enough hops and malts to make it a little better than "flavourless". Unpleasant metallic bitterness in the aftertaste.
301 characters
4.06
/5
rDev
+13.1%
look: 4.5 | smell: 3.5 | taste: 4 | feel: 4.5 | overall: 4.5
Many thanks to my brother John for bringing me this very fine beer.
You're the greatest.
The aroma is the weakest part of this beer, but that's typical of nitro cans. Yet, while this has a flat aroma presence it doesn't necessarily have the nitro aroma. There is a sweet malt presence that's nice.
Nice show with the settling of the head. Finishes with a firm dense 1.5 inch head. Golden amber and clear.
In the flavor what's noted is the creaminess along with the nice and tasty lager flavors. Starts with a nice malt start, then flows to a gradually increasing hop flavor and bitterness. Very smooth in the transition.
Really smooth and creamy, yet rather thirst quenching.
This beer shows a great ability to apply ale mouth feel qualities with the taste aspects of a good Czech lager. Very well done.
811 characters
3.85
/5
rDev
+7.2%
look: 4 | smell: 4 | taste: 4 | feel: 3.5 | overall: 3.5
The beer pours out of the can a rich, gorgeous tawny gold. A thick, two finger layer of creamy, ivory colored froth coats the beer. Excellent clarity, perfectly transparent. Great retention, as is expected with the nitro, leaving large globs of lace clinging to the glass.
The aroma is rather unusual. Lagery, yet sort of fruity. Unfortunately, I can't read the can (it's all in czech), so i don't know what it's really supposed to be. It has an interesting, sort of belgian-like feel. Soft pils malt blends with apple and pear esters. Mild saaz spiciness, with some floral noble hops. For a nitro beer, it's fairly aromatic.
The flavor starts with a soft, sweetish pils malt. Slight breadiness, with an almost candi sugar-like sweetness. A touch of caramel right up fromt, possibly maple? Excellent pear and apple esters slide into the middle, with a touch of banana and mango. The sweetness continues into the finish, mingling with a moderately sharp saaz spiciness. A bit of a metallic taste in the end, somewhere between that astringent floral flavor of tettnang and actual can metal. A bit of saccharine sweetness in the aftertaste, along with a lingering saaz spice. A very soft mouthfeel, with some creaminess from the nitro. Mild, tingly nitro carbonation. The body is somewhere in between light and medium.
My guess is a blend of czech pils and english ordinary bitter. I liked the belgian-like flavor, but the sweetly astringent aftertaste gets a little old. Thanks to my czech friend Ziggy for bringing this back for me.
1,534 characters
4.22
/5
rDev
+17.5%
look: 4 | smell: 4.5 | taste: 4 | feel: 4 | overall: 4.5
Another worthy effort, this is alot like a cream ale. The aroma is creamy, slightly sweet, and with notes of straw. The color is amber and it has a fine head. The flavor is very flowery, sweet malty, and rather hoppy though without being bitter. It ends on a slight prickling bitterness. A very smooth beer due to the nitrogen. I like this combination of English ale and Czech Pilsener.
386 characters
Staropramen Velvet from Pivovary Staropramen
3.59
out of
5
based on
20
ratings.