Bushwakker Brewing Company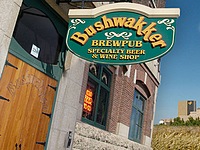 PLACE INFO
Type:
Brewery, Bar, Eatery, Beer-to-go
2206 Dewdney Ave
Regina
,
Saskatchewan
, S4R 1H3
Canada
(306) 359-7276 |
map
bushwakker.com
Notes:
No notes at this time.
Added by rudge75
Ratings: 13 | Reviews: 7
Reviews by Noxious26:
4.45
/5
rDev
-0.2%
vibe: 4 | quality: 4.5 | service: 5 | selection: 4 | food: 4.5
Every month my friends and I pick a different place to get together. Tonight was Bushwakker's. Really the ONLY place to go for good beer in Regina. There are other places with decent brews, but Bushwakker's is the only place willing to experiment with different beers and have a monthly "guest import" on tap.
Located in the warehouse district just minutes north of downtown, Bushwakker's is a nice comfortable pub atmosphere. High ceilings and lots of wood. Booths, tables, bar stools. Their brewing awards are framed and on display around the pub.
Service is excellent as always. Two comments: Our server was friendly, fast, efficient and knowledgable about the wide array of products. I went to check out what beers they had in bottles for off-sale and had a nice chat with (who I believe is) their head bartender or bar manager. We had a nice chat about what I look for in beer, my beer history, the pub's history and brewmaster history, among other topics. Very friendly and helpful. Seemed to really appreciate talking to someone who is passionate about beer.
They had 13 of their own beers on tap, as well as a "guest import" on tap and another about 30 Canadian micros and imports in bottles. They typically have a cask-conditioned beer on tap, although they didn't on this visit. The first friday of each month (First Firkin Friday) they unveil a cask conditioned beer and it's available as long as the firkin holds out. Be it one day or one month, then after that... no more. No macros available at all. The only brewpub in town where you can't get a macro and where you can get this array of bottle beer selection and the only place to offer cask conditioned beers. You could probably get a better selection of bottles in a bigger center (Calgary, Vancouver, Toronto, Montreal), but for Regina this is truly staggering. You can't get any of these bottles in the Saskatchewan Liquor Board Stores.
The food is a nice combonation of pub grub and nicer, higher end restaurant fare. My wife and I shared a Chocolate Stout Cake dessert and it was absolutely fabulous. Saturday night special is "Steak and a Pint" and my steak was a little small, but done as ordered and alright in flavour. Several unique local influenced items on the menu (Saskatchewan Hot Plate, Buffalo Steak, Buffalo Burger, etc).
This is simply THEE BEST craft beer experience in Regina. I know some people consider it boring because there are no tv's full of sports or pool tables or dart boards or video lottery terminals, but that's because they focus on the beverages and service. Their selection of single malt scotch is by far the best in Regina. Again, several selections that you can't buy in a liquor store here.
Parking can be a hassle. No lots, just side streets and there are 7 or 8 popular night spots (brewpub, beer bar, dance bars, martini bars, pool halls) within 3 blocks on the same street so it can be difficult to find a close spot.
2,947 characters
More User Reviews:
4.54
/5
rDev
+1.8%
vibe: 4.5 | quality: 4 | service: 4.75 | selection: 5 | food: 4.5

3.28
/5
rDev
-26.5%
vibe: 3 | quality: 3 | service: 3 | selection: 4
4.5
/5
rDev
+0.9%
No monster beers here but incredible selection. Did a 17 beer sampler, beers were good to very good. Atmosphere was great, an obvious popular place in town in historic building. Didn't have an food but it looked good. Don't know if I'll get back to Regina down the lovers highway from Minot, but this would probably the first place I go.
341 characters

4.98
/5
rDev
+11.7%
vibe: 5 | quality: 5 | service: 5 | selection: 5 | food: 4.75
This place is good fun. Had the hockey game on one screen, had live jazz across the bar and an incredible amount of their own beers on tap, as well as some guest taps, although I didn't have any of those.
Food was good, they give you a ton of fries and they have malt vinegar!
277 characters
4.47
/5
rDev
+0.2%
vibe: 4.5 | quality: 4 | service: 5 | selection: 4.5 | food: 4.5
"beer for beer hunters"
located in reginas warehouse
district (just north of the downtown core)
a real homey type place no overy loud music 1 small tv that plays the game but is always muted NO VLTS. plenty of seating and a extensive selection of superb hand crafted brews including the regular menue and a rotating host of seasonal and special brews.
good value at 4.75 a pint, and menu items are around $10
the service is always exceptional, the staff takes time to get to know you by the 2-3 visit Cheryl probly already remembers your name and what you like. the foor is mostly standred pub grub but superb quality also regular events like octoberfest, robbie burns night ect.
i love wakker
cheers
jh
713 characters

4.45
/5
rDev
-0.2%
vibe: 4.5 | quality: 4.5 | service: 4 | selection: 5 | food: 4
Had to make a side trip on our recent trip to Moose Jaw.
Located in the Old Warehouse district of Regina. It is in an industrial area, so there was a very large lunch crowd. Great selection of their own brews on tap - 7 regular offerings, too bad they were out of their summer fruit beer. Also have an extensive beer menu of hard to get bottles. The rotating guest draft when we were there was Affligem served in the proper glass. Food menu was also very good, with mix of traditional pub food, and more higher end selections. Very comfortable atmosphere in large building that still felt cozy and warm. Our waitress was very freindly and knowledgable and offered samples of each beer before we ordered a full pint. Large selection of their own beers available to go, package in large 650ml bottles. A MUST see if you are ever in the area.
840 characters

4.58
/5
rDev
+2.7%
vibe: 4.5 | quality: 4.5 | service: 5 | selection: 4.5 | food: 4
This place rocks. One of the best brewpubs in Canada, for sure, and certainly the best brewpub in the middle interior of Canada. Located in the warehouse district of Regina (like a 15-20 minute walk from downtown) this brewpub has a great atmosphere from the minute you walk in. Nice wood tones fill the place up and give it a really good lozal boozer feel. Tons of tables are scattered along the floor and the bar is nice, and of a good size. The beer quality is phenomenal here. Their UK IPA is killer, Helles lager was beautiful, and the Pale ale is great as well. Not to mention the samples I got of a centennial wheat wine, a grape mead, a killer west coast style pale ale, and an award winning homebrew competition winner rauch bier (omg, was that one good!). The food quality of my pizza was also quite lovely, and you get alot for a little bit of $ in this place, for sure. Service was perfect as I got the uber tour of this place from the brewer himself, David. He was great and showed me the whole operation and chatted for hours. What a great guy, and a great place. Certainly doing it for all of the right reasons. The selection is also killer, with about 5 lagers, and 7 or 8 ales on tap. You should see the cold storage room in this place. Unreal. Definately a must stop, or almost the only stop, when you are a serious beer lover hunting around in Regina. Like they say, this place is really making "beer for beer hunters". Thanks again David. My only complaint is that I want you guys to open up another one of these closer to me! Maybe even the US? Or at least close to the border! Please!
1,606 characters
4.33
/5
rDev
-2.9%
vibe: 4.5 | quality: 4.5 | service: 4 | selection: 4.5 | food: 4
In the top 10 of brewpubs in Canada and the best in Saskatchewan. Has a wide selection of its own beers on tap and in bottles.
Also has an good bottle selection (for Canada...). The food has been hit or miss over the past few years, but is now doing just fine.
The try to have at least one cask condition beer on tap. Worth taking a detour for any real beer drinker. (note, have changed to having a firkin every first Friday of the month)
Located in the warehouse district, just north of downtown across the train tracks.
Regina actually has 11 brew pubs, but only Bushwakker make good beer, the 3 Brewsters are improving, the rest are not woth it.
660 characters
Bushwakker Brewing Company in Regina, SK, Canada
3.56
out of
5
based on
166
ratings.