Manny's Pale Ale
| Georgetown Brewing Company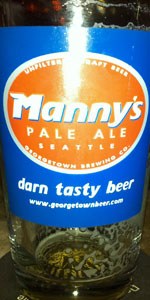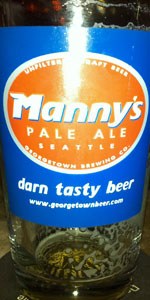 BEER INFO
Brewed by:
Georgetown Brewing Company
Washington
,
United States
georgetownbeer.com
Style:
American Pale Ale (APA)
Alcohol by volume (ABV):
5.40%
Availability:
Year-round
Notes / Commercial Description:
No notes at this time.
Added by BeerAdvocate on 09-09-2003
HISTOGRAM
Ratings: 388 | Reviews: 87
4.2
/5
rDev
+9.1%
look: 4 | smell: 4 | taste: 4.5 | feel: 4 | overall: 4
Manny's is a great PNW Pale Ale. I found it after consuming many Mac & Jack's African Ambers and never went back to M&J. It goes down smooth and is quite tasty.
I've introduced lots of people to Manny's and even people that don't drink beer think it tastes great. I think that's the mark of a truly good beer.
313 characters

4.23
/5
rDev
+9.9%
look: 4.5 | smell: 4 | taste: 4.5 | feel: 4 | overall: 4
A: Poured a cloudy orangish color, 2 finger width white head, good lacing
S: Smells citrusy, good hoppy scent
T: Well balanced, good grain maltiness up front. Nice fresh citrusy hoppiness
M: Goes down easily, mild/moderate amt of carbonation
D: Very good pale ale, well balanced and easy drinking
301 characters
4.13
/5
rDev
+7.3%
look: 4 | smell: 3.5 | taste: 4.5 | feel: 3.5 | overall: 4.5
This one was on tap at the Elk Public House. Served in a pint glass.
Pours and amber color and is cloudy. A stark white head forms and produces good lacing on the glass.
The smell is of citrus fruit.
The taste is of malted grain. There is a little fruit flavor including some soft fruit flavors like melons and grapes. It's a pretty typical pale ale, but good.
Mouthfeel is light, but little cloying.
This is a very drinkable beer. A top quality craft brew. I'll have this one again.
498 characters
3.85
/5
rDev 0%
look: 3.5 | smell: 3.5 | taste: 4 | feel: 4 | overall: 4
This is an orange-amber brew that's as thick and hazy as an unfiltered wheat beer. I'd doubt it's a pale ale if I hadn't seen it poured so many times before. It has a thick head with moderate retention and heavy, thick lacing. There is a sweet malty, biscuity smell. The taste is nicely balanced between malt and hops and is full of honey sweet malts and hops imparting fruity and floral tastes. The finish is medium long and the mouthfeel is very chewy. This is a drinkable beer. It feels like more of a gutful than other pale ales, but this could just be my own interpretation of the very cloudy appearance and the chewy mouthfeel.
637 characters
4.3
/5
rDev
+11.7%
look: 4 | smell: 4 | taste: 4.5 | feel: 4 | overall: 4.5
What a great find...this was recommended to me by a friend and since then I've seen it popping up in many places. Appearance is a very cloudy orange/copper color with a one finger head that leaves a nice lace down the glass. Smells- Sweet and citrus, very pleasant. Taste- has a nice sharp bitter up front that smooths into kind of an earthy malty finish with another bitter lingering effect. Not what I was expecting at all, but very, very good. Mouthfeel and drinkability were excellent, I could have many, many Manny's . If you have the chance to give it a go, I suggest you do.
581 characters

3.9
/5
rDev
+1.3%
look: 4 | smell: 4 | taste: 4 | feel: 4 | overall: 3.5
On-tap in Pike's Market in Seattle.
Served nicely chilled, a solid darker-amber with a small but firm yellowish head and some small carbonation rising.
From nose to head-taste to taste, there was a rather pronounced scent/taste that I finally identified as being like biting into a grapefruit skin-- slightly musty, tangy, bold, bitter, a bit startling and curious at first, and very unique in my experience. Even a few belches gave the same impression.
I think I would put this in my "mood beer" category, I might go session with it if I were in the mood. Definitely a "must-try" if you happen upon it on-tap. The server said it was her favorite drinking beer, and she's a bit of a beer-fan herself.
709 characters

4.21
/5
rDev
+9.4%
look: 4.5 | smell: 3.5 | taste: 4.5 | feel: 4 | overall: 4.5
Appearance: clear orange in color with a thick 2" head that lingered. Thick lacing developed.
Smell: orange citrus and floral hops were easily evident.
Taste: Nice malt backbone with caramel, orange citrus, and floral hop bitterness that was very pleasant on the tastebuds. A bit of spiciness was detected. Bold and flavorful for a pale ale.
Mouthfeel: lightly crisp and dry from start to finish. The orange and floral tones lingered softly into the aftertaste. Medium bodied.
Drinkability: easy drinking – a clear session brew. Worth trying of you see it on tap.
578 characters
4.26
/5
rDev
+10.6%
look: 4.5 | smell: 3.5 | taste: 4.5 | feel: 4.5 | overall: 4.5
Had this beer while at a pier restaurant/bar in Seattle on business after trying 3 local beers and being fairly upset about not seeing my familiar local brews. I was pleasantly suprised.
The beer was very full looking with a good color but with no head (though not the beer fault it seemed). The smell let me down a bit but the flavor was excellent. Tasted as full as it looked and was not overly hopped up.
I was very happy with the result and it was the only beer I had on the 3 day trip that I ordered twice.
517 characters
4
/5
rDev
+3.9%
look: 4 | smell: 4 | taste: 4 | feel: 4 | overall: 4
Had this on tap several times over the course of a couple week's at Sport in downtown Seattle, which unfortunately does not qualify to be listed on BA.
Beer poured a nice golden yellow with a decent white head that did not persist for very long. Aroma of cascade hops and Mac and Jack's yeast are quite evident. The yeast carried over the the flavor and mixed well with the spiciness of the hops and the malt. Was a better balanced IPA than most you will find in the NW, but still sat nicely on the hoppy side with mostly citrus notes. This may end up taking the place of some of the Mac and Jack's I typically order as a session beer. Very well brewed.
656 characters
4
/5
rDev
+3.9%
look: 4 | smell: 4 | taste: 4 | feel: 4 | overall: 4
Had this on-tap at the Viking in Spokane. I would've tried this last week but the keg blew just before I got off work. Lately it's popped up at a couple of other places in town as well.
Poured the most orange I've ever seen for a pale ale. Good sized off white head, modest lace.
Smell was of citrus, bitter hops, and bready malts. The citrus was what seemed dominant to me. Not unpleasant at all, but different for a pale ale.
The citrus was less dominant in the taste but was still an active participant. This tastes like an entirely new approach to pale ale, and it tastes pretty good. The hops are there, but it's definitely not a typical west coast hoppy pale ale that could be mistaken for a mellow IPA.
Medium bodied with a normal carbonation for a pale ale.
This was a pretty good session beer. In hot weather it would probably be even better (40 degrees and rainy when I was quaffing this). A nice new wrinkle (around here, anyway, with this only just showing up in these parts) on a style dominated locally by SN and Full Sail, which it tastes completely different from.
1,095 characters

4.1
/5
rDev
+6.5%
look: 4 | smell: 4 | taste: 4 | feel: 4 | overall: 4.5
I had this on draft at a dockside restaurant in Seattle.
A very approachable/drinkable American pale ale.
The colour is a lighter amber than most.
The bitterness is similar to Pikes, but it doesn't have as much hop flavour.
A very good beer. Just not an exceptional beer.
284 characters
4.27
/5
rDev
+10.9%
look: 3.5 | smell: 4 | taste: 4.5 | feel: 4 | overall: 4.5
This is a damn fine pale ale. Pours a cloudy amber with orange lights breaking through. The head while nice and off white frothy at first settles into a fizz. The smell is very strong of citrus, light hints of caramelized malts make up the rest, very light hint of hops as well. The taste was suprisingly pleasing, the citrus hops rejuvinated and refreshed while the thick sweet cinnamon toast/caramel malts were filling, nice crisp and refreshing. The elements come into a perfect harmony. Medium bodied and very drinkable.
524 characters
4.1
/5
rDev
+6.5%
look: 4 | smell: 4 | taste: 4 | feel: 4 | overall: 4.5
Appearance – This was a nice orange-colored ale. I had this on-tap and the glass was filled to the top, so I can't comment on the head.
Smell – The nice floral hops were complimented by a subtle orange aroma and a significant malt balance.
Taste – The hops were big in here for a pale ale. The orange sweetness came out on the tongue as well, which made for a refreshing combination. There was a nice balance of malt in here, too. Well done.
Mouthfeel – Lightly carbonated and somewhat dry. This was medium-bodied.
Drinkability – I had this with a sandwich and chips, so the thirst-quenching nature of this ale came in handy. I will definitely have it again.
676 characters
Manny's Pale Ale from Georgetown Brewing Company
Beer rating:
3.85
out of
5
with
388
ratings