Kennebec River India Pale Ale
| Kennebec River Brewery
BA SCORE
78
okay
13
Reviews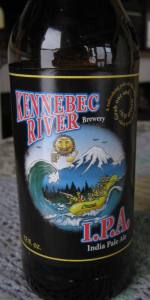 BEER INFO
Brewed by:
Kennebec River Brewery
Maine
,
United States
northernoutdoors.com
Style:
American IPA
Alcohol by volume (ABV):
5.90%
Availability:
Year-round
Notes / Commercial Description:
Our flagship ale, this was our first brew ever made in 1997. This copper colored, American style India Pale Ale is crafted with abundant amounts of North American malted barley for a full malt flavor. The aggressive bitter bite comes from a generous infusion of Magnum hops, with late additions of Columbus and Summit adding abundant hop flavor and aroma. Dry hopping with Summit adds to the big hop aroma on this brew.
Added by gfreed on 08-15-2010
Reviews: 13 | Ratings: 23
2.51
/5
rDev
-20.1%
look: 3.5 | smell: 2.5 | taste: 2.5 | feel: 3 | overall: 2
12oz single from Julio's. Bottle doesn't seem to be dated but didn't appear dusty on the shelf.
Pours a murky amber color with two fingers of light beige head. Keeps a rocky, uneven but pretty full lace with some splashes of stick on the sides.
Smells like overripe or rotting fruit with some caramel and biscuity sweetness. It's somewhat musty and not very pleasant at all.
Taste is pretty bland, which is actually better than tasting like rotten fruit. It has some light sweetness and a bready quality to the base. Hops do nothing for me here; some nondescript fruit flavor and very little hop bitterness. This is just blah.
Mouthfeel is medium bodied with an oily, slick feel. Finishes clean enough, but that's because it's so lacking in flavor or bitterness.
I'm glad I only got a single of this because it's not very good at all. Can't even call it mediocre. Subpar by any measure.
★
891 characters
2.53
/5
rDev
-19.4%
look: 3 | smell: 2.5 | taste: 2 | feel: 3.5 | overall: 3
A somewhat soapy aroma mixes with a few apricots to form the aroma. Biting bubbles mix with more soap and a small amount of citrus to form the taste. In other words, this could be a nice beer for grandma to wash out your dirty little mouth. Now quit swearing and go find something better to drink.
★
297 characters
2.75
/5
rDev
-12.4%
look: 2.5 | smell: 2.5 | taste: 3 | feel: 3 | overall: 2.5
Poured from the bottle with barely a one finger head with off white cream bubbles. Orange/brown body color and fairly opaque with lots of carbonation. Why is this beer so cloudy???
Faint creamsicle and weak orange smells off the beer but not much else, fairly closed.
Taste is a faint orange with a good hop sting, mouthfeel has some faint chew and cream/orange components and hop finish. Drinkability isn't that exciting this beer is missing a lot
★
450 characters
3
/5
rDev
-4.5%
look: 3 | smell: 3 | taste: 3 | feel: 3 | overall: 3
Poured into a Stella glass from the bottle. a cloudy brown orange color with little head retention. A very nondescript aroma, one would never know that it was an ipa. Not too much hop character for an ipa. It had a sweet after taste, but not the hoppy after taste of a typical ipa. Not a great ipa, but drinkable.
★
313 characters
3.1
/5
rDev
-1.3%
look: 3 | smell: 3 | taste: 3.25 | feel: 3 | overall: 3
Into a pint glass:
A: hazy dark tan/brown body that leaves a one finger head and lasts about a minute. Scattered lacing appears and slides gently down the pint glass.
S: centered around the hops with some citrus and a slight sense of malts backing it up.
T: consists of the hops at the front with some pine and citrus coming in with the malts making a slight presence.
M: medium, almost borderline heavy. A slight harshness appears on my tongue giving a good bitterness at the finish.
O: this is a decent brew. Honestly, I was a bit worried about this so I only bought one and am now thinking I could have had the whole six pack. Too bad for me. Yeah, I'd have this again, but probably won't seek it out too often.
★
719 characters

3.18
/5
rDev
+1.3%
look: 3.5 | smell: 3 | taste: 3 | feel: 3.5 | overall: 3.5
12 oz bottle courtesy of kennyo. Pours a dark gold color with lots of haze. Light tan head, creamy collar.
Nose is pretty malty for an IPA, what little hops are there smell earthy with some light pine.
I like the base beer alright - malts are soft and supple, but needs a serious overhaul in the hops department. More assertive, more vibrant. Just a light tickle of bitterness and mild fruit on the finish. A good, quick drinker is about all I can praise this beer for.
★
471 characters
3.2
/5
rDev
+1.9%
look: 3.5 | smell: 3.5 | taste: 3 | feel: 3.5 | overall: 3
A 12 oz bottle from Julio's.
A: The IPA is an admirable amber color, with prominent brown and orange hues, even a stray golden shade. A small head came along with the pour, leaving a circle of lace behind.
S: The nose is bland, malty sweet with the barest of hop backbones. What's there is citrusy.
T: The ale is much maltier than I was expecting. The rich caramel and toffee malt is warming as I sip through it. Hops? Not so strong of a focus in this ale. What's there is citrusy and very mild, orange in particular.
M: The mouthfeel is chewy and malty, sweeter than hoppier.
D: Drinkable enough but without a clear hop presence, I'm not willing to partake.
★
663 characters
3.2
/5
rDev
+1.9%
look: 3 | smell: 3 | taste: 3.5 | feel: 3 | overall: 3
Pours a murky caramel tan to brown with a small, yet dense tan head that sticks around for a while before leaving a scattered lacing behind. There is a fair amount of sediment floating about the body that is unexpected for the style.
Aroma consists of citrus hops both sweet and acidic with sweet malt to back it up.
The flavor consists of pine and citrus hops bordering on coppery at times with an overly sweet malt presence that offers caramel, nut and biscuit flavors.
Medium, almost chewy in body for an IPA with medium carbonation and a surprising kick of bitterness at the very finish.
Despite how the review sounds, it is a decent beer that just needs more of the traditional hop kick of an American IPA versus the malt dominance offered. Some additional pine and more defined citrus hops would be a plus. Certainly worth a try though.
★
847 characters
3.21
/5
rDev
+2.2%
look: 2.5 | smell: 4 | taste: 3 | feel: 3 | overall: 3
This draft was served in a mason jar at their bar. It was an unfiltered IPA on the slightly darker side of the color chart. I did have 2 of these due to the slim pickings but should have stopped at one. It is okay if you're parched but Maine has much better to offer for sure.
★
276 characters

3.51
/5
rDev
+11.8%
look: 4.5 | smell: 3.5 | taste: 3.5 | feel: 3 | overall: 3.5
A- Hazy brown with a very creamy, whipped cream-like head that has great retention. A frothy pillow leaves ample amounts of lacing.
S- Fairly hoppy with floral notes, citrus zest and fruit (orange, lemon). Caramel malt there and feels a bit stale.
T- Malty for an IPA. Has a decent amount of floral and citrus zest
hops. Caramel and nutty malt round out the beer. Some sort of strange tart feel to it. Yeast lends some bread and fruit notes.
MF- Light-end body with moderate carbonation and a somewhat watery feel to it. Fairly bitter in the end.
DB- Not bad but that strange tart tang kind of takes away from it all. Definitely has that East Coast IPA feel to it, a bit more malty than I prefer.
★
700 characters
3.53
/5
rDev
+12.4%
look: 4 | smell: 3.5 | taste: 3.5 | feel: 3.5 | overall: 3.5
Appearance is burnt orange haze with full fluffy off white orange tinted head. Looks pretty good. Intermittent lacing down the glass.
Smells some sweet caramel malt. Of course the hops scent is first, east coast-esque. Grassy, earthy and sweet.
Hops balanced with a caramel and almost sweet light chocolate malty flavor. Not much in terms of spice. Somewhat bitter close, nothing huge. Reminded me more of a pale ale at points.
Mouthfeel is smooth. Light to medium body.
Overall decent. Wanted more spicy and bitter, but good malt flavors.
★
545 characters
3.65
/5
rDev
+16.2%
look: 4 | smell: 4 | taste: 3.5 | feel: 3.5 | overall: 3.5
Enjoyed at Ri Ra's in downtown Portland, Maine, this IPA shows a clear amber color with some haze and a decent white cover with good lacing. The aroma is solid citrus and honey wheat...very nice. The flavor brings more lemony wheat and sweet cereal grains. Tart in a medium light bodied brew with reasonably intense carbonation. It may be just a little sweeter than I would ideally want but this a very solid IPA that I would gladly revisit and recommend.
★
457 characters
3.75
/5
rDev
+19.4%
look: 3.5 | smell: 3.5 | taste: 4 | feel: 4 | overall: 3.5
Lumpy head (it nearly burst from the bottle when first opened). Leaves some spotty lace. Very cloudy with a couple of yeast clusters. Otherwise, it's an orange-tan color.
Earthy aroma from the hop; there's a caramel smell from the toasted malts. Seems closer to a British IPA.
Slightly dark chocolate with a heavier dollop of caramel sweetness. Not overly bitter, enough to give balance, but probably closer to an English Bitter, which fits the style. Rich body with an above-average level of carbonation.
I think this is a decent British IPA entry--I was surprised to see the overall "C" score. Although I wouldn't buy a six-pack, I would never push this one away.
★
669 characters
Kennebec River India Pale Ale from Kennebec River Brewery
3.14
out of
5
based on
23
ratings.