Chan's Wine World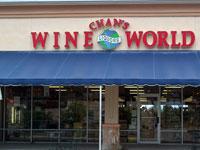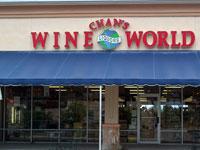 Bar, Eatery, Beer-to-go
4424 Commons Dr E
Unit 3E
Destin
,
Florida
, 32541-3486
United States
(850) 269-2909 |
map
chanswineworld.com
Notes:
Reviews: 38 | Ratings: 56
4
/5
rDev
-8.7%
I stopped in while on vacation after finding out about Chan's from reading about it on Beer Advocate. The beer is well laid out with some of the beer in a walk-in cooler and the rest located on nearby shelves. They had a pretty good selection of beer with such craft breweries as DFH, Sierra Nevada, Bell's, Weyerbacher, Terrapin, Oskar Blues, Brooklyn, Allagash, and Unibroue. I'm not as big on European imports, but they had several different Belgians to chose from and a lot of German and Polish beers as well. They didn't seem to keep a large inventory of the different beers. I went in on a Monday to try and find some Oskar Blues, but they were already sold out. I went back in on Friday and they had a few in stock then.
I will say that it is the only place to get really good beer in the Destin area, but their prices are a just a little high. The Wynn Dixie across from where I was staying had Bell's Two-Hearted Ale $1.00 cheaper a six pack, but I still bought it from Chan's just to support their business.
I briefly spoke with the beer guy, Jim. He was very helpful and really knew his stuff.
1,106 characters
4.5
/5
rDev
+2.7%
I've been by Chan's 3 times in the last month or so and it is always an adventure. At this stage in my beer drinking life I'm just trying everything I can get my hands on so I always pick up some singles. They do have plenty to choose from at Chan's. This makes it difficult for me as I always take forever to pick something out. ;-)
All the favorites are there: Sierra Nevada, Terrapin, Dogfish, The Shipyard, Bell's, etc. with a variety of styles to meet the tastes of any beer drinker. It does feel weird when someone walks in to buy Heineken or Bud Light when they could go across to the Shell station and get the same thing.
Jim loves to talk about beer so ask him questions (if you want to hear him talk). I will go back when I can afford it.
752 characters
4.65
/5
rDev
+6.2%
Jim, the beer guy is the guy to ask for at this place. I went to Destin on vacation in the early summer. Upon looking at the selection at the other stores in the area, my hopes for a decent beer selection in Destin were growing thin. Luckily, there was this place. I brought home some bells, ten fidy, and a lot of good belgians. If you're in Destin, this is the place to go. Jim was cool enough to order Bell's expedition and java stout just because I wanted some. He also hooked me up with a complimentary Dogfish Head glass. Very cool guy.
542 characters
3.73
/5
rDev
-14.8%
vibe: 4 | quality: 4 | service: 3 | selection: 4
Went last week while at the beach....
Always worth a trip, centrally located just off the mid Bay bridge. No Unibroue Anniversary but they had all other Unibroue. The "beer guy" said his distributor couldn't get the 17. Oh well... Selection was as good as you're ever gonna find at the beach. Lots of DFH, Oskar Blues (they were out of Dale's however), Rogue, Bell's, Allagash and Ommegang.
Price Sample:
DFH 60 minute: $11.99 6 pack
Bell's Expedition: $17.99 6 pack
Sierra Nevada Souther Hemisphere: $4.99 24 oz
750 ml 3 Philosophers and Dubbel: $7.99 each
Chimay Blue: $4.49 each
Oskar Blues Gordon: $11.99 4 pack
2011 update:
They now serve draft-to-go in quart and gallon plastic jugs. Last week, he had about 6 different beers pouring at various prices. Worth the mention if you're in there...
802 characters
4.15
/5
rDev
-5.3%
i was able to visit this place for the first time over the weekend. i met jim, the beer guy, and he couldn't have been nicer. the cheese lady was nice as well, but there was another guy who "helped" me the first day that was HORRIBLE.
if you go here, ask for jim.
i was able to hook up some great divides, dogfish head, bells, oskar blues, etc... also had a bunch of imported beers as well, but i didn't dabble in that section much as i was overwhealmed with the domestic stuff.
visit this place if you can.
510 characters
4
/5
rDev
-8.7%
I stopped by while in the area for a Batchelor Party this past weekend. There are two entrances, I can remember which one we walked through, but the beer selection was right by which ever door I chose, and the walk-in cooler was right to the left.
While I was mainly there for some American hoppy pale ale/IPA's, I did try to get a good look at the rest of their selection- there's a decent selection of Belgians and Germans, and some English selections as well. I don't remember seeing anything foreign that I hadn't seem before in Atlanta or Pensacola, though, except I don't know if I'd ever seen Witterke (sp?) in those places before.
American microbreweries are pretty well represented- there were selections from some of the more "local" breweries- Sweetwater, St. Somewhere, Dixie, Abita, maybe Terrapin,(if so, I didn't see any of their "Monster Series") as well plenty of other selections from all over the US- Boulder, Oskar Blues (inc. Ten Fiddy), Bells, Brooklyn, Allagash, Rogue (w/ plenty of bombers), Great Divide, Left Hand, and many more.
Their "beer person" wasn't there, unfortunately, but the staff that was there was helpful in locating things. As elsewhere in FL, beer tends to be more expensive than in GA (eg. $9.50 for a 6er of Dale's Pale Ale), but nothing seemed TOO outrageously priced.
One thing that concerned me a little- the beer selection seems to be pretty close to sunlight- the Two Hearted Ale I bought (along with the rest of Bell's products they had) was actually right by the windows, but all was boxed when I bought it (definitively wouldn't have bought it otherwise).
I'd certainly recommend stopping here to any BAer who finds themselves in the Destin area. I should note that there's a "Chan's Wine World Outlet" down the road from this location about 20 minutes in Sandestin. I didn't get a change to visit there, but I do recall hearing from an employee that they didn't carry Bell's Two Hearted- not sure about other products listed above.
1,992 characters
3.55
/5
rDev
-18.9%
I just returned from Destin and i must say i was impressed with Chans. They had a good selection. Although a bit pricey, they are still in line with Martin wine cellar in New Orleans, so i was fine with it. Here is the problem. The "beer guy" was a total beer snob. i will say he knew what he was talking about but he acted like it was such a burden to talk to a customer. He said he ordered all the beer so you would figure he would be helpful. WRONG. besides him the place was great. i love spending an hour or so looking over beer and not being able to decide which ones i want. Its alot better than going to a regular store and looking over beer and having to decide which one to settle for
694 characters
4.5
/5
rDev
+2.7%
Was in Destin all last week and visited Chan's 3 times.
It is probably the best beer store I have been in. That's not saying a lot for someone who has lived in Mississippi and Alabama (aka- The Land That Beer Forgot) his whole life, and who is fairly new to the world of better beer, but we all have to start somewhere.
They had a good Trappist and other Belgian selection...I brought home some Rochefort 8 and 10; Orval; Chimay Red, White, and Blue; and Westmalle Dubble and Triple.
Plenty of good Americans as well. I got three different Ommegang selections and some Allagash. On my third trip to the store, they had just gotten a big Dogfish Head shipment and I got some Black & Blue, some Red & White, some Aprihops and some 90 Minute IPA.
Many of the beers were available cold as well as on the shelf.
Amounts available for purchase ranged from single bottles to cases.
The staff was helpful if you wanted it but would quickly leave you alone if you preferred.
This was the first time I had purchased many of these beers, but they did seem a touch pricey from what I expected. Guess that's hard to escape when you are on the main drag in Destin. One complaint in this area is that my dad bought a case of Ommegang 750mL bottles and they wouldn't give him a "case discount" even though they routinely do so for cases of wine.
Overall a very good experience and a nice beer store. In addition to the beer, the cheese shop was nice and, per my dad (more of a wine guy than a beer guy) they had a very good wine selection.
If you are in Destin and need good beer, this is the place to go.
1,617 characters
4.5
/5
rDev
+2.7%
This store has gotten better and better over the years and the selection continues to grow. When I first found it (and knew little of craft brews at that point other than Belgian = way better than the crap I was used to) they only had a handful of Belgian beers at that point. Now they've got a nice selection of Belgians and Americans and a lot of other countries and styles.
The selection is great considering the region but it's not going to blow those away who aren't accustomed to living in a beer hell state like MS.
The service is also great. Even though "the beer guy" wasn't in this last time I went, I still had 3 different guys come up to me while I was looking over the selection. Even though their knowledge was limited, they still gave their honest opinions on beers I'd never tried before and were very helpful.
The prices are just a tad bit on the pricey side but nothing to complain about.
Overall, I'm very glad I stumbled on this store a few years ago. If you want some good beers to take back to your condo or down to the beach, this is the store you'll want to go to. And oh, by the way, if you like wine, cheeses or liquor, I'm sure you'll be pleased with the selections in those areas of the store as well.
1,242 characters
4.35
/5
rDev
-0.7%
I don't do a lot of reviews anymore, but Chan's deserves some attention. Most BA's know that traveling to a tropical beach destination means switching from beer to either liquor drinks or maybe Red Stripe if you're desparate. The selection along the Southeast and Gulf Coast is pretty paltry for the most part. However, Chan's seems to have assembled just about all the quality beers available in FL and stocks them all. Ken, the beer manager even campaigns out of state micros to distribute locally. He was successful with Sweetwater and was working on Brooklyn when I was there in June '06.
I found a nice selection of Trappists, Belgians, Central European lagers (lots of Polish beer for some reason) and a decent selection of American micros. Prices were a bit higher than back home in Texas, but the selection justifies the cost. A must visit if you vacation in Destin.
878 characters
4
/5
rDev
-8.7%
I visited a few wine and beer stores in Destin and was getting a bit bummed about the selection and prices. Bad selection and high prices are par for the course in Destin. Chan's Wine World is the exception. They carry a wide selection of imports and American craft beer from breweries such as Great Divide, Dogfish Head, and Ommegang. The prices were high for the occasional import, but most were reasonable. I got a four-pack of Ommegang Three Philosophers for $12 and a four-pack of Dogfish Head Aprihop for $8.50. I saw a bomber of Hennepin for $5.50 and Saison Du Ponte for $7.50. They have a new cheese section that looks impressive. I wish I had time to peruse it. There is a cooler filled with various Belgians and a space that accesses the back of the coolers, with a rack of chilled singles. Unfortunately, those are mostly macros. The more expensive beers come in singles as well, i.e. Okacim Porter, Sinebrychoff Porter, Chimay in 12 oz., Ebulum Elderberry Black Ale, Orval, Bitter & Twisted, etc. Service was friendly and generally helpful in providing directions and answering questions.
Chan's is easy to find, it is in the shopping center at the intersection of the main street and the road that connects to the midbay bridge. It is on the Northwest side of the intersection just behind the Walgreens.
1,320 characters
4.2
/5
rDev
-4.1%
Visited Chan's Wine World while I was on vacation in Destin over Chrtistmas this year ... so that's been all of 3 days ago, I guess!
I was impressed. This isn't a little "rinky-dink" liqour store, by any means. They're spacious and clean. The employees seemed very helpful and actually "into" the product that they sell and interacted with the customers quite a bit, but not in a pushy sort of way.
These guys had a fairly extensive selection of both domestic and import craft beers. They even had a modest selection of glassware, which was a nice touch. As I am especially fond of the ales of the Belgian persuasion, I focused my search on these ... but I did notice that they had quite a bit in terms of various German imports as well as high quality domestic brews from Dogfish Head, Flying Dog, Rogue, and others.
I was particularly pleased that these guys had some of the better american rendition of Belgian ales like Ommegang and Allagash. I bought a 4 pack of Ommegang Three Philosophers for $12, a 750 of Rare Vos for $8 and a 750 of the Allagash Tripel for like $6 or $7. Not too shabby. I also picked up a 4 pack of Unibroue Ephemere (my wife's favorite) for $10, I believe. I also found several good singles that I decided to grab to drink while I was lounging around in the condo ... a Piraat, a Talon Barleywine, and a 750 of Delerium Nocturnum. Finally, they had three bottles of St. bernardus Abt 12, of which I bought two ... one for drinking and one for cellaring. I buy this whenever and wherever I see it.
Anyway, bottom line ... this is a darn good store. The only one of any consequence that I know of in Destin. If you happen to make it down there, give 'em a try fo sure. I recommend it.
1,725 characters
4.2
/5
rDev
-4.1%
Located just off the main drag behind Walgreens. They didn't have a huge selection, but it was quite diversified, and little room was given to macros. Had quite a few high abv that we can't get here in GA e.g. Sierra Nevada Bigfoot Barleywine, Chimay, Unibroue. Also had some FL beers which was nice. I wasn't sure about the prices. Some seemed a bit high, but I don't know the going rate for a lot of these beers. If you need help talk to Ken Eggman, he's in charge of the beer and is quite friendly. Definitely the best beer store I saw in the Destin / Panama City area, and I stopped in a ton of them.
604 characters
Chan's Wine World in Destin, FL
Place rating:
4.38
out of
5
with
56
ratings