Super Bock Green
| UNICER União Cervejeira S.A.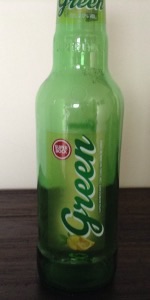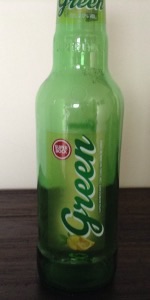 BEER INFO
Brewed by:
UNICER União Cervejeira S.A.
Portugal
unicer.pt
Style:
Euro Pale Lager
Alcohol by volume (ABV):
4.00%
Availability:
Year-round
Notes / Commercial Description:
No notes at this time.
Added by vancurly on 10-21-2006
Ratings: 14 | Reviews: 6
Reviews by XmAjOX:
More User Reviews:
2.75
/5
rDev
+4.6%
look: 2.75 | smell: 2.75 | taste: 2.75 | feel: 2.75 | overall: 2.75
3.05
/5
rDev
+16%
look: 3 | smell: 3 | taste: 3 | feel: 3.5 | overall: 3
I had this one while eating lunch outside at a crappy little café in Lisbon. Lisbon is loaded with great places to eat and I had to end up at a bad one...
From the bottle into a pilsner glass, the beer is a very pale straw yellow with a fluffy but quickly diminishing white head.
The nose is of lemon & grains. Not overly "beery" at all, but you know what your going to get.
The taste is sweet and kind of refreshing. The lemon is prominent and the underlying beer appears to be thier standard Super Bock (not a bock, but an American lager). There is some underlying grainy tastes and virtually no hop presence.
The mouth is crisp and it adds to the easy drinking nature of this beer. It is really not a horrible representation of a shandy. Would I drink it all day, no. But it did help me enjoy the café a bit more.
824 characters
2.61
/5
rDev
-0.8%
look: 3 | smell: 2 | taste: 3 | feel: 3.5 | overall: 2
I had this straight out of the bottle, as I was at a train station and did not have immediate access to a glass, so my appearance rating is average. It smelled pretty much like a lemon-lime soda, and tasted almost the same, actually pretty decent. Left me with a soda aftertaste and mouthfeel, so for me, one or two is drinkable, more than that is not.
352 characters

2.7
/5
rDev
+2.7%
look: 2.5 | smell: 2.5 | taste: 2.5 | feel: 2.5 | overall: 3.5
Normally I find the concept of "fruit" beers abhorent; either indicative of a brewer who can't get the basics right, or a large conglomerate trying to woo the younger drinker with flavours that do not challenge the naive palate.
This beer is not that bad. Admittedly it's lemon flavour is the dominant character, but unlike softdrinks there is a fairly reasonable malt body that gives it some interest for the seasoned punter.
A good refreshing summertime beer. My wife even liked it, comparing it favourably to alcoholic lemonades.
538 characters
2.67
/5
rDev
+1.5%
look: 2 | smell: 2.5 | taste: 2.75 | feel: 3 | overall: 2.75
From Alcampo. In Ikea's pislner glass. At lunch, with papas aliñas. Fine lemon refreshment. Like a fanta but with some alcohol. However, its cheaper to buy a fanta.
165 characters

3.24
/5
rDev
+23.2%
look: 2.5 | smell: 3.5 | taste: 3.5 | feel: 2.5 | overall: 3
Drank from the 330mL bottle poured into a glass.
Nose is distinctly lemony, almost doesn't smell like a beer at all. Pours green-yellow with a thick but flimsy head with almost no lacing. Thin-bodied, a bit watery, almost feels like lemon soda due to fine and fizzy carbonation.
It's an interesting light beer, but enthusiasts might want to stay away as there's almost no maltiness or hoppiness. I liked it though. I'd rather drink this than a malternative.
460 characters

2.83
/5
rDev
+7.6%
look: 3 | smell: 3 | taste: 2.75 | feel: 2.75 | overall: 2.75
Bottle states it's 2.0%abv, Pours a slightly hazed light golden with a thin off white head. Nose is dominated by Lime, that aside not much on offer aroma wise, Taste follows, lime Opal Fruits, sugars. Medium bodied, moderate carbonation, sweet finish.
251 characters
Super Bock Green from UNICER União Cervejeira S.A.
Beer rating:
0%
out of
100
with
14
ratings