Helles Bock
| Baron Brewing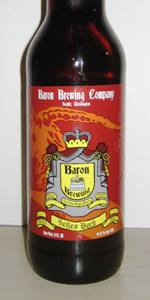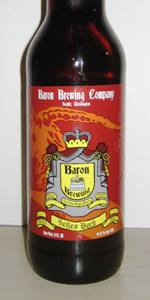 BEER INFO
Brewed by:
Baron Brewing
Washington
,
United States
baronbrewing.com
Style:
Maibock / Helles Bock
Alcohol by volume (ABV):
6.50%
Availability:
Rotating
Notes / Commercial Description:
No notes at this time.
Added by BeerAdvocate on 02-04-2005
This beer is retired; no longer brewed.
HISTOGRAM
Ratings: 5 | Reviews: 5
Reviews by livingregret:
4.31
/5
rDev
+21.8%
look: 5 | smell: 4 | taste: 4 | feel: 4.5 | overall: 5
Serving Type: 1 pt 6fl oz bottle
Appearance: Pours a lovely reddish copper colour w/ a lovely 1 finger that simply lingered on and on. Plenty of carbonation constantly rising throughout the glass leaves lovely lacing all the way down the side of my glass
Smell: A sweet smelling malt w/ a touch of cinnamon and yeast. Slight caramel smell mixed in. Damn this smells good
Taste/Mouthfeel: Wonderful...simply wonderful. A creamy and smooth drink that you wouldn't think possible because of the carbonation you see. Starts w/ a thick caramel taste that is than hit w/ a lovely bready-malt taste that is balanced out w/ hoppy bitterness. What I expected to be a overly sweet beer is balanced out wonderfully w/ the dry sensation from the hops at the end of the beer.
Drinkability: Easy going smooth beer that taste wonderful. I'll be looking to pick up another Helles Bock from the Baron Brewing Company as soon as I can. VERY tasty and well balanced
950 characters
More User Reviews:
2.48
/5
rDev
-29.9%
look: 3 | smell: 2.5 | taste: 2.5 | feel: 3 | overall: 2
Bottle courtest of Americanbrew.
The first time I have had a beer from this company and probably not a good example of what they can do, since this beer was clearly infected.
Pours golden orangish yellow with a white head. The aroma is sour grain but is pretty faint. The flavor is sour grain with clear infection issues. Thin mouthfeel and medium carbonation.
363 characters

2.72
/5
rDev
-23.2%
look: 2.5 | smell: 3 | taste: 2.5 | feel: 2.5 | overall: 3
Poured golden brown with no head and a little fizz.
Smell was of banana, sweet malt and biscuit.
Taste was malt up front with a slightly crisp finish, even though it taste flat.
Mouth fell felt like a flavored water drink, tasting alcohol with very little bitterness.
This brew had NO head and made me fell as if I was drinking beer juice. Not something I look for in a beer.
Poured into a pint glass that tasted mediocre at best, but the last 5 oz. in the 22 I just drank out of the bottle and it tasted a little more complex. maybe this beer wasn't ment for the pint glass, whatever it was you can keep it.
612 characters
4
/5
rDev
+13%
look: 4 | smell: 4 | taste: 4 | feel: 4 | overall: 4
This'll be my first offering from Barons. Looks like they specialize in German brews. A whole slew of bocks, dunkels, weizens, etc.
Clear and light copper. Lots of carbonation coming off the nucleation points in my Sam Adams uberglass.
Great bakery-fresh malt aroma. Cinnamon rolls, french toast, rising pretzel dough. Light yeast.
One of the few Helles Bocks ive gotten my hands on. I relished in it, believe you me. Good malty caramel and burnt butterscotch and bready yeast. Hops are there, but just to balance. Mouthfeel is good and smooth, reminding me of a cream or brown ale. Yummers.
596 characters
4.21
/5
rDev
+18.9%
look: 4.5 | smell: 3.5 | taste: 4.5 | feel: 4 | overall: 4.5
Poured from a 22 oz. bottle to a pilsner glass.
My latest find at By The Bottle in Vancouver, WA. ABV on the label is 6.5%. Baron Brewing (Seattle, WA) - German Style Beers Since 2003.
A: Perfectly clear, a cheery copper/amber. Initially, over a finger of fizzy/creamy off-white head. Loads of rising carbonation in fast-moving streams, constantly replenishing a thin remnant of the head. Sheets of sticking cream. Very pretty, very active bock.
S: A good-smelling baked-bread malt, spiced like cinnamon toast, sweet caramel and light lager yeast aroma. Appealing, maybe a bit weak coming out of the bottle vs. on-draught.
T: Delicious flavors - chewy caramel, grainy whole wheat bread, light spices, that metallic lager twang and a hint of citric sourness. What starts sweetly malt, dries substantially with an unobtrusive addition of hops that balance the flavors quite well.
M: Creamy mouthfeel with a smoothness that belies all the carbonation I'm seeing. Medium body. A little malt sticking on the lips and a drying spiced bittering on the back of the tongue
D: Grilled some cheese & onion-filled German knackwurst tonight; this beer went superbly with it. Sweet malts paired well with the smoked meat; saved half the bottle for afterward and it hold up well on its own. Just a smooth-drinking, fresh-tasting helles bock that makes me want to go get more. Looking forward to the next one and to future tastes of the Baron brews.
1,454 characters
Helles Bock from Baron Brewing
Beer rating:
3.54
out of
5
with
5
ratings