New South White Ale
| New South Brewing Co.
BA SCORE
78
okay
37
Reviews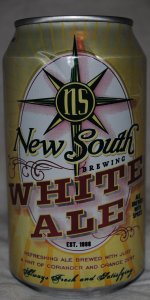 BEER INFO
Brewed by:
New South Brewing Co.
South Carolina
,
United States
newsouthbrewing.com
Style:
Witbier
Alcohol by volume (ABV):
4.60%
Availability:
Year-round
Notes / Commercial Description:
An American interpretation of a classic Belgian wheat ale. A hazy light golden color gives this beer its name. This light and refreshing ale is brewed with just a hint of coriander and orange zest giving way to a citrus finish.
Added by Loki on 04-29-2003
Reviews: 37 | Ratings: 101
2.99
/5
rDev
-10.2%
look: 2.5 | smell: 3.5 | taste: 2.5 | feel: 3 | overall: 3.5
beer pours a golden colour with some haze and very little head. Definite citrus smell that gets me excited, but not too much. Wheat and citrus are the overwhelming tastes, but it's nothing to write home about. Feels pretty average to drink, but it does go down relatively smooth, and while i won't be having another one, it is easily drinkable
343 characters
3.18
/5
rDev
-4.5%
look: 3.5 | smell: 3 | taste: 3 | feel: 3.5 | overall: 3.5
(From notes)
A - Very light yellow color that's only slightly hazy; poured with absolutely no head whatsoever
S - Lightly yeasty and citrusy, but a struggle to really pick anything out
T - Yeasty and a bit grainy only a faint hint of fruitiness/citrus; pretty bland
M - Watery, thin, and really muted carbonation
D - Not great drinking, and I'm not sure that this even qualifies for the style
Overall, wouldn't bother with this again if given the opportunity.
465 characters
4.64
/5
rDev
+39.3%
look: 3 | smell: 4 | taste: 5 | feel: 5 | overall: 5
Perhaps one of the best white ales that I have ever had if not THE best. Cloudy straw color with an average head. Some pungency of fruit in the nose. The flavor is smooth and feels nice in the mouth. Almost a syrupy quality to the mouthfeel. The finish emits a flavor that both my wife and I agree makes you think you are drinking a wine. I think its great, but will admit that its a unique enough beer I could see some folks not liking it. I gave it an A.
456 characters
2.63
/5
rDev
-21%
look: 3.5 | smell: 3 | taste: 2.5 | feel: 2 | overall: 2.5
Tangerine in color with just some slight haze. Nose was just hitning at some spices and wheat but not much else. Flavor was a bit understated and a tad metallic actually. Slight tints of wheat. Overly understated and unexceptional. Good enough in a pinch but I was happy to move after my single pint. Mouthfeel was light and had a metallic ting to it I thought. Not particularly fond of this beer.
397 characters

3.33
/5
rDev 0%
look: 3.5 | smell: 3 | taste: 3 | feel: 4 | overall: 4
A little bland for my tastes compared to other more true representatives of this style, but slightly spiced, smooth and easy to drink. It went down easily after a hot day on the golf course. At $10 for a pitcher, the price was right.
A good session beer, but nothing outstanding.
280 characters
3.28
/5
rDev
-1.5%
look: 3.5 | smell: 3 | taste: 3 | feel: 3.5 | overall: 4
Hazy apricot pour with a dense, but brief head of white. Large, cascading bubbles allows for a thin veil to remain.
Typical aromas of sweet and tart citrus, wheat, and coriander spice.
Flavor is decent, but nothing out of the ordinary. Sweet citrus and slightly tart wheat flavors along with powdery fruit and spicey coriander.
Light mouthfeel feels fuller due to big bubbles. Slick, quenching texture. Easily quaffable.
429 characters
3.82
/5
rDev
+14.7%
look: 3 | smell: 3.5 | taste: 4 | feel: 4 | overall: 4
Appears a light, cloudy haze of light gold with a small white head that fades quickly. Tiny bits of lacing are scattered but seem to fade quickly as well.
Smell is of crisp wheat with coriander and citrus lingering.
Taste is of the same aromas with some pleasant spices that makes the taste good but there is no "wow" factor, which sort of holds this one down from being in a higher echelon.
Mouthfeel is of a medium carbonation and light brew with mild wheat and subtle citrus and spices with just a touch of hops. Very delicate and good in my opinion.
Drinkability is good. This is the choice for drinking outside in the Myrtle Beach and surrounding areas during the summer.
681 characters
3.78
/5
rDev
+13.5%
look: 4 | smell: 3.5 | taste: 4 | feel: 4 | overall: 3.5
Hazy pale straw colored with a dainty white lace.
A citrus tang touches the malty nose over a light frothy body.
Starts out a bit mild and carbed, but moves quickly to a nice wheatiness. Slight esters give it a sweetness that is similar to the aftertaste of an orange, maybe?
Finish is long and the wheat shines through to the end souring slightly as it goes.
Closer to a definite style than their usual.
409 characters

3.52
/5
rDev
+5.7%
look: 3 | smell: 3.5 | taste: 3.5 | feel: 3 | overall: 4
I have been wanting to have this one for a while. Finally got it on tap at the Kickin' Chicken on James Island. I saw the beer and wondered why they called it a White Ale. There was nothing white about it, other than the head. The brew itself was actually a light amber color. I thought they had brought me the wrong brew. They told me it was the right one though. The brew's smell was quite fruity, mostly of the citrus origin. Along with that, there was the light hint of the hops. The taste was a little bit different though. I thought it had a bit more in the area of the malt area with the citrus undertones. I figured this one would be great with a slice of orange in it. All in all an ok beer. Not really a Witbeer or White Ale, but a good beer none the less.
766 characters
3.5
/5
rDev
+5.1%
look: 3.5 | smell: 3.5 | taste: 3.5 | feel: 3.5 | overall: 3.5
Appearance: Slightly cloudy gloden ale with a white creamy whispy head leaves nice even lacing around my pint. Aroma: Subtly spiced sharp sweetness excellent smell slight citrus twang to it, nice. Taste: Nice yeast characteristics citrus and clove linger in the flavor, sharp malted wheat sweetness is also there nice and refreshing drank this one at a restaurant on the pier perfect setting. Mouthfeel: Light body and creamy texture solid carbonation. Drinkability: Nice beer perfect for warmer weather with decent witbier flavors.
532 characters

2.55
/5
rDev
-23.4%
look: 2.5 | smell: 2.5 | taste: 2.5 | feel: 3 | overall: 2.5
The ale arrived looking weak - a very light off yellow color, extremely cloudy and some wisps of a head (if you can call it a head). My nose twinged on the unbalanced aroma of citrus, like an orange peel was under my nose. I was somewhat surprised that the citrus provided some decent tartness on the tongue but the ale seemed a little off balance. The malt was way behind the tartness. No crispness. After a few swigs, I lost interest and didn't even finish it.
I wanted to try this at another establishment, but did not find it on the rest of my trip. I left questioning the age of the keg or whether I received a first pour of the day as everyone had a bottle of bud in their hands. But this tasting was unimpressive for what should be a crisp and refreshing ale.
769 characters
3.3
/5
rDev
-0.9%
look: 4 | smell: 4 | taste: 3 | feel: 3 | overall: 3
Pours a cloudy gold wheat with very little head. Yeasty, citrus flavor very typical for a hefe. Very light tasting hefe, not watery but lacking full flavor. Very light spice that the brewery claims. This reminded me of a light hoegaarden. Not bad, but not great.
262 characters
New South White Ale from New South Brewing Co.
3.33
out of
5
based on
101
ratings.