Peachy King
| RJ Rockers Brewing Company
BA SCORE
83
good
15
Reviews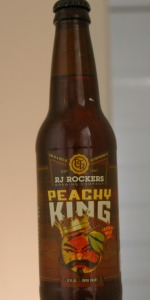 BEER INFO
Brewed by:
RJ Rockers Brewing Company
South Carolina
,
United States
rjrockers.com
Style:
Fruit / Vegetable Beer
Alcohol by volume (ABV):
9.00%
Availability:
Winter
Notes / Commercial Description:
No notes at this time.
Added by thagr81us on 02-17-2012
Reviews: 15 | Ratings: 117
2.75
/5
rDev
-23%
12 ounce bottle - $2.99 at Total Wine & More in Kennesaw, Georgia.
Bottled on: 05/29/2014
Appearance: Pours an amber-golden body strewn with some fine particulates and capped with nearly an inch of off-white foam.
Smell: Displays a bready, moderately sweet-scented aroma drenched in nostril prickling alcohol, giving an ill sign of things to come.
Taste: Bready, honey-glazed maltiness with a full-on fruity dose of peach puree, a couple drops of vanilla, and a big pop of low-grade schnapps which easily borders on a stinging, medicinal quality which mercifully drags out into the aftertaste and settles into a belly-warming tincture.
Mouthfeel: Medium-bodied. Medium carbonation. Minor stickiness present.
Overall: With a sneer, R.J. Rockers asked of Son of a Peach, "who's your daddy?" Apparently, it's this boozy deadbeat asshole.
840 characters

2.93
/5
rDev
-17.9%
look: 3 | smell: 3.75 | taste: 2.5 | feel: 3 | overall: 2.75
poured from a 12 oz. bottle into a pint glass.
The beer pours a hazy amber/orange color with little to no head. What little head that there is dissipated quickly leaving behind no lacing at all.
The beer smells mainly of peach preserves, but there is a definite bready/malty undertone and is capped with a slight booziness
The flavor is sweet and sticky, comprised mainly of peach jam/preserves with a sweet malty backbone and a definite boozy finish. Not bad but not as good as Son of a Peach
Overall, this is not a bad beer, but it is not something that I would seek out again. This beers smaller version "Son of a Peach" is good, even if a little one dimensional, but this bigger version seems to have muddied the waters in their effort to create a more complex beer.
774 characters
3.03
/5
rDev
-15.1%
look: 3 | smell: 2.5 | taste: 3.25 | feel: 3.5 | overall: 3
After trying several RJ brews and being only slightly satisfied, I thought I would try another. This one has a horrible smell but the taste has some potential. It has a slight taste of a creamsicle, unfortunately it seems to be watered down, sad !
247 characters

3.28
/5
rDev
-8.1%
look: 3.25 | smell: 3.25 | taste: 3.25 | feel: 3.5 | overall: 3.25
- Brewed with coriander and fermented with peaches and natural flavors.
A: Dark peach orange tones are a perfect match with a dirty seashell white head that was thin, coarse and short lasting. Moderate carbonation presence with a thin weak, broken band of lace that barely caught the eye.
S: Nose was whole sweet, fuzzy peaches with a touch of dry alcohol. Moderate in strength, linear in complexity.
T: Peach malt, sweet with some aspect of the natural peaches coming through at first. Peach alcohol, peach schnapps? warmth on the finish. Fairly linear again in delivery.
M: Crisp around the tongues edges, sticky, sweet residual malt with a syrup like consistency.
O: Overall while not a bad beer, it is certainly not one that is gonna stand out, more of a 3.25 effort. Alright but there are much better peach based beers out there (selins grove, bullfrog) that are much more worthy of spending time on. This one was middle of the road, safe. Some natural peachiness, but also some of the added natural flavors that tasted a bit unnatural (extract additions). The brewery's name brings images of a tobacco giant (RJ Reynolds) merging with a planet hollywood type eatery trying to brew beer. Call me when you do a tomacco style.
1,238 characters

3.46
/5
rDev
-3.1%
look: 4 | smell: 3 | taste: 3.5 | feel: 4 | overall: 3.5
Served on tap at Summit's Wayside Tavern in Snellville September 4, 2012. Reviewed from notes.
(Appearance) Very deep hazy peach tea tones, light wispy head and mild carbonation. 4
(Smell) Peaches in heavy peach syrup, syrupy cobbler malt base. Not particularly groundbreaking in originality but appealing should you like peaches. 3
(Taste) Taste is mildly sweet dessert like peach cobbler, light peach syrup, caramel drizzle with a muted semi dry roasted cracker crust finish. I actually found the flavor profile limited somewhat which did not excite the flavor profile much. Sweetness wasn't overkilled on the palate, a big plus in terms of drinkability. Not much beyond spiked peaches and a bit of malt where a ton of body could be, but the alcohol is concealed surprisingly well for such a high gravity beer. 3.5
(Mouthfeel) Taste is sweet, silky smooth, even a bit fuzzy. Alcohol presence is quite low, body is medium. Texture is probably best as the malt bill isn't the main feature of this beer, but with a bit more body and dimension the carbonation could afford to increase. 4
(Overall) In terms of beer, this is hardly there. There's a ton of peach flavor but not much body to build any complexity to the flavor profile. The end result is short of a slightly dry, slightly unsweetened peach cobbler. Drinkability will vary depending on the drinker's peach cravings, but my bet is that a maximum of 1 decent glass of this will do the job for most. 3.5
RJ Rockers Brewing Co.'s
Impeachment
3.48/5.00
1,513 characters

3.51
/5
rDev
-1.7%
look: 3.75 | smell: 4 | taste: 3.25 | feel: 3.25 | overall: 3.5
A - A fairly active pour yields a fingers worth of crisp audibly fizzy khaki colored head... Limited retention gives way to a full creamy lacing... The color is a hazed pale copper... A moderate bit of moderate paced carbonation throughout but mostly at the top of the glass...
S - Peach is at the forefront as expected... Seems to have a certain artificial character about it... It is mixed with apricot, sweet orange juice and a hint of overly ripened cantaloupe... The end result is reminiscent of a freshly opened bag of gummy bears... All of the various fruit components sit atop a wheat and grassy base...
T - The palate is not as expected... There is no sweet fruitiness... Instead there is a surprising boozy presence... There is a funkiness that lingers as well... There is an astringent character throughout... A bit of a muddled mess... Slightly off putting... The off flavors linger on the finish for quite a while...
M - The astringency noted on the palate coats the mouth... Mild carbonation... A bit syrupy to start... A bit chalky on the finish...
D - Not sure what was intended here, but I clearly don't see the vision... An average appearance and aroma give way to a disappointed flavor profile and mouthfeel... Improves exponentially as this one warms a lit bit... It becomes more cohesive as it warms... Still not my favorite nor would I recommend what it has rebounded nicely from the hot mess it was becoming...
1,466 characters

3.54
/5
rDev
-0.8%
look: 3.5 | smell: 3.75 | taste: 3.5 | feel: 3.25 | overall: 3.5
Thanks to dogdoc for sending this one! Reviewed from notes. Poured from 12 oz. bottle into a Russian River tulip glass.
A: Hazy dark gold with a thin white head that fades quickly. Average level of visible carbonation.
S: Not a big nose on this – some sweet peach cobbler, some husky wheat, and a fairly restrained sweetness.
T: The alcohol flavors hit first - more boozy than I expected. Fruity peaches that are fairly sweet, wheat and bready malts, and more alcohol heat with its accompanying sweetness. There's a light flavor of peach schnapps in the hang.
M: Fairly heavy body, low carbonation sensation. This doesn't come across as truly hot, but I feel like every percentage point of the ABV is noticeable.
O: Really not overly appealing here. I think it could have used a bit more peach flavor - though at least what is there is natural tasting. Overall, very malt-forward and alcoholic. But not offensive. Glad to have had a chance to try it.
957 characters

3.67
/5
rDev
+2.8%
On tap at the brewery. (Formerly "impeachment"?).
Nice peach/amber color with a very good head. Aroma is predominantly peach jam, with a similar taste until the more bitter-malty-hoppy finish. Fairly well hidden 9% ABV.
220 characters
3.9
/5
rDev
+9.2%
look: 4 | smell: 4 | taste: 4 | feel: 4 | overall: 3.5
The imperial version of Son of a Peach recently released by RJ Rockers. More alcohol and more peaches!
Served from tap into an RJ Rockers shaker by Mark himself. Poured a massively hazy yellow-orange with a minimal off-white head. Maintained decent lacing throughout the glass. The aroma was comprised of sweet malt, wheat, peach, fruit, subtle alcohol, and spices. The flavor was of sweet malt, peach, wheat, bread, subtle alcohol, and coriander. It had a medium feel on the palate with medium carbonation. Overall this was a fairly good brew. I really like how they did this one compared to the prototype they had awhile back. The addition of coriander really added a nice touch to this one by helping to cut some of the sweetness from the peahces. When I said 'massively hazy' I mean no light can pentrate through the center of this thing. Crazy for a beer this light in color. Really nice to see Rockers branching out and trying new things. Really hope they continue to do so in the future as well. Tick.
1,009 characters

3.95
/5
rDev
+10.6%
look: 3.5 | smell: 4 | taste: 4 | feel: 3.75 | overall: 4
On tap. Full bodied & full taste. I've been big on the barrel aged stuff lately and this plucks my heart strings, for sure. I've had skillet roasted peaches on a plate before and this is giving much the same enjoyment. The slight caramelization mingles nicely with a not too sweet peachyness. I'd love to try this cooked in with some pork dish or other.
353 characters
3.99
/5
rDev
+11.8%
look: 4 | smell: 4.25 | taste: 3.75 | feel: 4.25 | overall: 4
Not usually a fan of "imperial" anything, as they tend to be too sticky.
This is very good.
Pours amber and semi-cloudy.
Nose is peach and vanilla.
Taste is reminiscent of peach marmalade and southern comfort/bourbon. Boozy but zero burn.
Overall, a very nice beer that would go well with a dessert or rich cheese. Not a thirst quencher, but most definitely an after dinner sipper.
386 characters

4.16
/5
rDev
+16.5%
look: 3 | smell: 5 | taste: 4 | feel: 3.75 | overall: 4
I am still reducing and eradicating my backlog of bottles, but I have been mostly impressed so far with this brewery's beers. My thanks to the Friendly Greek Bottle Shop for making them available to us.
From the bottle: "Stop by & visit us in Spartanburg[,]SC"; "Drink Smart"; "Handcrafted Every [Bottle,] [Drop,] [Time]"; "Ruthless to the pit, the King is a tasty tyrant to be feared and revered. Cloaked in gold with an air of fresh South Carolina peaches, it's easy to fall prey to is majesty's palatable charms. Respect the power of the peach, or it's off with your head." Is it me, or does the King resemble Felonious Monk IRL?
I am ruthless when it comes to aggro pours! I love watching the pseudo-cascade occur, the development of two fingers of tawny head with decent retention and finally, the release of the esters. Once more, a beer smelled like preserves in my kitchen. I really miss my grandmothers, both of whom were well versed in the culinary arts. They were the ones who taught me to can fruits and vegetables during the summer months so that they would be available in the wintertime. Beyond simple canning was the production of jams, jellies and preserves and that is what this beer reminded me of. Color was a hazy deep-amber (SRM = > 9, < 13). Once the head settled, I leaned in for a better sniff and then it really hit me - peach brandy! There was a group of us on the USS Fulton (AS-11) in 1985 that were all in our early 20s while Connecticut's drinking age was still 20 y/o. We did not have a lot of money, so we would have the evening meal on the mess decks, then go to a nearby liquor store and get a couple of cases of cheap beer and some fruit brandy, usually blackberry, but occasionally peach, and listen to the radio from local WCNI-FM while throwing frisbees. Man, I had not thought about those days in years! Mouthfeel was medium-to-full. Taste was peachy keen, but with a real heat to go with it. Phew! Man, I was totally digging this action. Imperial Wheat, eh? Whoda thunk it? Lay this on some of the chicks who profess not to like beer and see what happens ... Sure, it had a slight burn on the finish, but the peach flavor trumped all.
2,183 characters
4.48
/5
rDev
+25.5%
look: 5 | smell: 4.5 | taste: 4.25 | feel: 4.5 | overall: 4.75
Drink this beer at 50F or below to suppress the alcohol in the beer. Strong aroma of peaches on the nose and with the finish. Perfect for summer drinking in 90 F weather when darker beers are not as inviting. Beware, if this beer gets too warm, the alcohol will start to mask the peach aftertaste and the experience will not be as pleasurable. I brought this beer to a summer concert that was outside and it was the perfect venue for a beer like this.
451 characters
4.65
/5
rDev
+30.3%
look: 4.25 | smell: 4.75 | taste: 4.75 | feel: 4 | overall: 4.75
This was called Impeachment. Year to Year this beer may vary - this year's release was spectacular. Way more peach flavor than the Son of Peach which is a good thing - it tastes natural and makes this strong 10% go down way too easy. If they make beer candles one day - this would have to be one of them, easily one of the best smelling beers on the market.
357 characters

4.86
/5
rDev
+36.1%
look: 4.75 | smell: 5 | taste: 5 | feel: 4.25 | overall: 4.75
Tried at the brewery. Normally not a fan of fruit/vegetable brews but this was exceptional. Color and smell were amazing. Taste is the equivalent of a mouthful of ripe peaches; what's surprising is the depth: thick but not syrupy, with a big note of honeysuckle that embraces both the fruit and the 9% abv perfectly.
Not something I'd drink year round but on a balmy spring afternoon, a spicy dip or plate of jerked chicken washes down well with a growler of this stuff.
472 characters
Peachy King from RJ Rockers Brewing Company
3.57
out of
5
based on
117
ratings.