Buckwheat After Dark (BAD) Ale
| RJ Rockers Brewing Company
BA SCORE
80
good
39
Reviews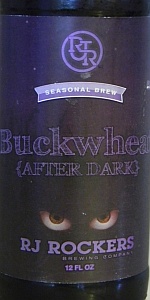 BEER INFO
Brewed by:
RJ Rockers Brewing Company
South Carolina
,
United States
rjrockers.com
Style:
Dunkelweizen
Alcohol by volume (ABV):
5.60%
Availability:
Year-round
Notes / Commercial Description:
This Dunkelweizen is overlaid with chocolaty flavors and fruity aromas, a beer that's so good it redefines the word bad. That's right...BAD is good!
Added by mikesgroove on 02-27-2009
This beer is retired; no longer brewed.
Reviews: 39 | Ratings: 67
4.2
/5
rDev
+20.3%
look: 4 | smell: 4 | taste: 4.5 | feel: 4 | overall: 4
Pint on-tap at Rooster's Beak.
A: This pours a sinister dark brown with ruby-red hues and a frothy, 1 finger head.
S: It features aromas of banana, bread malts, hazelnut, and some chocolate.
T: This is darker and more chocolately than any dunkelweizen I've ever had. It also has banana, dark fruits, bread malts (but not the typical wet bread taste), and a roasted nutty flavor.
M: This is creamy and smooth throughout. Nice.
D: It is a damn fine brew and I hope to see it in bottles soon.
494 characters
4.1
/5
rDev
+17.5%
look: 4 | smell: 4 | taste: 4 | feel: 4 | overall: 4.5
12 oz. 6%abv according to the bottle. A very bronze looking pour, half finger of white head.
Bready malt, raisin a little apple in the aroma.
Taste is also balanced caramel, malt, tea, yellow raisin. Some light red fruit and lighter chocolates. Finishes with this pretty much.
Lighter mid body, coating bubbles. Fairly typical wheat mouthfeel. Drinks very easy. I guess you could say it is a dark beer fan wheat beer.
A different style for sure. I like it. Definetely the best I've had from RJ.
498 characters

3.95
/5
rDev
+13.2%
look: 4 | smell: 4 | taste: 4 | feel: 3.5 | overall: 4
2 12-oz bottles poured into a weizen glass. A murky molasses body with 3 fingers of beige head that rises above the glass for a bit before settling down. A skim of foam sticks around. Scattered sticky lacing.
Pleasantly fresh nose, nutty and toasty malts, tangy yeast and some fruitiness. Tastes pretty much as advertised, with the addition of some light chocolate flavor. Crisp and clean tasting, with a nice balance between tangy wheat and the nutty/toasty malts. A brief flash of lemony bitterness before the dryish finish.
Overall impression: Pretty nice brew here- recommended.
585 characters
3.88
/5
rDev
+11.2%
look: 3.5 | smell: 3 | taste: 4 | feel: 4.5 | overall: 4.5
Served from tap into an RJ Rockers shaker. Poured a murky deep brown with a minimal off-white head. Maintained decent lacing throughout. The aroma was comprised of sweet malt and grains. The flavor was of malt, rye, and bananas. It had a medium feel on the palate with high carbonation. Overall this was not a bad brew at all. However it was not really what I was expecting from this brew. This is not necessarily a bad thing by the way. Flavors were very nice and balanced, I just wish the aroma would have been a little more pronounced as I had to search high and low to find it. Can't wait to find a bottle of this to compare.
629 characters

2.41
/5
rDev
-30.9%
look: 3.5 | smell: 2.5 | taste: 2 | feel: 3 | overall: 2.5
A: Poured from a bottle to a weizen glass. Had a muddy brown color and a thick consistency. There was a half inch of foamy, fairly long-lasting head. Above average lacing.
S: A very faint - almost nonexistent - aroma of wheat and malt.
T: Taste is barely noticeable. A tinge of wheat and malt, but mainly this is a thin, watery, bland, flavorless stew. Not remotely memorable.
M: An average amount of carbonation with a dry finish. Light-bodied.
D: Not interesting. Not drinkable
483 characters
3.27
/5
rDev
-6.3%
look: 4.5 | smell: 2.5 | taste: 3.5 | feel: 4 | overall: 3
The bottle says the ABV is 6% but the website says it is 5.6%.
Appearance: Pours into glass a very hazy/cloudy brownish color, doesn't let any light through the glass at all, small head that quickly vanishes leaving a blanket over the surface of the beer. Some patchy lacing remains on the glass with every sip.
Smell: I don't get a very potent smell off of this brew, there is some darker grains detectable, but not much of an aroma.
Taste: there is a good grain-y taste initially, I mean the buckwheat really has some serious flavor, and then *poof* by some form of beer magic it vanishes, leaving this taste vacuum without much else. The finish is surprisingly clean without any aftertaste what-so-ever. It left me startlingly bewildered.
Mouthfeel: very creamy texture in this beer.
Drinkability: its drinkable. I just wish that the taste remained longer or that something else was going on with this brew.
915 characters
4.22
/5
rDev
+20.9%
look: 3.5 | smell: 4 | taste: 4 | feel: 4.5 | overall: 5
Received this in a snifter at my local here in CT. Color was a dark creamy brown, not as dark as I was expecting, almost like chocolate milk. I was disappointed at the last of a head, but oh well.
The body was medium+, smooth, and to the point. Nice body from the wheat with a hint of chocolate. Very very drinkable.
317 characters
4.73
/5
rDev
+35.5%
look: 4.5 | smell: 4 | taste: 5 | feel: 5 | overall: 5
this is the Best dunkelweizen i have had! i like to call it the nectar because it is that good, nice fruity flavoring like the buckwheat but with the chocolate hoppy flavoring to it.
it has and creates this amazingly smooth drinkablitlity with a great mouthfeel. It leaves a nice light chocolate taste in your mouth as the nice frothy head stays with it till the end. It is by far the best beer on tap at the new Tap Room in Downtown Spartanburg. the only complaint i have about(buckwheat after dark) is that it is not bottled. I have found myself though getting growlers of it in the meantime.
594 characters
4.37
/5
rDev
+25.2%
look: 4 | smell: 4.5 | taste: 4.5 | feel: 4.5 | overall: 4
Tried this one on draft at Terry's Tap Room in Spartanburg. I haven't had much experience with the dunkelweizens (especially living here in SC), so I was anxious to give this offering by Rockers a try. This one pours a hazy deep brown with ½ inch creamy, off-white head that slowly fades thin at the end. Unlike a traditional dunkel, the esters really seem to be prevalent in the aroma. Taste reminds me of RJR's hefe, Buckwheat, but has more of a chocolatey profile (I guess that's why they call it Buckwheat After Dark or simply "BAD Ale" as the bartender called it). Mouthfeel is definitely heavier than the average wheat, and carbonation levels are about what you would expect. I found myself reordering this one throughout the evening! Overall this one is another awesome beer from RJR. I can't believe I'm the first to review it...its been out for months!
862 characters
Buckwheat After Dark (BAD) Ale from RJ Rockers Brewing Company
3.49
out of
5
based on
67
ratings.