The Pour House Music Hall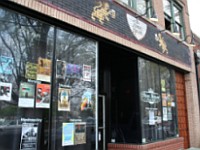 PLACE INFO
Type:
Bar
224 S Blount Street
Raleigh
,
North Carolina
, 27601
United States
(919) 821-1120 |
map
the-pour-house.com
Notes:
No notes at this time.
Added by BeerAdvocate
Ratings: 8 | Reviews: 7
Reviews by beerinator:

3.58
/5
rDev
-3.8%
vibe: 3 | quality: 3.5 | service: 4 | selection: 3.5
This place is a bit smoky, and it has a major 'warehouse-y' feel to it. There are bands on the weekends and some weeknights, which leads to a lot of shouting if you want to talk. But if you can catch a night when a decent band is playing, you should be able to have a good experience.
After walking down the narrow dirty alley to reach the entrance, I can guarantee that you will be suprised at the tap selection. The beers seem fairly well taken care of. I've had a few that seemed a bit off, either because of dirty lines or an old keg. But for the most part I've always enjoyed this place for what it was.
There are some couches and comfy chairs scattered about. And there are pool tables and a second smaller bar upstairs. This place is also about a block from Greenshields Brewery, so you can actually knock out two beerflys with one parking job.
857 characters
More User Reviews:

3.86
/5
rDev
+3.8%
vibe: 4 | quality: 4 | service: 3.5 | selection: 4

3.86
/5
rDev
+3.8%
vibe: 4 | quality: 4 | service: 4 | selection: 3.5
Hit up the Pour House last night to see a local Raleigh hip-hop group (Inflowential) perform. The atmosphere is great, it's dark downstairs with a long bar and couches along the wall leading up to the stage. Upstairs are pool and foosball tables, as well as a balcony which overlooks the stage. The selection is actually decently large (~20-25 taps), but most of it is macrobrew/crap beers. They did have Dogfish 60 min. on tap, however, which I drank more than my fair share of. Also Abita Purple Haze. The biggest downside is the value, as all the pints are $4.50 (at least on the night I was there). Nevertheless, the servers are friendly and seem to know their beers. The Pour House isn't necessarily where I'd go if I were looking for a great beer / great beer selection on tap, however as a concert venue, it'd downright fantastic. Good beer + good music = good buzz. Fun place.
884 characters
3.6
/5
rDev
-3.2%
vibe: 3 | quality: 4 | service: 3.5 | selection: 3.5
The Pour House is running 30 taps as of May '07, and they do a good job of managing to keep off of the big bad blands. DFH 60min was the quality leader, and they have a very good tasting policy. It is probably easier to get a few samples to compare when it is less crowded. Bar staff is knowledgeable on beer, and can make recommendations about food/bars in the area (I'll tell you myself, avoid the Market Square!). The atmosphere is about on par with your local muffler shop, but that is a plus when going out to see a band. The room sounds great, so forget the concrete and couch look and just enjoy good beer in a good setting.
631 characters
3.66
/5
rDev
-1.6%
vibe: 3.5 | quality: 4 | service: 3.5 | selection: 3.5
atmosphere: Not much to the atmosphere at all. I mean, it's a music venue, so whatever. A walk down a stone alley takes you to the side door of the place. Entering the door, the bar is right in front of you, with the taps lined up against the wall behind it. To the right is a large, open room with a raised area towards street side of the bar where bands play at night. A couple ragged couches sit agains the right wall, and a few high tables on the left. Crap, mainly band or show promotion posters, hangs everywhere from the walls. Some stairs on the street side of the bar lead to an upstairs area with a couple pool tables and some seating. The walls are painted dark and gives the place a dingy, hole in the wall feel. Pretty smoky at times, mainly on crowded nights...though since my first review of this place, smoking has been limited to the upstairs area (nice). Local and not-so-well known bands play almost every night...the crowd at any given time depends on the band.
quality: Never had a beer that seemed to be of less than good quality.
service: Service is usually pretty quick, though you may have to wait a few minutes on crowded nights. Not particularly friendly or attentive, but they'll get you a beer.
selection: About twenty or so taps, most micros, some pseudo-micros, and a few macros. I do know that CBC and Edenton are both represented here.
food: I don't believe food is served here.
value: Pretty cheap for the area. I think Wednesday is mug night, where you are given a plastic mug (> 20 oz.) to refill for $2.50.
1,561 characters
4.03
/5
rDev
+8.3%
vibe: 4 | quality: 4.5 | service: 3.5 | selection: 4
I've been to the Pour House several times. It's a great little bar that happens to serve some pretty good beer. I went last night and they have picked up Dogfish head 60 min. ipa. They list all their beers on their website. They have 30 taps and have done a pretty good job picking beers that will please everyone. They also recently added Old Chub to their line-up. The service isn't all that great. I ordered the DFH and they served it in a Miller Lite pint glass. I thought about telling the bartender not to do that again, but I figured that would do no good and make no difference. I typically go early in the evenings and beat any sort of crowd. Sun-Tues. is 2.50 pint night. Their whole draft selection is otherwise 4.00, which is pretty inexpensive.
757 characters
3.46
/5
rDev
-7%
vibe: 3 | quality: 4 | service: 3 | selection: 3.5
I enjoy hitting this place on tuesday nights because of the cheap $2.50 pints, free band music and free pool. Nothing like some decent beer free pool and some good friends, especially since I have been getting them to drink better beer! The atmosphere is nothing special until the music starts. The regular bartender can be a spaz sometimes but the selection and price is worth it!
There are normally bands but there are covers. There is a bar, a stage and a upper level balcony with fooseball and pool tables. Though the bar upstairs is not active, the walk downstairs is worth.
582 characters
3.7
/5
rDev
-0.5%
vibe: 4 | quality: 3.5 | service: 3.5 | selection: 4
Not a bad place to go in downtown Raleigh. They have local bands in there frequently and charge a minimal cover on those nights. With 30 quality beers on tap they have specials almost everynight including $2.50 pint nights on several nights.
Wednesdays are Mug night and you get to fill a pre-purchased Mug for $2.00 with any beer on tap.
342 characters
The Pour House Music Hall in Raleigh, NC
3.72
out of
5
based on
8
ratings.