Saison
| Hinterland Brewery Restaurant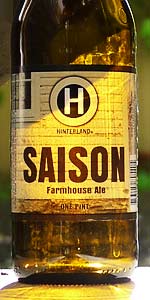 BEER INFO
Brewed by:
Hinterland Brewery Restaurant
Wisconsin
,
United States
hinterlandbeer.com
Style:
Saison / Farmhouse Ale
Alcohol by volume (ABV):
6.30%
Availability:
Rotating
Notes / Commercial Description:
No notes at this time.
Added by brewcrew76 on 04-08-2012
Reviews: 34 | Ratings: 148
3.52
/5
rDev
-8.1%
look: 3.5 | smell: 4 | taste: 3.5 | feel: 3.5 | overall: 3
Appearance:
Hazy golden straw color with white head.
Aroma:
Floral, Citrus
Taste:
A little to heavy on the spice for me at first but as I got futher into it was refreshing, The finish has nice ginger notes.
Overall:
Not one of my top choice from Hinterland, but not a bad beer by any means.
295 characters

4.04
/5
rDev
+5.5%
look: 3 | smell: 4 | taste: 4 | feel: 4 | overall: 4.5
Pours a clean deep yellow color, with a white head. In the aroma, small earth notes and a little spice too. In the taste, spicy, earthy, and a nice yeast presence. A spice like bite and a medium to lighter bodied mouthfeel, with a dry earth and yeast aftertaste. The color scared me a bit, but nice earth and spice all the way through.
335 characters
3.26
/5
rDev
-14.9%
look: 4 | smell: 3 | taste: 3 | feel: 3 | overall: 4
Pleasantly stinky. Slow carbonation with straw yellow complexion. Good head with moderate lacing. True to style. Strong enough. After drinking one on the way home from the store I felt like I shouldn't be driving any more. Finished the remaining 3 over lunch of apples, kraut, and brats and I feel like going out again. Would pair well with complex breads, good cheese, and sausages.
383 characters

4.01
/5
rDev
+4.7%
look: 4.5 | smell: 3.5 | taste: 4 | feel: 4 | overall: 4.5
A. Light amber to dark straw appearance with a white head of 2 fingers. Laces quite well.
S. Grainy, somewhat shy nose.
T. Nice and spicy as it should be with orange zest and pepper. Bready malt adds balance.
M. Light bodied with good carbonation. Makes for easy drinking.
O. This may be Hinterland's best beer to date and the best non-Belgian Saison I've had in a long time. It is very easy to drink and is quite satisfying. Should make for a nice warm weather beer that is refreshing and thirst quenching. More please.
527 characters
3.95
/5
rDev
+3.1%
look: 4 | smell: 4 | taste: 4 | feel: 3.5 | overall: 4
Pours a murky golden orange, hazed with suspended sediment. Lasting head or foam, spotty soapy lacing inside the glass.
Coriander dominates the aroma, soft orange and sage in the background, slightly sweet, floral, and spice driven.
Sweet grain, spices, again mainly coriander and sage. Floral bitterness in the aftertaste. Dusty wheat, orange pith, and dried lemon peel. Medium bodied, supple feel, a touch soapy from the spices. Drinkable and quenching, though a bit wet and sweet for a saison.
499 characters
4.12
/5
rDev
+7.6%
look: 4 | smell: 4.5 | taste: 4 | feel: 4 | overall: 4
Bought a four-pack of pints of this new offering from Hinterland at Woodman's for $6.99. So far so very good.
Just finished the first and life is good. The ABV seems right though it's not listed on the bottle.
If you like a saison/farmhouse ale, you won't be disappointed. Heavier on the spice than usual. That great musty aroma and taste is there in fine proportion. Hinterland should offer this one year round.
414 characters
4.18
/5
rDev
+9.1%
look: 4.5 | smell: 4 | taste: 4 | feel: 4.5 | overall: 4.5
After reading Robin Shepard's favorable review in the Isthmus, I thought I'd give this one a go.
Pours into a Duvel tulip a gentile orange with a thick, frothy off-white foam.
Spicy and floral aroma of lemongrass and chamomile. Lemon. Ginger.
Taste is surprisingly spicy with a strong black pepper presence. Lemon grass hits the top of the palate and the lengthy finish closes with a touch of ginger. A lively yeast character adds depth and a very slight hint of funk. No flaws or negative traits to speak of.
Very spicy and assertive mouthfeel. Medium bodied with aggressive carbonation.
Exceptionally drinkable. I think I'll be buying numerous four packs of this well priced beer this spring.
695 characters

3.92
/5
rDev
+2.3%
look: 3.5 | smell: 4 | taste: 4 | feel: 3.5 | overall: 4
Bottle bought at Jungle Jim's in Cincinnati and poured into a full-pint tumbler glass.
A- Fairly clear golden color with a good amount of floating sediment.
S- Lemon is definitely big on the nose, along with some other attributes typical of this style.
T- Again, strong on the lemon. Many other spices come through, but are outdone by the lemon flavor.
M- Very smooth with a medium body that is quite drinkable.
O- Much more unique than I was expecting. This beer is definitely worth a try, and I will pick one up again if I see it. A refreshing take on the style.
570 characters
4.22
/5
rDev
+10.2%
look: 4 | smell: 4.5 | taste: 4 | feel: 4 | overall: 4.5
A - Slightly hazy golden with a fluffy white head leaving huge strands of sticky lace.
S - Strong lemongrass and lemon peel aroma. Black pepper, ginger with some grainy malt.
T - Lemongrass leads to black pepper and ginger. Some lemon peel and graham cracker type malt. The spices appear much stronger than I remember in the draft version that has been around for the last few months.
M - Medium body with lively carbonation. I remember the draft version being a bit drier but the heavier spicing in this one seems to leave a bit more mouthfeel.
D - One of the best spiced Saisons I remember having. I think I like a little less spicing that I remember in the draft version although this bottle is extremely fresh.
727 characters
Saison from Hinterland Brewery Restaurant
3.83
out of
5
based on
148
ratings.