Scotty's Brewhouse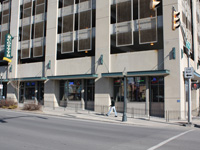 PLACE INFO
Type:
Bar, Eatery
302 N Walnut St
Bloomington
,
Indiana
, 47404
United States
(812) 333-5151 |
map
scottysbrewhouse.com
Notes:
No notes at this time.
Added by sativen
Reviews: 14 | Ratings: 17
3.81
/5
rDev
+7.9%
vibe: 3.5 | quality: 3.75 | service: 3.75 | selection: 4 | food: 4
Atmosphere: Your average sports bar, loaded with TVs, including distracting personal TVs in the booth. Considering if you look up and can see at least 3 different TVs in your vision easily without straining yourself, is it really necessary to have a mini TV in the booth too? Beyond that, the place is always busy and is lively.
Quality: Good quality food and beer. Beer normally served in semi-proper glassware. Wheat beers need to be requested without the citrus.
Selection: Not a half-bad tap list, including IN beers from the Scotty's affiliate Thr3e Wise Men up in Indianapolis. Several taps dominated by macro light lagers, but many other solid craft options ranging from Oberon to "Centennial Martyr Double IPA".
Food: Great burgers. Best in Bloomington.
Value: Good prices on beer and food. Would recommend going on Thursdays for $2 pints of anything on tap.
870 characters
3.5
/5
rDev
-0.8%
vibe: 3 | quality: 3 | service: 4 | selection: 4 | food: 3
This is a sports bar/restaurant that has a few fun taps. I had not visited Scotty's for the first two years that I lived in Bloomington, because the crowd was usually much younger and much drunker than I care for. That said, I was happy to find out that they had the selection that they do. Old Rasputin, Bell's, Founders, and some of their sister brewpub's (Three Wisemen) beers were all on tap, plus quite a few more. That was enough to peak my interest. The only catch is that their pricing is higher than most places in town.
529 characters
4.05
/5
rDev
+14.7%
vibe: 4.5 | quality: 4 | service: 4 | selection: 4 | food: 4
I can't hit on the how overpriced this is too much. I think your comparables in Bloomington blow it outta the water. It's a bdubs featuring burgers. The beer selection is good, the prices are high. The food is awesome, prices are high. I will continue to go there because I love the burgers too much. And the beer is cold and they have a very good selection. Parking is also an issue in downtown Btown so if you're a visitor be prepared to look on a friday night in the fall before a home game.
Don't park at Wendy's across the street.
537 characters

3.65
/5
rDev
+3.4%
vibe: 4.5 | quality: 3.5 | service: 3.5 | selection: 3.5 | food: 4
Scotty's was always a favorite place to meet up before the crew went out on a Wed or Weekend night...but those days are long gone. Cheap pitchers of delicious beers are a thing of the past, and if you're looking for a pitcher of local beer expect to pay $18 bucks for it. Makes you just wanna take off running to Upland itself. Good news is cheap taco day has a few decent $5 pitcher selections, but you gotta get in there early enough before you have to start folding kids popped collars back down. Definetly has lost its flare and food's not cheap. Waitresses are easy to pick up tho, makes those pitchers seem a lot more reasonable ;)
637 characters

4.18
/5
rDev
+18.4%
vibe: 4 | quality: 4 | service: 4 | selection: 4.5 | food: 4.5
Visited Scotty's after attending the IU game on a Sunday evening. Crowded as you would expect after a game but we were able to have a seat at the bar. Nice selection of tap beers, starting with the macros but I was sble to enjoy a Two Hearted Ale and an Alpha King. They have a decent selection of bottles as well. Pleasnt surprise of selection for what some would consider a sports bar type place. Only negative was they had the Sam Addams Noble Pils on their menu but they did not have it yet.
Food was good. We stuck with appetizers (Fried pickles!) and then dessert. Service was what you would expect at the bar for a crowded evening.
639 characters
3.25
/5
rDev
-7.9%
vibe: 3 | quality: 3 | service: 4 | selection: 3 | food: 3
for bloomington this place is pricey as far as the drinks go. dont even bother getting any mixed drinks or anything on the rocks as the price hovers around ten bucks. the food is like that of a chain family restaurant: greasy, smothered in cheese, and unexceptional. one of the good things is the outdoor seating and the option for pitchers. the beer selection is generic: macros, upland. the clientele are the sports loving crowd, so if you dont love sports or want to watch sports when eating, then maybe reconsider just going to applebees. the bartending service at the bar itself is good, and the waitresses tend to be them good looking college girls, thats one perk to going, i guess.
689 characters

3.38
/5
rDev
-4.2%
vibe: 4 | quality: 3.5 | service: 3 | selection: 3.5 | food: 3
Scotty's got it's start in Muncie, IN and has since made plans to take over the scene at every hot campus spot in the state. That would be fine, if Scotty's was worth it.
While they often have a decent selection of beers (mostly in bottles, taps tend to attract the college crowd), the prices are often $1-2 higher than other hot spots.
While in Bloomington, I visited the local spot. It was exactly what I expected. Scotty has branded his establishment and has taken away any kind of unique factor that each location could offer. To me, walking into a Scotty's Brewhouse is like walking into a Starbucks...while some minor things may be the different, the overall theme and agenda is the same.
The food is great. However, I have noticed that the quality and amount of food has somewhat decreased as the price has increased.
If I were in Bloomington for the weekend, Scotty's would most likely not make the list. If I were looking for good beer and food, I'd hit the Irish Lion or farmBloomington.l If I were looking for a college beer joint, I'd hit Kilroy's or the Bluebird. However, if you're a college student...it's a pretty good place to take the parents...they won't think you're spending all your time at a beer guzzling establishment!
1,247 characters

3.83
/5
rDev
+8.5%
vibe: 3.5 | quality: 3.5 | service: 4.5 | selection: 4 | food: 3
Scotty's has a nice half blues/half sports bar atmosphere. While I personally think picking one and going with it is best, they do a good job of merging the two. I really enjoyed the blues music playing while I ate.
Quality was good, nothing to complain about, it was what I would expect from any nicer restaurant.
Excellent service, the waitress had a good knowledge of the beer (and food), did not rush me at all, but I didn't have to wait for anything, either. (She was very easy on the eyes, too.)
Nice selection of beers: craft, import, and macro if you wanted. I had a Bell's two hearted and a local from Bloomington Brewing Company. They had rogue and stone and several others.
I felt the food was a bit overpriced, but not so much so over the rest of Bloomington. My buffalo chicken wrap was quite good, as were the waffle fries.
841 characters
3.38
/5
rDev
-4.2%
vibe: 3.5 | quality: 3.5 | service: 3.5 | selection: 3 | food: 3.5
This is a pretty typical college-town sports bar, though its urban-industrial style is a nice touch. Large food portions and the varied and changing menu are more noteworthy than the beer selections. They tout 30 draft beers and 34 in bottles, but the bulk of them are decidedly mainstream. They do feature some nice regional and local selections, including Upland, Bell's, and Bloomington Brewing Company. The acoustics and noise make this anything but an intimate setting, but it's a good place to grab some bar food and watch a game.
536 characters
3.45
/5
rDev
-2.3%
vibe: 3.5 | quality: 4 | service: 2.5 | selection: 3.5 | food: 4
This is your typical sprots bar. Lots of big screen TV's; three centrally located in the middle of the dining area. Lots of little tv's scattered around as well so there are plenty of sporting events to catch. Unless of course IU is playing anything (On this particular night Notre Dame was playing football and basketball so that was all that was on).
Our waiter was a very friendly, jolly fellow but not very knowledgable of the beers. I asked what the Arrogant Bastard was (I couldnt remember if it was DIPA or Imperial Stout) and he informed me "Its like a strong ale. I think its classified as a strong type ale." I knew that wasnt the answer so I asked him to ask the bartender and they informed me that it was "a really strong IPA". It was also hard to keep the water glass full during dinner.
Lots of selection of foods and beers as well. Beers were a bit pricey at around $4 per pint. They did have about 30 taps and 20 or so bottles including a lambic. Most beers on tap are pretty much common place elsewhere except for the Bloomington Brewing company selections.
We had chile cheese con queso dip with chips and fried pickles. Both were pretty good but not mindblowing. A great sports bar but be prepared for loud TV's.
*Part of the Indiana Thanksgiving beer crawl*
8/3/06
Just revisited Scotty's. Beer selection seemed to diminish (No Arrogant Bastard) and other beer selections seemed extremely commonplace. Maybe due to my increased beer knowledge. Service was still average at best. Wife likes fried pickles (until now) but this may be our last visit.
1,587 characters
3.5
/5
rDev
-0.8%
vibe: 3 | quality: 3.5 | service: 3.5 | selection: 3.5 | food: 4
I started going to Scotty's after they were rated the "Best Burger in Bloomington" by the IU restaurant review TV show. The hosts of the show couldn't have been more accurate-the burgers and sides are excellent, and it don't cost more than a trip to Applebee's or Steak N' Shake.
Went there for my 21st b-day (which happened to be on a Wednesday-$5 dollar pitchers imports/"microbrews"-$2.50 macros) and the barstaff was very friendly and encouraged me to try something other than Guinness for my second pitcher (they weren't knocking it, but wanted to encourage knowledge of other beers).
Common brews on every tap, but there are lots of them. Interesting selection of bottled beers (for a beginner).
Sometimes a bit too loud, but overall a great place to kick back and hang with friends, watch the game, or get toasted on a Wednesday night.
851 characters
3.38
/5
rDev
-4.2%
vibe: 4 | quality: 3.5 | service: 3.5 | selection: 3 | food: 3
Located near the Indiana University campus, Scotty's is a decent choice for food and beer if you're in the area. They have about 20 taps... some of which are locals (Bloomington Brewing Co, Upland, and their own beer brewed by Oaken Barrel)... quite a few of which are macro. Food is nothing to write home about but not bad. The decor is pretty bright and modern, with TV's and sports decorations. Not a bad place by any means, but if I had the choice, I'd go to one of the brewpubs in Bloomington before I went to Scotty's.
524 characters
3.05
/5
rDev
-13.6%
vibe: 3.5 | quality: 3 | service: 3 | selection: 3 | food: 3
Scotty's started in Muncie, IN, where I went to college. It later grew and moved to add another Bloomington location. I recently visited it and found it in a better state than the Muncie location (which has dwindled recently).
Scotty's is a typical college bar, with big bench tables and sports everywhere. Empty kegs are used as decoration, and they take good advantage of vertical space. The food is decent and overpriced, but some of the pub-grub is quite wickedly good and addictive.
The beer selection is fairly sub-par. You'll find some decent brews like Sierra Nevada and Sam Adams, but nothing spectacular. You can get bottles of Samuel Smiths for a pricey $7.
If you can drink bad beer, they do relatively good specials on that, and on Wednesday pitchers of good beer / imports are only $6.
Scotty's has decent but overpriced beer and food, and a nice atmosphere. But there's nothing here for anyone that isn't college-y, and you'll get annoying by the loudness and hooliganism.
Gotta add something to get me back.
1,039 characters

3.3
/5
rDev
-6.5%
vibe: 3.5 | quality: 2.5 | service: 4 | selection: 4 | food: 2
Scotty's has a good selection of beers, and a good level of service. The bartender is usually knowledeable about the brews carried, and will make recommendations.
Both beer and food is overpriced ($11 for a pitcher of domestic, $16.50 for most imports) for the area. However, they have a good selection of draft and bottled beer and frequently run specials on select beers which make the check a more reasonable size.
Scotty's is mostly restaurant, and the bar area is fairly small and lacks much in the way of parlor-game diversions, although they do have a number of televisions. The place is smoke-free, which is a nice consideration for the non-smoker (most bars are incredibly smokey). It is also modern and clean (not so common for college bars).
The food is pretty mediocre, although for a place to hang out to have a few beers after school/work, Scotty's is a good choice when in Bloomington.
909 characters
Scotty's Brewhouse in Bloomington, IN
3.53
out of
5
based on
17
ratings.