Metro Bellemare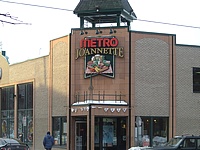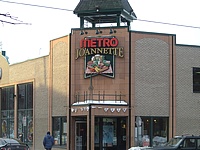 PLACE INFO
Type:
Store
349 De L'Eglise
Verdun
,
Quebec
Canada
|
map
Notes:
De l'Eglise Metro (subway) on the green line. Formerly known as Metro Johannette.
Added by BeerAdvocate
Ratings: 12 | Reviews: 12
Reviews by pootz:

3.85
/5
rDev
-5.9%
This is a regular stop for me when leaving Montreal so I'm surprised I forgot to leave a review.
Metro Joanette is the embodiment of every reason we went on beer runs to QC as teens and college students...beer in supermarkets...man that's freedom...but Metro Joanette goes a step further...this is the widest selection of craft and micro beers you are likely to find in one place in the province where the proprietor knows how to handle unpasturized craft beer...in a cooler that stays at about 45deg.F..every craft brew I have got from MJ was in prime shape...at a reasonable price and sold as a single....and don't forget the decent glassware selection available on the way into to beer section...lots of selection..well conditioned at reasonable prices all in one spot.
If we had private establishments like this in Ontaristan the craft brewing industry would be far bigger.
879 characters
More User Reviews:

3.7
/5
rDev
-9.5%
This is just a regular supermarket with a special focus on Quebec microbrews. Most of the Metro chain stores carry only macros and the most popular local micros (Unibroue, Brasseurs RJ) in six packs.
Here they have an impressive single bottle selection with less available Quebec micros at fair prices.
Apparently they have championed this cause for a while. As it is a grocery store, I didn't readily locate knowledgable staff to assist in making a selection, but I did find the shelves well-arranged and fully stocked.
522 characters
4
/5
rDev
-2.2%
This is a classic to get good beers in Montreal. I've heard of that place for years before I finally decided to make the trip - it is a trip when you travel to Metro Joanette in transit.
I must admit that I was slightly disappointed by the beer selection. I was expecting a lot more and I could not find most of the beers I was looking for.
However, they are "pioneers" and they know their stuff. They began to support micro-breweries years ago and they have good relationships with Quebec brewers, as shown by the multiple special brews done for the store.
But if you are coming from outside Canada and want the best selection of local brews, you might want to look somewhere else.
685 characters
3.85
/5
rDev
-5.9%
Verdun is a weird place - the town pipes R&B music from speakers attached to lamposts. Metro Joanette is a medium sized grocery store with a nice wall section of decent QC micros and the odd beer from France. I must admit that I didn't find it as impressive as I was led to believe, and a number of beers I hoped would be there were MIA. Despite this there is enough there to keep people satisfied. Of particular note is the 3M Metro Joanette Rauchweizen, which as far as I know is only available at this location. I had no service, but didn't have need of it. The prices seemed very competitive.
596 characters
4.15
/5
rDev
+1.5%
This was the very first beer establishment I visited when I was in Montréal last week. It's a supermarket that sits in the city of Verdun, not far from the De l'Eglise métro stop. But wow, what a selection! Lots of regional micros and single bottles of imports make up most of the shelf space. 6-packs of micros also take up floor space near the section, which is where I grabbed myself a pack of Péché Mortel for $14.99. Prices are reasonable for the area. The market is well staffed, not surprisng since it's a supermaket, and the checkout was efficient. Highly recommended to locals and tourists in the area looking for a good beer store.
645 characters
3.7
/5
rDev
-9.5%
Le marché Joannette à Verdun est un classique. J'ai appris la connaissance de ce lieu en buvant la Rauchweizen brassée pour eux par les Trois-mousquetaires. En lisant les critiques je m'attendais à la plus grande sélection de bières à Montréal, mais j'ai due me raviser. La sélection de bières est grande mais pas sublime, il manque des produits québécois. Il y a quelques verres. Tout de même un endroit très intéressant car c'est une épicerie, on peut faire son marché et acheter des bonnes bières.
518 characters
4.35
/5
rDev
+6.4%
For some reason, i was sure i had reviewed this place, oh well, here goes:
For me, it's the go-to place for beer in Montreal. It's located in Verdun, close to highway 10. Though you would think parking is a problem, it's not. Found a place in front or around every time. The metro is 2 blocks away, so that's convenient for those unfamiliar with the area.
When you walk in, there's nothing to distinguish from other grocery stores. But keep walking past the cashiers & you'll soon find the beer. What i like about it is, the first beers you see, it's not macro but the Quebec craft beers front in center, with the macros back in the corner (where they belong IMHO).
Next to the wine fridge, there's a couple of small shelves with their new releases, then you have all the beers along the wall. If it's made in Quebec, it's here. The focus is mainly on single bottles, which is good for sampling. They also tend to have exclusive beers from some of the brewers of Quebec, which is another good reason to come here. Every BA visiting Montreal should definitely come here.
1,069 characters
4
/5
rDev
-2.2%
spent a night at a beautiful b&b in verdun during a recent visit to montreal, i asked about places i could find good local beer and the proprietor pointed me to this place. at first it looked like a big chain grocery store but don't be fooled, this is the place to go for local brews in montreal...carried the full line of unibroue obviously, including 3 or 4 i'd never seen in the states, and of course almost every provincial microbrew you could think of, saint arnould and barberie were among the few i picked up...nice selection of belgians as well, including some la chouffes id never heard of...also carried a full line of glassware for the real enthusiast...right near metro stop de l'eglise or verdun on montreals green line, about at 5-10 ride from downtown montreal...a can't miss for the beer lover in montreal!
822 characters

4.65
/5
rDev
+13.7%
When I finally got in the beer section, I fell on me knees praying to God for his kindness, actually a place in Quebec with a nice beer selection!
Métro Joanette is a normal grocery located in a normal Montreal's neighborhood, nothing to brag about, nothing to jump out of joy! But this store has one little details other groceries usually don't have; a beer freak, geek AKA JF.
They have probably the best selection in Montreal of all Quebec microbrews, with every possible beers usually avalaible in stores plus with other difficult to find beers.
Have nothing bad to say, except praises on the service that I received from the Metro's employees. Only downside is the parking!
689 characters
4.45
/5
rDev
+8.8%
I live but a stone's throw away from this outlet so it is understandable that a lot (if not all) of my disposable income winds up in Jean François' tills.
In the 6 or so years I have been shopping at this place I have only rarely (once in my memory) encountered bad product. A flat Don de Dieu which I attribute more to Unibroue's cork woes than to JF's maintenance. He makes a point to offer nearly every product in singles.
When Jean François is marauding around his beer display he'll gladly engage in conversation with those seeking information or simply wanting to give an opinion on a beer. He's a well travelled guy having been to the Czech Republic many times, Belgium and Germany so he's got great first hand info on brews that do honor to the origins of styles. If it doesn't do it justice, he'll say so.
As well, he's the only retailer in the greater Montréal region to carry all of the provincial micros and all the private imports sold outside of the SAQ. Eg., Liefmans, Straffe Hendrick, even some of the less illustrious brands as Grolsh, and Becks... yes some people like to drink these too.
The place is just off Highway 15 in Verdun so it is easily accessible to those americans coming back from the Grand Prix or the Mondial, in need of a one-stop-shopping beer experience.
1,309 characters
3.74
/5
rDev
-8.6%
vibe: 3 | quality: 4 | service: 3.5 | selection: 4
I rank this store against what they can sell in Quebec. They do a great job with what they can. However a Yankee used to great beer stores may be disapointed in finding primarily local product. The best beer store in QUebec. WOrth the detour from downtown. The manager and staff baby the beer and wine section.
SOme hard-to-finds here as well as the full Quebec selection in singles.
Service-I am buying 20 beers, wham, 2 packers rush out to put away each beer in paper and a box so they won't rattle and they zoom, rush out to follow me to the car.
RERATE This place has fallen and been overtaken by several local independent stores.
638 characters
4.7
/5
rDev
+14.9%
Verdun, my home sweet swingin' home. Where to begin? Maybe with a history lesson. Verdun is a small neighborhood southwest of the Downtown area of Montréal. An excellent cross-section of Québec's two solitudes, where you can easily find "flag wars" on some of it's streets, with neighbors telling each other off in both official languages. A lower-class neighborhood by most people's standards, but one I've never been afraid to tread by night. One characteristic becomes evident after walking down it's main arteries: why the hell aren't there any bars in this blue-collar burg? Apparently, an overabundance of lushes some 200 years ago forced the city to implement an ordinance to close down all taverns and bars and it seems that the powers that be never got around to join the rest of us in the 21st century.
So where does one go to satisfy his thirst? Metro Johannette is the place. Metro is a big chain of supermarkets, but that seems to give it's managers a lot of leeway over the products they offer, allowing them the opportunity to initiate it's clientele to something they are passionate about. Jean-Francois Johannette's passion is Beer, and it shows.
You get to the Beer section and you can tell right away this ain't your run-of-the-mill corner market. Every Québec microbrewery can be found, refrigerated and dust-free. Only a handful of establishments can offer that. Unibroue? He's got all of 'em except Quelqu'chose, Terrible and Fringante, which can only be found in state-controlled liquor stores, SAQs. He even had his own Beer made especially for him "La Côte des Argoulets", an excellent Weizen made by la Microbrasserie Charlevoix.
He sells every imported brew his suppliers give him, has glassware, literature, and T-shirts. Jean-Francois can usually be found not too far away from his favorite section, always happy to talk shop with Beer freaks like me, or help out newbies who tend to be overwhelmed by choice. Now before I get flamed on this make sure you put my score of 4.5 for selection in perspective: the dimwits that run the SAQs don't allow businessmen like JFJ to sell whatever Beer he wants. So all he can sell is Québec micros, and whatever imports the macros have to offer. So our only choices for Belgians are the ones offered by Riva (Dentergens, Vondel, Liefmans Framboise, Kriek and Goudenband, Straffe Hendrick, St-Arnoldus and Fou de Bassan, maybe one or two more I forget) and Interbrew (Stella Artois, Leffe, Hoegarden, etc.). So I tend to concentrate more on home-grown products that are worth it, like brews form Bièropholie, L'Alchimiste, Lion D'or, McAuslan, St-Arnould and the aforementioned Microbrasserie Charlevoix, just to name a few.
So even though there are no bars in my side of town, I can still enjoy a great Beer in the comfort of my own home thanks to frequent stops to Metro Johannette. Don't hesitate to go out of your way to stop here.
2,921 characters
Metro Bellemare in Verdun, QC, Canada
Place rating:
75%
out of
100
with
12
ratings