Bedele Beer

Bedele Brewery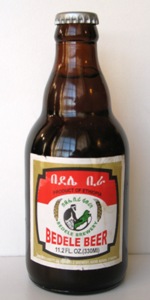 Write a Review
Beer Geek Stats:
| Print Shelf Talker
Style:

ABV:

5.5%

Score:

Avg:

3.72

| pDev:

12.9%

Reviews:

15

Ratings:

From:

Avail:

Year-round

Wants

Gots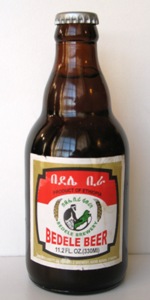 Notes:
AgentMunky from New York
4.03
/5
rDev
+8.3%
look: 3.5 | smell: 3.5 | taste: 4.25 | feel: 4.25 | overall: 4.25
Poured from a 33cL bottle into a chilled glass at Bunna.
3.5/3.5/4.25/4.25/4.25
Crisp and golden clear.
Smells like apple juice and grain.
Weirdly super good at first sip. Rich, malty, pleasant, and crisp, with fruity undertones. There is even a hop bite on the aftertaste. CraY.
Great mouthfeel.
Great beer! I'm very pleasantly pleased. Recommended.
Mar 28, 2017
mistermaria from California
3.08
/5
rDev
-17.2%
look: 3 | smell: 2.5 | taste: 3.5 | feel: 3 | overall: 3
I have to write this from memory, but I am probably the only reviewer to actually have Bedele beer on tap, at the brewery in Bedele town, Illubabor, Ethiopia. I have to rate this relative to other Ethiopia beers, St George in particular. But one of the major issues is inconsistency from bottle to bottle, batch to batch, keg versus bottle, etc. This reads as a fruity beer next to the clean and crisp flavors of St. George, and there is something in the draft beer taste that seems like unclean taps and lines. Maybe that biases a review, but you have write about the glass you are served, right? Aromatics are especially fruited (questionably) and sweet in a cloying way. Aftertaste is not entirely clean, and without the bracing hops or mineral qualities of a Czech pilsener style. I get cidery fruited notes, which cautions me about issues in brew process, or at least consistency. It's kinda a shock to see people rate this as an A, but even though it has issues, I still enjoy this beer when traveling in Ethiopia. And it is a hulluva lot better than Meta !
Oct 20, 2011

Rayek from Colorado
3.62
/5
rDev
-2.7%
look: 3.5 | smell: 4 | taste: 3.5 | feel: 3.5 | overall: 3.5
Out of a bottle at a local Ethiopian restaurant.
Bedele pours a deep gold with a soapy white head that has OK staying power, but leaves no lace.
This is an interesting beer. It's dominated by a malty sweetness that has an almost anise cookie quality. The experience is certainly different. Bitterness has a sharp pepper bite that gets a touch metallic late. The beer finishes with a lingering bitterness. The body is fairly dense for the ABV and slightly syrupy.
Interesting overall. Bedele is a decent beer that I'm glad I picked up.
Sep 14, 2011
kashmoney from Illinois
3.97
/5
rDev
+6.7%
look: 3.5 | smell: 4 | taste: 4 | feel: 4 | overall: 4
12 oz bottle at an Ethiopian restaurant with Yebeg dereq tibs (lamb tibs)
A: Golden, honey colored. Thin head. No retention
S: Fermented smell with some sweetness
T: Sweet with a touch of honey and mildly sour end note(the fermented quality on the nose came through). Grassy hops with clean finish. Did a great job of cleansing the spices from the tibs
M: Light body with a substantial finish
D: Easily have had some more. Great beer with the food since it was light, flavorful, and cut through the heavily spiced food without being overpowering
Mar 26, 2011
Bookseeb from Washington
3.99
/5
rDev
+7.3%
look: 3 | smell: 4 | taste: 4 | feel: 4.5 | overall: 4
Appearance is honey golden with a little haze leaving a thin but steady head (for little awhile anyway)without lace. Smell has that honey sweetness. Taste is also of light sweet honey with grain, earthy spice thats rounded off with a good balance of hops. Mouthfeel has a light - medium body going down slick with good carbonation. Unlike what I was expecting in this beer having good body and flavor.
Oct 18, 2010
dirtylou from District of Columbia
3.85
/5
rDev
+3.5%
look: 3.5 | smell: 3.5 | taste: 4 | feel: 4 | overall: 4
12oz bottle, slightly different than the one pictured here. paired with lunch at Buraka
reviewed from memory (about an hour ago)
appearance: poured into a table glass, hazy honey-copper body, light beige bubbles with no retention
smell: sweet malts, honey, grassy
taste: greatly exceeded expectations based on previous experience with african attempts - sweet honey serves as the base, grassy hop, very light sweet malts. pairs well with some moderately spiced east african grub
mouthfeel: medium body, refreshing enough
drinkability: good
Jun 01, 2009

paleoplant from New York
3.88
/5
rDev
+4.3%
look: 3.5 | smell: 3 | taste: 4 | feel: 3.5 | overall: 5
This beer is all about the honey. It has an amber color and a light foam head. The beer is not complex but the hints of an easy drinking pilsener with hint of honey goes exceedingly well with Ethiopian food. Always the beer of choice when we visit the local restaurant. A great table beer that goes well with food
Feb 07, 2007

OldSock from District of Columbia
3.07
/5
rDev
-17.5%
look: 2 | smell: 2.5 | taste: 3.5 | feel: 3.5 | overall: 3
Appearance – This 11.2 oz stubby bottle from Harrington's was purchased with Jaymirage for the novelty of an Ethiopian beer which we hoped would be unique. Pours a light, cloudy yellow with a thin to non-existent head.
Smell – There is a weird slightly bitter aroma with some light maltiness and high alcohols.
Taste – The light-toasted malty aroma carries through from the aroma. Relatively clean with a subtle balancing hop bitterness.
Mouthfeel – This has a mildly astringent, drying medium-light body with medium carbonation
Drinkability & Notes – Not sure if I would have called in a Czech Pils like the site has it listed, but I'm not sure if there is another style that it is closer to. I wish I could have evaluated a fresher sample, who knows how old this was, but still an acceptable beer that I am sad to say was not that interesting.
Apr 21, 2006
jaymirage from Massachusetts
3.28
/5
rDev
-11.8%
look: 3.5 | smell: 3 | taste: 3 | feel: 3.5 | overall: 4
This one jumped out while I was perusing Harrington's in Chelmsford. A very adorable stubby little bottle.
Nothing spectacular about the appearance. The beer pours a hazy, golden-brown color, which I find rather pretty. Substantially cloudy, however.
The taste is balanced. A little grainy. The alcohol flavor is high, which I like. But beware: I've had several barley wines that taste of less alcohol. Low hop profile, low carbonation, accentuating a nice, creamy mouthfeel. Clean, grainy finish. Although I wasn't too pleased with the few first sips, later sips left me wondering about the unique character of the aftertaste. Sorghum?
Again, nothing too out of the ordinary (much to our dismay), but a nice beer, nonetheless.
Mar 30, 2006
DogFood11 from California
2.92
/5
rDev
-21.5%
look: 2.5 | smell: 3 | taste: 3 | feel: 2.5 | overall: 3
ummmm... interesting.
Picked this up at an ethiopian market in LA on Pico Blvd. The store owner saw my interest in the unique type beers and reccomended this brew.
Poured into a pilsener glass I started slowly to see how it was going to react and it looked watery so I poured aggressive and it still barely reached a thin layering head that actually does leave some ring lacing. straw with an off orange hue. fine carbonation.
I did detect that distinct czech pils yeast smell but it was faint and covered up by a uninspired grain/wheat.
Tasted like it was watered down a bit. There is a crisp feel to it and it finishes with an aggressive lemon citrus cleanser. Bedele has the czech type aroma and taste it just comes up short in its complexity. Very straightforward macro type approach. Far from terrible just not reccomended.
Sep 18, 2005

slitherySOB from Canada
3.85
/5
rDev
+3.5%
look: 3.5 | smell: 3.5 | taste: 4 | feel: 4 | overall: 4
Hmm, tasty. Appearance was above average. Clear gold colour with a decent head that stuck around for the duration. Some lacing was left on the glass, leaving little rings. Wow, what a smell! Lil sour, but a nice hop aroma. Some butter and malt. And something woody. Tastes delicious. Starts out with honey sweetness, a bit of alcohol, creamy butteryness, malt, and a good hop kick in the teeth. Leaves with a taste of pepper and mineral oil. Good. Terrific body on this beer. Smooth, full, and most importantly, delicious. A great beer after a long day's work in Africa.
Mar 04, 2004
UnionMade from New York
3.79
/5
rDev
+1.9%
look: 2.5 | smell: 3.5 | taste: 4 | feel: 4 | overall: 4
I thought this one was pretty tasty.
Poured a slightly hazy golden color, with a short white head. The haziness makes me a little wary.
Aroma is malty and lagery clean. A touch old smelling, but the hops still seem to have that spicy zing. Authentic czech style pils.
Flavor is a touch past it's prime, but malty and sweet. Carbonation is mild, with thin small bubbling. Refreshing. A bit of apricot fruitiness, but very subtle and light. Fairly big bodied for a pilsner, on the light end of medium. Hops are mild, and taste like Saaz. Mild breadiness. Flavor is very nice. I'm a fan.
Aug 21, 2003

kunzbrew from Massachusetts
4.22
/5
rDev
+13.4%
look: 4 | smell: 4.5 | taste: 4 | feel: 4 | overall: 4.5
This beer pours a hazy dark straw color with no head an leaves a nice lace behind. Strong hop aroma with a light malt smell also.
A sweet flavor is present along with a hoppy after taste make this very good brew. The hops are moderate which is a suprise being this is a product of Ethiopia. I did not know that they could grow or keep hops fresh in that part of the world.
The light body makes for an easy drinking beer.
Cheers
May 19, 2003
Jdiddy from Rhode Island
4.73
/5
rDev
+27.2%
look: 4.5 | smell: 4 | taste: 5 | feel: 5 | overall: 5
Such a nice surprise. This is a great beer. Very smooth with a refreshing taste. Like a mix between a fine creamy Belgian and a Lager. Sounds weird but true. It surprises everyone I give a bottle too. Very hard to find by the case. Most cases go to Canada and a few come into the States. Look hard, it is well worth it.
Apr 06, 2002
Jason from Massachusetts
4.47
/5
rDev
+20.2%
look: 4 | smell: 4.5 | taste: 4.5 | feel: 4.5 | overall: 4.5
Presentation: Short 11.2 oz bottle with an odd looking spider monkey(?) on the label, no freshness date to be found.
Appearance: Bold clarity with a rich golden colour and a half decent white lace that stays for a bit.
Smell: Spicy hops, Czech Saaz? Mild fusel alcohol, ghost like diacetyl, heavenly sweet grain. The aroma is of a Czech Pilsner.
Taste: Sturdy moderate body with a creamy and very smooth mouth feel, good amount of malt sweetness leftover. Malt sweetness tosses suggestions of refined honey and unfermented beer on the tongue. Creamy hop oil throughout, sweet and floral. Spicy flavour from the hop bitterness does not go overboard, just balances and complements the malt profile. Flavours go back and forth from malt sweetness to a spicy hop, a tad mineraly in the middle leaves a very light earthy flavour. Clean after taste with remnants of sweet grain and leafy hop. A relatively sweet beer.
Notes: Reminiscent of a big malty and Saaz spicy Czech Pilsner. No wonder why the Craft Brewers Guild took this beer on, it is damn near perfect.
Mar 29, 2002
Bedele Beer from Bedele Brewery
Beer rating:
82
out of
100
with
19
ratings