Memminger Lager
| Memminger Brauerei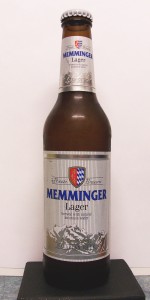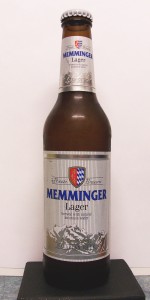 BEER INFO
Brewed by:
Memminger Brauerei
Germany
memminger-brauerei.de
Style:
Munich Helles Lager
Alcohol by volume (ABV):
4.80%
Availability:
Year-round
Notes / Commercial Description:
No notes at this time.
Added by vancurly on 04-21-2007
HISTOGRAM
Ratings: 9 | Reviews: 7
Reviews by Kulrak:

2.92
/5
rDev
-5.2%
look: 4 | smell: 2 | taste: 2.5 | feel: 4 | overall: 4
Pours a light golden straw color with plenty of creamy white head that sticks around for a while and laces the glass. Smells very weakly of yeast and not much else. The taste is very clean, slightly sweet with almost enough bitterness to balance it out. There's a very faint hint of malt there, but not a lot. Finishes slightly sour, but not too bad. Mouthfeel is very heavy and creamy, not bad at all. Overall, it's very drinkable because there's no outstanding flavors for you to object to, or to really like.
511 characters
More User Reviews:
3.43
/5
rDev
+11.4%
look: 3.5 | smell: 3 | taste: 3.5 | feel: 3 | overall: 4
330mL brown bottle, very close to its freshness date (i.e. within days - I bought a case for half price!)
A: Looks nice. Head is fluffy to begin with but dissipates to a thin foam, but it laces a lot. Pale yellow in colour, low carbonation. Looks like a decent lager.
S: Not very complex, and quite malty. But from experience these things are affected a lot by transport and age. I think it'd smell and taste a lot different in Memmingen, straight vom Faß at the brewery. On the upside, there's practically no skunkiness and definitely no adjuncts. Truly Reinheitsgebotlich.
T: Quite sweet and pleasant. Not very bitter, just mildly sweet and mildly carbonated with some vegetable flavours. Not a whole lot to say about it - for the style, there are probably better examples, but I haven't had a whole lot of experience reviewing beers strictly adhering to this style. As a cheap imported German lager, this fares better than average.
M: Better than expected. Quite syrupy in the mouth, which is nice, although a little more carbonation wouldn't hurt.
D: For a beer this cheap, it's exceptional. But maybe that's just because I bought it on special, and it happened to be all right. I'm tempted to give it more for drinkability, but I don't want to present it as immensely drinkable, I just have extra points to give it in terms of value for money, and that tends to go in the drinkability category.
Overall: I'd drink this again. I once thought Hollandia was the cheap Euro lager beer of my dreams, that I could drink a lot of and enjoy without being broke; that was before I'd endured the Hollandia hangover. I'll never drink that beer again. But this is a good substitute, and it's available late at night from my local late-night bottlo. Thumbs up.
1,759 characters
3.2
/5
rDev
+3.9%
look: 3.5 | smell: 3.5 | taste: 3 | feel: 2.5 | overall: 3.5
Appearance: Clear, no sediment, golden coloured. Thick head quickly dissipates to a thin layer. Continuous moderate bubbling.
Smell: Grassy smell with citrus undertones.
Taste: Simple, clean. Slight tart and slight bitter finish.
Mouthfeel: Seems to foam readily into a creamy texture.
Drinkability: An inoffensive beer that is handy for social occasions. Nothing special but would drink it again.
397 characters
3.38
/5
rDev
+9.7%
look: 3.5 | smell: 3 | taste: 3.5 | feel: 3.5 | overall: 3.5
While in Berlin during Jan 2012 our friends took us to a favourite bar of theirs, a Bohemian sort of place, called the 'Bleibreu Bar', on the street of that name, close to Savigny Platz. The only beer on tap is this: unusual for Berlin and a nice surprise not to find the normal Kindl, etc, etc.
Half litre glasses of a mid-gold colour; good lacing being produced by the full white foaming head that sat on the beer when it arrived at the table.
The smell was faint and of grain, some hops as well if I'm to be kind.
The typical Helles/Pils/Lager refreshing liquid hit my lips, hop content just overcoming what malts there were: the beer was spritzy yet the brew seemed also to be soft, like a Pilsner from Luxembourg, where the water is somehow different to many of the harsher German brews.
Nothing to set it apart from other beers in this group, I enjoyed it because of the company and surroundings, my scores are however objective more than subjective as far as possible.
985 characters
2.25
/5
rDev
-26.9%
look: 3.5 | smell: 3.5 | taste: 2 | feel: 2 | overall: 1
A: Hazy pale Yellow...1 finger head that receded quickly although retained a very fine head & some good lacing
S: Quite aromatic...I get hints of molases in the aroma, quite sweet.
T: Again quite sweet & malty, & not too much bitterness at the back. All in all not too complex but it was tasty & felt a little syrupy. Plus a hint of sour at the finish...
The only problem was the sweetness became sickly.
M: More moussey in the carbonation...very soft & not too prancy on the tongue...& the syrupyness made it feel a little heavier than a 4.8%'er.
D: nah!!! just too sickly by the end of even one stubby...
Don't know if I'll try again - maybe I just got a dodge 4pack
670 characters
2.67
/5
rDev
-13.3%
look: 3.5 | smell: 4 | taste: 2 | feel: 2 | overall: 2.5
A: Pale gold/yellow. Nice rocky white head, little carbonation.
S: Green vegetation initially, giving to candy-like malt, toast, very slight citrus peel, then warming heavily to caramel.... hay, grass, grain.
T: Heavy malt profile. Toasty. No hop profile. No bitterness. Malt drink.
M: Body is reasonable, but the lack of discernable bitterness gives it cloying finish.
D: Party drink. It is an interesting drink to smell.... but the rest is forgettable.
466 characters
3.58
/5
rDev
+16.2%
look: 4 | smell: 3.5 | taste: 3.5 | feel: 3 | overall: 4
Pale clear and well carbonated with a snow white frothy head.
Subdued maltiness kept the sweetness in check , and allowed a hint of crispness to come through.
Nothing too exceptional about this beer , howver it was pleasant and drinkable.
For reasons unknown Coles was selling this at bargain prices (for imported beer) so I would keep my eyes out for more .
358 characters

Memminger Lager from Memminger Brauerei
Beer rating:
3.08
out of
5
with
9
ratings