The Wine House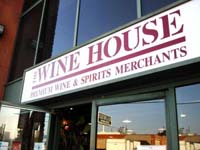 PLACE INFO
Type:
Store
2311 Cotner Ave
Los Angeles
,
California
, 90064-1803
United States
(310) 479-3731 |
map
winehouse.com
Notes:
No notes at this time.
Added by mickeymac
Reviews: 13 | Ratings: 16
4
/5
rDev
+5%
Obviously this place is all about wine. Compared to the wine selection the beer spot is negligible.
however they do have a pretty decent selection including most of the major SoCal breweries like: AleSmith, Port brewing/LostAbby, Stone, Bruery, etc.... The import stuff is pretty much the usual stuff with a few surprises tossed in there on occasion.
I can't say most of the staff is as helpful in the beer section as I have never been approach in said section. When I step into the scotch or and wine isle I am immediately approached. Maybe there beer guys dont work when I go in there.
Overall a good place to get beer on the westside. not too many other options though.
677 characters
4
/5
rDev
+5%
Stopped in when I was in LA for the weekend. This palce doesn't get as much word of mouth as Beverage Warehouse, but I was pretty pleased. Easy parking on the roof.
The place is pretty big, actually and they have a very good wine and liquor selection. As for the beer, there ares three maybe four shelves, but quite a selection. Lots of the west coast stuff that I can't get back in the midwest, so I was pretty excited. Brewers including Stone, Alesmith, Russian River, Deschutes, the Bruery some Ballast Point and others. I didn't check out the European brews that much, actually. They also have singles as well as sixers, which was great for me since I had to stuff a suitcase and limit myself to about 25lbs of beer so I wouldn't go over the 50lbs weight limit.
Good service, nice place, fun selection for me. Will go again if in LA!
839 characters
3.85
/5
rDev
+1%
Finally got into The Wine House. Here's a tip: they close at 7pm.
There are only three shelves of beer, but they get a lot of value out of those three shelves. I found a very complete Lost Abbey selection, as well as al the beers from The Bruery. You'll see the west coast crafts you'd expect, plus a few surprises. I bought some Old Chub and a Bourbon BA Sprecher Doppelbock. Haven't seen either anywhere else.
A few other items of note: Moylan's, Avery, Saison Dupont, Port, etc.
The service is probably good if you want wine, but no one ever came up to me the whole time I was there, though the cashier was friendly.
Next to Lone Hill, this has got to be one of the most respectable beer selections in the L.A. area. I haven't been to Beverage Warehouse or Hi-Time yet, so I can't compare it to those places.
Prices where what you would expect. Not too expensive and not really cheap.
893 characters
4
/5
rDev
+5%
Never heard much about this place, I was driving along the 405 freeway today in heavy traffic and saw this on the east side, so I quickly got off at Olympic to check it out, what a goldmine for this area, best bottle selection in all of Los Angeles easily, I parked on the roof in their own parking structure and then walked down, they are on the first floor while a restaraunt and gym are upstairs I believe, walk in and this place was huge, covered in wine and liquors, cognac section was bigger than most liquor stores in the area, got to the beer and there was three different shelves facing back to back and side to side, also a fridge with another small shelf next to it, they had everything and then some, first place I have seen St. Ambroise brews, still had some Sierra Nevada IPA in the refrigerator which is not brewed anymore, all the Bruery bottles including a few Levud's left, had a Schneider and Brooklyn Brewery collaboration I have never seen before which was some type of wheat bock, all Lost Abbeys that were distributed including Serpent's Stout, Judgment Day, Carnevale, and Inferno, All Marins except for White Knuckle, all Stone special releases, still some Ballast Point El Dorado but no Sculpin, tons of Belgians, hard to find Malheurs, Abbey Ale and Porter from Oflabriken or however you spell that cool Denmark brewery, some singles and not just six packs, prices were pretty standard and cheaper than most places around, asked one guy a question about Cantillon brews and he was not exactly friendly but helpful, lots of employees there and some around a wine tasting bar in a separate room where you buy taste tickets, place was immaculate, in a crowded area but if you go at the right time it should not be bad, will be frequenting here now quite a bit, what a great find and surprise
1,815 characters
3.35
/5
rDev
-12.1%
I know this store very, very well.
Lets start from the top. This is a very large store that caters for the most part to wine. They do have a gourmet food, beer and hard liquor section but the store is dominated by wine.
The beer selection has actually taken a step in the right direction recently with some positive additions. There are a few beers in the selection that I can only seem to find here (Alaskan Smoked Porter), but for the most part its mainstream craft and micros (Sierra Nevada, Speak easy, North Coast, etc). You can get high end Belgians (Rochefort, Bernardus, Fantome) and some decent meads as well.
They do classes and tastings periodically which give the store bonus points. Recently participated in a Deschutes tasting which was enjoyable.
As for service, I've never actually seen anybody in the beer section to ask questions to. Mind you, the beer section is small (two small aisles).
921 characters
4.35
/5
rDev
+14.2%
The wine house is on first floor of a two story building, but the parking area is located up on the second floor. This can make the beer transport difficult (no elevator that I could see) So I pulled around front and the clerk helped me load up a massive haul. So what do they have? well reading previous reviews it seems they went through a down period....Things have changed for the better. It's not BevMo as far as quantities but they have a better quality of their selections, especially if your into some belgium gems. Phantom, Gouden triple or grand, lots of lambics, good selection of saisons etc. The usual suspects from England including the full line of Samuel smith, Fullers, Youngs. A good selection of American micros although not overwhelming they did have Stones complete lineup including Imperial stout, Vertical '05, Old Guardian and the rest of the gang, Left coast, Green Flash, Alesmith, Big lineup of Avery, Flying dog lineup, including the imperial porter, etc. They even had some bombers of stuff I've never seen in 22's. All the big bottles looked like they were freshly dusted off, nice appearance and a classy place. It's not high times, but its damn nice and worth a go again boys!! This is my first trip so I don't know what it was like before but this is well worth the stop. Prices seemed right as well, some mysteriously high and just as mysteriously there were some priced well below what I find say at BevMo. Solid service, easy to find.
Edit June 3, 2006: Just to make my point about some of their pricing is high and some are really low. Today I found Thomas Hardy's Ale mysteriously priced at $2 bucks and change per bottle. I've seen this as high as $6 bucks and the lowest before today was $4.49. Good find.
1,748 characters

3.65
/5
rDev
-4.2%
This is a review of what is a fallen giant.
Up until a few years ago, the Wine House was one of the best places in LA to go pick up interesting beers. While there's still a few interesting beers here (and it's one of the few places where a number of the Alesmith speciality products can be found in LA)
Over time though, the owners have slowly reduced the shelf space devoted to beer. What once had been over 12 shelfs devoted to beer is now down to 6. Many smaller micros and imports have been dropped. Fantome is gone, etc.
Now the good thing about the place is that its still one of the best places to find beers on the Westside. (This has apparently been eclipsed by the Beverage Warehouse in MdR)
But the Wine House itself has more wine than you can shake a stick at and a knowledgable staff that will stop and ask you questions or help you special order beers as needed
887 characters
3.35
/5
rDev
-12.1%
Average may be a bit harsh to describe this place but for the experienced beer hunter this place has little to offer. For those on a beer safari on the west side, visit the beverage warehouse first and then come here for any clean up. I just did this this weekend and I'm glad I did. The only thing that I would have bought that was not available at the other store was speedway stout and alesmith grand cru - both for $9.99. The clear focus is on wine but the beer selection is well thought out to give breadth and not depth. There was nothing that was truly outstanding but a strong selection of stardards nonetheless.
620 characters
3.7
/5
rDev
-2.9%
This used to be my destination for a good selection of beer when in Southern Caifornial, a somewhat large section of the back of the store was devoted to micro and imported beer. However, since my last visit a year ago, they have reduced that by by 3/4 at least, so their selection went from very good to barely above average. They still have a fair amount of good beer, but not nearly what a good beer store would have. Therefore I would not recommend this as a good place to get beer in the LA area any more. Too bad.
519 characters
4.3
/5
rDev
+12.9%
Quality – This is a nice establishment with good parking across the street and easy freeway access. The building has recently been remodeled so everything is in great condition.
Service – This is a strong point of the store. There are always a half dozen or more folks on staff, and they all seem very knowledgeable on their supply. Best of all, they ship beer out of state at reasonable prices. My wife has been ordering wine from there for about seven years now and has never had a problem.
Selection – They have enough different ales to fill a few shelves, which are mostly reserved for micros. Among the highlights were some hard to find MacTarnahans, a few AleSmiths, Unibroue, and many other good Belgians. Everything is very well priced as well.
761 characters
4.15
/5
rDev
+8.9%
I have become disappointed with this place and I should not be.
A space as big as a grocery store mostly dedicated to wine. They also have a decent sized humidor for cigars, many different spirits and they sell a large variety of wine and spirit glasses. Also books about wines and spirits.
If you want wine this is the place to visit. The staff is wine sophisticated. They have a new wine tasting room. They have many classes dedicated to wine tasting, collecting and wine consumption. They have wines from all over the world. They also sell a variety of specialty foods.
THEY CUT THEIR BEER SELECTION IN HALF!!! AAAGHHHH!!! THE HORROR OF IT ALL. Okay, rant over. I should not complain. They still carry a wide variety of beer from macos to micros to imports. Is the selection great? No. It is a tiny bit above average from a BA stand point? Yes. I also should not complain because they carry many of the beers I like. Anderson Valley, North Coast, Dogfish Head, Bear Republic, Stone, Victory, Alesmith and a few others. The import selection is good as well. Quite a few English, Belgians and German beers. I do have to give them credit for a decent selection of beers from India. I saw a few I have never seen on any menu at any Indian restaurant. Prices are competetive with other stores.
Okay the beer selection is pretty good. If you are in the area it is better than anything else unless you are willing to drive to the Beverage Warehouse or try a Whole Foods and hope to get lucky. It just galls me that the selection used to be at least twice as large. Not enough demand for beer I guess.
Anyway the staff is friendly but not beer savvy. Most people will find something they like here. It is just not what it used to be. Maybe if we all buy out thier beer selections they will make a stronger effort to expand their beer selecion?
1,853 characters
3.15
/5
rDev
-17.3%
The Wine House is generally acknowledged as being excellent to superior for wine. For beer, however, it is no better than decent. Most of your usual California suspects abound -- SNV, Stone, AleSmith, Bear Republic, etc. -- and generally at good to very good prices. Unibroue products are also quite plentiful, although the prices here are a bit steep. Some Dogfish Head, some Victory, some Ommegang -- all usually for top $$ -- but, domestically speaking, not much else. From Oregon? Almost nothing, which is quite a shock (and a disappointment) considering the state's proximity. Belgian and British sections are fairly extensive, albeit with your standard finds (Del. Trem., Golden Draak, Kastiel, Bornem, Lindeman, Rochefort, Sam. Smith, Fullers, etc.). German section quite odd -- not much there, but what is there is a) fairly cheap (especially if you sign yourself up for the WH's "preferred customer" discount) and b) somewhat offbeat (no Celebrator, but several beers that were unlisted by BA before I got to them). Staff is helpful, friendly and largely unknowledgable. I suppose if the Wine House were situated anywher other than the westside of LA, one would have to sing its merits: 25-30 "top 50" beers, decent prices, etc. This is a city/county of ten million, however, and I expect -- and have found -- better. A worthwhile stop, to be sure, but hardly anything spectacular.
***update***
The Wine House recently slashed its inventory by roughly half; club member discounts appear to have been discontinued; previous ratings ran as follows:
quality: 3.5
service: 3.5
selection: 3.5
1,607 characters

3.5
/5
rDev
-8.1%
As the name suggests, this shop specializes in wine and that it does very well. It's the size of a large grocery store and is filled with large quantities of wines from all parts of the world. However, it also holds itself out as a beer shop. Unfortunately, beer is relegated to a fairly small space at the back of the shop and the selection is pretty limited. Although it has selections from the likes of Bear Republic and Dogfish Head, it doesn't have the exotic beers to match the exotic wine selection. The staff is also focused on wine and doesn't seem to have much beer knowledge.
586 characters
The Wine House in Los Angeles, CA
3.81
out of
5
based on
16
ratings.