Silhouette - Peach

Hudson Valley Brewery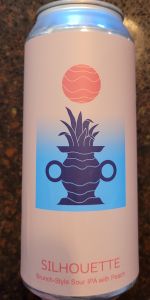 Rate It
Beer Geek Stats
| Print Shelf Talker
Style:

ABV:

5%

Score:

Avg:

4.39

| pDev:

5.69%

Reviews:

14

Ratings:

From:

Avail:

Rotating/Seasonal

Wants

Gots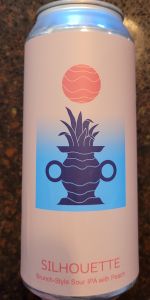 Notes: Brunch-Style Sour IPA with peaches, and Mosaic & Citra hops.

CraftFan5 from New Jersey
4.08
/5
rDev
-7.1%
look: 3 | smell: 5 | taste: 4 | feel: 3 | overall: 4
14 March 2020 - Beer #48
Price: $16.00 at the brewery
Appearance: 3 - looks like actual juice, not like when folks describe an IPA looking like juice. This looks like actual juice juice. A bit milky even.
Nose: 5 - I smelled it from across the room as I was getting a paper towel to clean up the spillage. This is a peach bomb. Like explode-y peach. The sheer amount of aroma is bonkers.
Taste: 4 - I like tart fruit. But not tart peaches because it just means they're not ripe yet. This tastes like they needed to wait for the peaches to ripen a bit more. It's delicious, but not amazing.
Mouth: 3 - the action on the tongue comes from the sourness and acidity, not from the carbonation. It's actually a bit flat.
Overall: 4 - I mean this is a really good beer, just didn't blow me away. One more crowler for tomorrow night; let's see if I saved the best for last.
Stay safe out there, team.
Cheers!
Mar 19, 2020

Luscious_Malfoy from Illinois
4.55
/5
rDev
+3.6%
look: 4.75 | smell: 4.75 | taste: 4.5 | feel: 4.25 | overall: 4.5
poured from a 12oz can into a perennial snifter. pours a murky but bright orange with soapy white head for days. a very nonaggressive pour still yielded a ton of head which fizzled away fairly quickly. smell is straight peaches and cream. the highlight of this pour for sure. taste i get peaches and cream as well but it's fairly tart and a lot hoppier than the nose leads on. mouthfeel is decent but a little to carbonated for me. does come off a little spritzy however it kind of works for this beer hey takes away from the peaches and cream aspect (emphasis on cream). overall, excellent sour IPA and possibly the best of the few silhouettes i've tried thus far.
Aug 14, 2019
hoptheology from South Dakota
4.71
/5
rDev
+7.3%
look: 4.25 | smell: 4.5 | taste: 5 | feel: 4.25 | overall: 4.75
32 oz crowler from corm44 poured into Crane snifter.
Really hazy juicy peach-orange color with a creamy head of 1/2 finger.
Lacto funk and peach ring on the nose. Cling peaches in heavy syrup as well.
This beer is literally blowing my mind. Freaking incredible!!!! Peach rings meet a bright sour lacto funk and pleasant citrus hoppiness. Juice. Peach milkshake. Near perfect blend. Not much more to say after that and every flavor here is loud and pleasant. Amazing.
Feel is crisp yet still creamy, lots of nice pleasant carbonation (good crowler fill).
Overall, this beer is insane. It's been a long while since I've been this psyched. Would seek out again for sure.
Jan 13, 2019

Sabtos from Ohio
4.13
/5
rDev
-5.9%
look: 4 | smell: 4 | taste: 4.25 | feel: 4.25 | overall: 4
Opaque orange-ish pink with a think white film that's constantly bubbling with effervescence.
Smell is peaches and champagne. Really. Occasional notes of yogurt and orange zest accent. It's an extremely bright, fruity and sense awakening aroma.
Tingly like champagne and tart like a mimosa, this hits the nail on the head but with a juicy peach flavor. It's delicious and a delight to actually drink for brunch.
The light body is filled by the carbonation to a medium heft with a crisp semi-dry swallow.
Nov 24, 2018

alextastic from California
4.53
/5
rDev
+3.2%
look: 4.25 | smell: 5 | taste: 4.5 | feel: 4.25 | overall: 4.25
Pours a color you'd expect a sour IPA with peaches to be, with a finger's worth of tiny, frothy bubbles. The nose is absolutely awesome. The aroma alone is a treat for me. It's soooo peachy, but it's not JUST peach. The Citra and Mosaic fill in gaps you didn't even know were there, resulting in a scent that's incredibly enjoyable sniff after sniff. Flavor is really nice, with some tart bite up front, followed up by more peaches that are held back from being too sweet by the hops. Body is just where I want it to be as well, crisp and effervescent. Good stuff.
Nov 16, 2018

Blackop555 from Michigan
4.35
/5
rDev
-0.9%
look: 4.25 | smell: 4.25 | taste: 4.5 | feel: 4.25 | overall: 4.25
Pours hazy yellow. Foamy, thicker medium Whitehead that lasts a while.
Smells tart on right Peach, citrus, lemon.
Taste tart Peach, orange, citrus peel, lemon. Followed by sweeter Peach and sweeter orange. Finishes dry with a peach and citrus peel linger. Medium body and lightly fizzy lower carbonation.
Nov 03, 2018
PhilHarmstead from New Jersey
4.38
/5
rDev
-0.2%
look: 4.25 | smell: 4.25 | taste: 4.5 | feel: 4 | overall: 4.5
Super duper hazy, beautiful golden-straw in color with a delightful pillowy head. Peach lemonade in the nose. Peach shandy on the tongue. Mouthfeel is by no means poor, but it is somewhat light and bubbly, leaving a little to be desired. Overall - this beer appeals to my palate; but, however unique the experience, there is little nuance and little to be discovered.
Feb 18, 2018

mdfb79 from New York
4.27
/5
rDev
-2.7%
look: 4 | smell: 4.5 | taste: 4.25 | feel: 4 | overall: 4.25
Great nose; tons of fresh peaches. Taste is more tart, sour fruits and vinegar. Overall a nice sour; not funky but the peach comes through well and tart, not too sweet.
Feb 08, 2018

CHickman from New York
4.46
/5
rDev
+1.6%
look: 4.25 | smell: 4.5 | taste: 4.5 | feel: 4.25 | overall: 4.5
A cloudy gold "brunch style" sour IPA that brings tons of citrus bitterness and mixes well with the peach sweetness. The peach dominates both the nose and flavor, making this like a juice. Tart yet smooth and extremely easy to drink, the hoppy IPA aspects are like the base with the oats and malt giving it a great feel and allowing the peaches and sweetness to be the star of the show. Great way to start off the session.
Jan 29, 2018

emerge077 from Illinois
4.45
/5
rDev
+1.4%
look: 4 | smell: 4.5 | taste: 4.5 | feel: 4.25 | overall: 4.5
Opaque saturated pale orange, no head, small amount of spotty lacing.
Intense fresh peach aroma, super ripe and bursting with juice. Whoah.
Taste follows the intensity with a ripe peach explosion that lingers.
Creamy juicy feel with a crisp tartness, very intense and refreshing.
Overall this stuff blew me away, and I had to get another one.
"Sour IPA" as a thing, doesn't really make sense. Dry hopped sour ales already exist, and it's not really an IPA even in the NE haze juice sense. This is basically just an intensely dry hopped and fruited kettle sour, and it's pretty fantastic.
Jan 28, 2018

Billolick from New York
4.31
/5
rDev
-1.8%
look: 4.25 | smell: 4.5 | taste: 4.25 | feel: 4.25 | overall: 4.25
12 oz can....1/11/18...I was able to secure one single can of this super (over?) hyped brew
Pours heavily clouded, light and kinda bananas in color, nice looking delicate head, film and lacing left behind.
Heavy and fresh whiffs of peach on the nose.
Loaded with peach notes, just like you just took a big bite out of a juicy and ripe peach....nice and tasty...interesting, complex, fresh, flavorful...glad I got to try one, starting to see what all the fuss is about.
Jan 15, 2018

avas from New York
4.55
/5
rDev
+3.6%
look: 4.25 | smell: 4.25 | taste: 4.75 | feel: 4.75 | overall: 4.5
A: One of those comically opaque, murky looking NE-style IPAs that looks more like a mimosa than it resembles anything like most people's conception of beer (gotta live up to the brunch IPA denotation, I suppose). Color is somewhere between grapefruit and pineapple juice, and it has that so-hazy-it's-almost-gray thing going for it in the center. Pours with about a finger of fluffy yet loose head that dissipates to nothing pretty quickly.
S: Peaches. Yellow peaches and an allusion of other stone fruits (think: apricots, nectarines) due to the lack of sweetness. Not quite as intensely aromatic as their other sour IPAs (I've had Amorphia and Ultrasphere, both of which exploded out of the glass). This one requires some digging, but the notes that are there are quite nice. Lactic and yogurt-esque as it warms. Some citrus peel (lemon, maybe some orange). Appealing, but not the intensely enticing experience I'm used to from these guys.
T: Ah, well there it is! Everything from the nose, but amped up by a factor of 20. Explosively peachy up front. Peach candies more than fresh fruit, like those sour peach rings coated in sugar. Simultaneously sweet and tart, it harmonizes these sensations in a way to offer something that falls right in between, a perfect balance. Lactic yogurt tartness really balances out the lactose presence, as does a distinct lemon peel bitterness on the finish that I presume is coming from the Columbus. But it never strays to far in one direction. Really just an incredible harmony of flavors.
M: Outstanding--perhaps the creamiest and softest of their sour IPAs I've sampled. Carbonation is noticeable, but not too sharp--it's medium and evenly dispersed. Body is medium-plus with a thickness that I presume is coming from the oats + lactose. As mentioned, the sweet/tart/bitter balance is perfect, with the fruit flavors (mostly peach and citrus) fusing so well with the lactic tartness and lemon peel bitterness to offer supreme drinkability. Drinks with the intensity of an 8% beer while maintaining the dry crushability of its true 6%.
O: Absolutely another hit in the series for Hudson Valley. I've picked up on peach flavor in their other sour IPAs, so I had a feeling that this one (which actually includes peaches) would be a hit. It's maybe not as complex as Amorphia or Ultrasphere, but it does an excellent job at mimicking the sensation of eating peach candies at brunch with a mimosa in hand and a bowl of oatmeal on the side... Alright, that doesn't actually sound so appealing, but I promise you, this beer is delicious!!!
Nov 11, 2017

TomMorris from Connecticut
4.78
/5
rDev
+8.9%
look: 4.25 | smell: 5 | taste: 4.75 | feel: 4.75 | overall: 4.75
It's become a cliche to compare beers to real edibles that they resemble, but my god, this fucking beer tastes like liquid peach gummy sours. There's the perfect amount of lactose in this to complement what I can only imagine is an obscene amount of fresh peaches. Sweet, sugary, and sour all at once but in perfect tandem. I want this canned, HVBC.
Oct 23, 2017
GreesyFizeek from New York
4.45
/5
rDev
+1.4%
look: 4.25 | smell: 4.25 | taste: 4.5 | feel: 4.75 | overall: 4.5
On tap at Mohawk Taproom in Scotia, NY.
This one pours a super hazy and murky orange, with a small head and not a ton of lacing.
This is an absolute peach bomb on the nose, with vanilla, sour lemon, lactose, etc.
This has such a soft delicious taste to it, with a sour peach creamsicle character to it. There's lots of oat and lactose character, and a flavor that almost reminds me of lemon Italian Ice.
This is juicy and creamy, with a very high level of drinkability.
This would be the perfect beer in the morning. This is pretty crazy and good.
Oct 14, 2017
Silhouette - Peach from Hudson Valley Brewery
Beer rating:
97
out of
100
with
60
ratings