Pittinger Märzen Premium Export
| Privatbrauerei Fritz Egger GmbH & Co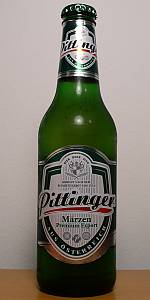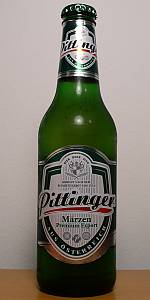 BEER INFO
Brewed by:
Privatbrauerei Fritz Egger GmbH & Co
Austria
egger-bier.at
Style:
Vienna Lager
Alcohol by volume (ABV):
5.20%
Availability:
Year-round
Notes / Commercial Description:
Contract brewed by Egger for the Spar chain of grocery stores.
Added by Globetrotter on 11-22-2006
HISTOGRAM
Ratings: 9 | Reviews: 6
Reviews by NeroFiddled:
3.74
/5
rDev
+30.8%
look: 3.5 | smell: 3.75 | taste: 3.75 | feel: 3.75 | overall: 3.75
Pittinger Märzen
,5l can dated "21.07.14 0092400 09:50"
€,49 @ SPAR Gourmet, Gumpendorfer Straße 39, 1060 Wien
Note: One of the better SPAR locations for beer in Wien. They don't have much cold, but they've got a pretty good amount of warm beers in the aisle and some endcaps.
For €,49 for a ,5l can I can hardly complain, but this was a bit of a disappointment. It's an average Euro-pils with a bit more malt to it, hence the Märzen denomination. It is, at least, clean and well-brewed/fermented; and I wonder, as a Märzen does it spend any extra time in the lager tank?
A: Crystal-clear gold body beneath a finger-thick head of white that drops steadily and leaves only average lacing about the glass.
S: Basic pils malt and grassy/floral hop combination. Better than some... at least it's fairly bright, and you can pick out the hops. It's better than just "generic" in nature.
T: Malt appears upfront, quickly joined by grassy and spicy hops over a very-firm bitter backbone. The malt comes through nicely, as do the hops, and it's properly balanced and polished - just lacking overall for a Märzen. It finishes dry with some lingering hop character.
M: Medium-light in body with a moderate carbonation. Smooth, and gently crisp.
O: As stated at the outset, this is a basic Euro-lager that's well done, but it's made for the masses. Just a little more malt and hop might bring it up in body and character to the point that it could be interesting, but as it is it's fairly lack-luster.
1,504 characters
More User Reviews:
2.88
/5
rDev
+0.7%
look: 3 | smell: 2.5 | taste: 3 | feel: 3 | overall: 3
This is the house brand of the Spar grocery store chain. Comes in a green 33cl bottle with a green and gold label with pinstripes and a coat of arms above the name. Claims to conform to the purity law. Best before 3/19/07, I opened it on 2/3/07.
Pours a clear slightly greenish gold under a 1.5 finger white head that settles quickly, is quite thin and leaves no lace. The nose is a bit skunked, with tell-tale cabbage notes. The mouth is light and quite prickly. The taste is OK, with weak grainy malt and a fairly assertive albeit metallic yet floral hops profile. There a bit of syrupy sweetness here, but the floral bitter lasts longest, leaving a fairly dry aftertaste. Can't really say I enjoy it, but I don't mind drinking this at all.
745 characters
3.28
/5
rDev
+14.7%
look: 4 | smell: 3.5 | taste: 3 | feel: 3 | overall: 3.5
Got it in Spar in Budapest.
Head is quite foamy and thick and stays intact for very long time, almost half od the glass. Some good lacing. Aroma is very strong plain herbal hops with some weak maltiness in the background. The taste is quite dull - mostly weak bitterness with sweetish, but pleasant aftertaste.
Mouthfeel is between thin and medium. Overall, I think the beer is not bad, at least, it is much better than expected from supermarket beer.
453 characters
2.18
/5
rDev
-23.8%
look: 3 | smell: 2.5 | taste: 2 | feel: 2 | overall: 2
A cheap supermarket beer, so let's see.
Pours clear and golden color, with whitea foamy head topping it - about two fingers of quickly dissapearing.
A light malty and grainy aroma is what the nose picks up.
The beginning is sweet, followed by light and slightly watery body, coming together wit ha weak finish.
Drinkable if ice cold, but that's about it. Sadly, still better than several other supermarket beers.
413 characters
2.52
/5
rDev
-11.9%
look: 2 | smell: 2.5 | taste: 2.5 | feel: 3 | overall: 2.5
0.33 L poured from bottle into a pokal.
A: Unexpectedly light with a thin white head, fading to a thin and fastly disappearing ring.
S: Faint malt, mild hops, wooden hints.
M: dissappointing.
T: Rough, metallic with a bitter but washed-out body and moderate carbonation; unpleasant finish.
O: It can hardly be called Märzen. Too light, too washed-out, too undinsctinct. Avoidable beer.
391 characters
2.75
/5
rDev
-3.8%
look: 3 | smell: 3 | taste: 2.5 | feel: 2.5 | overall: 3
.33L emptied into a Pokal.
A: Pours gold with a 1-finger white head which quickly receeds to a thin ring. No lacing.
S: Pale malt and grassy hops.
M: Light bodied with a lack of carbonation.
T: Sweet, doughy malts and slightly spicy hops. Crisp finish with a dry, hoppy aftertaste.
D: Another budget beer created for SPAR from Egger. Nothing hateful here, because there's nothing here to really critique. Drink it and forget it.
433 characters

2.75
/5
rDev
-3.8%
look: 2.75 | smell: 2.75 | taste: 2.75 | feel: 2.75 | overall: 2.75

3.14
/5
rDev
+9.8%
look: 3 | smell: 3.25 | taste: 3 | feel: 3.25 | overall: 3.25
Pittinger Märzen Premium Export from Privatbrauerei Fritz Egger GmbH & Co
Beer rating:
2.86
out of
5
with
9
ratings