Schmidt's Light
| Pabst Brewing Company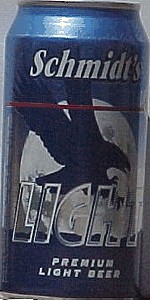 BEER INFO
Brewed by:
Pabst Brewing Company
California
,
United States
pabstbrewingco.com
Style:
Light Lager
Alcohol by volume (ABV):
not listed
Availability:
Year-round
Notes / Commercial Description:
No notes at this time.
Added by BeerAdvocate on 04-03-2002
Reviews: 8 | Ratings: 20
2.91
/5
rDev
+57.3%
look: 3.5 | smell: 2.5 | taste: 3 | feel: 3 | overall: 3
Beer with Ducks. I remember drinking this back in college with the Magic Woodduck. It has an eagle now, but it is still a Duck to me.
Pours right from the can into my mouth....normally. In this case, since I am reviewing, a pilsner glass is being utilized. Pours to a very light straw color...this has got to be one of the most light colored light beers I have seen. Really nice foamy head on this one, and it lasts too. Leaves a good amount of lacing when sipped down too. Surprising.
The aroma is a bit husky, with the cooked corn and grain smells. A light spicy hop aroma way, way, way in the back. Gotta really search.
The flavor has a light maltiness and a light hop spiciness. Slight bit of graininess, but it is at a minimum compaired to other macro lagers. It's light in body and easy drinking.
At $12.99 for a 30pk I couldn't go wrong, besides my HOD subsidy check hasn't arrived....so with the hell was I supposed to do....drink water?...surely you jest...who the fuck is surely?
For its style and price, it's not a bad beer at all.
1,058 characters

2.37
/5
rDev
+28.1%
look: 1.5 | smell: 2 | taste: 2.5 | feel: 2 | overall: 3
very light golden color, pours the thinnest of heads. smell is of slight adjuncts with some hop aroma that makes it somewhat appealing. mouthfeel is pretty thin and has a pretty watered down taste....but it has a smoothness and slight hop profile that saves from it from being the worst of crap beers. goes down quick and smooth without it being unpalateable. any beer that doesn't make me grimace gets a free pass to slide down my throat. this is one of them.
465 characters
2.08
/5
rDev
+12.4%
look: 2.5 | smell: 2 | taste: 2 | feel: 2.5 | overall: 2
a: pours a light pale golden color with about a half inch of head that dissapears fast leaving no lacing
s: strong aroma of corn malts no hop aroma to speak of, metallic aroma
t: corn malts dominate, no hops metallic flavor
m: light bodied beer with a lot of carbonation
overall this is a cheap beer and i dont think ill get it again
334 characters

1.85
/5
rDev 0%
look: 2 | smell: 2 | taste: 2 | feel: 1.5 | overall: 1.5
Poured into pint glass.
Pours a 1/2 finger head the fizzles down quickly to nothing. No lacing. Color is a clear light straw yellow, very typical.
Smell is of the usual grainy macro lager aroma. No real hop aroma here. Taste is quite unbearable. Super grain taste. Some kind of malts that aren't tasty at all are present as well.
Mouthfeel is super crisp. Carbonation is really low, leaving a sticky aftertaste in my mouth.
Overall, this isn't something I would ever buy. I got it from a friend and said I would review it. It is going to be hard finishing this beer.
570 characters
1.81
/5
rDev
-2.2%
look: 2.25 | smell: 1.75 | taste: 1.75 | feel: 2 | overall: 1.75
I remember drinking this and regular Schmidt back in the 1980's. Time to see how it ranks now.
Pours a light straw color with a less than one finger white head which fades quickly, leaving no lacing. The aroma has cooked corn, is a bit metallic, and has not much of a hop presence.
The taste is much like the aroma. There is cooked corn, light cereal, a bit of a metallic taste, and that's about it. Very small hop presence.
Light bodied, fizzy carbonation, and not much of an aftertaste. I used to drink Schmidt and Scmidt Light at one time, but can't see doing this much anymore. This beer has not stood the test of time.
627 characters
1.65
/5
rDev
-10.8%
look: 1.5 | smell: 1.5 | taste: 1.5 | feel: 2 | overall: 2
Schmidt's Light is a none too pleasing light beer that seems like the only good thing going for it is the very visually pleasing can. The regular version is drinkable, while this stuff I have found to be a little on the mediciny side.
Schmidt's Light pours a pale straw color with an almost 2-finger foam head that disappears very quickly. The smell isn't pleasing in the least bit. Reeks of adjuncts, husks, wet paper, and swamp. Not surprisingly, the mouthfeel is watery and fizzy. The initial taste is very sweet, thanks to THAT'S RIGHT, adjuncts. Watery flavor, but not as much as other light beers. There is a certain amount of flavor in this beer. There is even some hop presence. The finish is unpleasingly bitter, so as that it might make you wince. The bitterenss carries over into the aftertaste, which includes some wet paper taste and maybe some veggie/DMS taste. The beer concludes with a little bit of alcoholic warmth.
I was surprised that this light beer actually had some flavor. Too bad they couldn't actually do something with it and make it taste good.
1,078 characters
1.3
/5
rDev
-29.7%
look: 1 | smell: 1 | taste: 1.5 | feel: 1 | overall: 1.5
I don't even know how I got suckered into this. Poured a very light straw yellow with no head, bubbles were minimul, no lacing whatsoever. The smell was very grainy, hint of metallic, hops were an after thought. Tasted very light, water mixed with grains. Felt very dull and bland in the mouth, no substance, felt like carbonated water in the mouth. Do not ever drink this, even if you are going to a bull riding event like I did, do not drink.
444 characters
1.12
/5
rDev
-39.5%
look: 3 | smell: 1 | taste: 1 | feel: 1 | overall: 1
Only points awarded were for the can with the eagle on it pretty gnarly. Other than that, i got 30 of them for 12 bucks. If this sounds like a deal that is appealing to you, then this might not be such a bad beer for you. Otherwise, this is just as bad, in my opinion worse than your key light or busch light.
Used this for our case race that i won.
352 characters
Schmidt's Light from Pabst Brewing Company
1.85
out of
5
based on
20
ratings.