Bootlegger Bofiad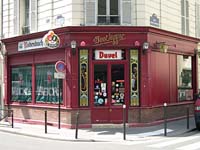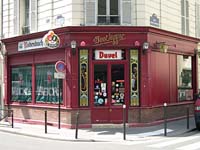 Store
82 Rue de l'Ouest
Paris
, 75014
France
+33 1 43 27 94 02 |
map
bieres-bootlegger.fr
Notes: Hours: 10:30 - 21:00
Reviews by RblWthACoz:
4
/5
rDev
-10.3%
A nice little store tucked away in a side of the city. Focus is mostly on Belgian beers with a very minimal amount of French. (For French artisanal beers, a visit to La Cave des Bulles is absolutely mandatory!) Whereas there isn't much as far as rarities go, there are enough solid choices to keep you happy. Mort Subite, Cantillon, Saint Bernardus, Dupont, Lindemans (yes, they have the faro) and more. For French I saw a full like of Ch'ti, some Lancelot, and one or two others. Glassware selection is basically all Belgian as well. Beer prices were moderate and proper.
Overall this is a nice spot with a nice selection of Belgian ales. Which means a lot since the good stuff is definitely hard to find in Paris.
716 characters
More User Reviews:

4.81
/5
rDev
+7.8%
vibe: 4.75 | quality: 4.5 | service: 5 | selection: 5
A great find tucked down some side roads. Everyone was extremely welcoming, helped me find a few French beers to try and walked me through their whole selection. Had a lot of Belgian options as well, including some Cantillon Kriek Lambic. A great stop in if you're in Paris.
274 characters
5
/5
rDev
+12.1%
vibe: 5 | quality: 5 | service: 5 | selection: 5
Le meilleur magasin de bières belges de la région parisienne
62 characters
4.5
/5
rDev
+0.9%
vibe: 4.5 | quality: 4.5 | service: 4.5 | selection: 4.5
I'm used to the rising beer prices in the US, so finding some great Cantillon's for ~5 Euro is good in my book. Friendly staff and a good selection of Lambic's. If you really want to find the unique one-off's you should brush up on French as no English is spoken (obviously it's France and my little knowledge of French didn't help)
332 characters
4.8
/5
rDev
+7.6%
vibe: 4.5 | quality: 5 | service: 4.5 | selection: 5
Cheapest craft beer store in Paris that I've been to yet. Wonderful selection of Belgian beers. Also, lots of French, Scottish, Germans. Some Americans (Flying Dog, Sierra Nevada) and others. Prices are just above those at the supermarket, but far below stores of similar quality (about 30-50 cents pricier than at a supermarket (though craft beer is hard to find at supermarkets) and about 1 euro cheaper than any other craft beer store that I've been to here).
There's a whole wall of glassware that's about 2-3 Euros cheaper than I've found in Paris (about 5 Euros for a glass here).
They have all the Trappists, except Westy. They even have La Trappe's Oak Barrel Aged Quad. Their St. Bernardus Pater 6 is, I think 1.50E.
And the owner is really nice and is happy to give you suggestions.
The one downfall is that it's a little out of the way, but if you buy two beers, your metro fare is made up for.
A must visit if you like beer and find yourself in Paris!
965 characters
5
/5
rDev
+12.1%
by far, THE BEST BEER STORE IN PARIS!!!
The owner is a very nice old man and the store have the best selection of european beers in Paris.
The price is the best, for exemple, the beer DeuS - € 13! Very cheap.
In this store you can find a big variety of glasses, special kits, trappist kits, beer souces and AMERICAN BEERS :-) (is very hard to find american beer in Paris)
A visit to this store is mandatory. It's far from the main turistics points but is very near from the subway station Pernety.
502 characters
4.35
/5
rDev
-2.5%
I had this on my beer shopping radar and my wife and I stumbled upon it while taking a walking tour of the area. I wasn't in a position to carry around bottles but I did want to go in and look around.
This is an excellent choice if you're in the market for the best of European (Belgian for me) beers. What was lacking was artisinal French selections which is what I was after and found at La Cave à Bulles.
There was lots to choose from and even a nice selection of glasses. They guy working the register did seem to be interested in helping us - we were the only ones there and he carried on on with what he was doing when we arrived.
640 characters

4
/5
rDev
-10.3%
You like beer, its colors, its foam, its perfumes, do not go away, you arrived in Bootlegger.
Chimay, Orval, in that place these words take on their ancestral significance to make you travel through time. If you take the time to stop you, you discover new flavors that you will happily on the path of friendliness.
Come visit the shop 82 rue de l'Ouest, you'll find not only beers French, Belgian, German, English, Irish, Czech ... but also of glass, boxes, posters, coasters and as you can even taste ...
505 characters
4.35
/5
rDev
-2.5%
I just got back from my first visit to Bootlegger, and I've been eager to write this Beerfly review so that I might rave about this exceptional beer store. I've been in Paris for almost three weeks now on an exchange program, and after reading the reviews of some of my fellow BAs, I knew I couldn't delay any longer in visiting Bootlegger. I'm glad I didn't wait.
Bootlegger is located close to Cimetiere Montparnasse in southern Paris (actually in the 14th arrondissement, not the 15th). It's hard to miss from the outside, with it's bright neon "Bootlegger" sign out front. The view from the inside far surpasses that of the curb however. Bootlegger has a vast selection of Belgians, with a smaller menu of Germans, French, and beers from the UK. It carries all the Trappistes, but like everyone else , I too was unable to find Westvleteren. Nevertheless, the Belgian selection is very impressive, and far less expensive than what one might find in the US.
The proprietor is a very knowledgeable and helpful fellow. He's quite willing to recommend a beer for any style one might be looking for. He helped me pick out what will be my first gueuze. What's more, he'll bring down the already reasonable prices even further at check out.
Overall, excellent place to find craft beer in Paris, not to mention a superb selection of glassware. I highly recommend a visit, even if it means sacrificing a few hours at the Louvre.
1,434 characters

4.5
/5
rDev
+0.9%
I drove over there today to get a sampling of beer to bring back to the states for my beer loving friends. I live in Paris, so I'm very glad to have found this store (Thanks BA!)
The guy working there was polite and didn't flinch as I started putting bottles and bottles and bottles on the counter. We spoke in French a little bit, I confirmed that he didn't have the Westvleteren (I was going to drive there today but they are out of beer).
Most of the normal size bottles are 3 Euros or less. He has a good selection of Belgians, all the trappist but Westvleteren, and lots of others. Some German beers, and a section of oversize bottles too. I didn't see any American beers. Lots of Lambics which makes my wife happy.
He gave us two glasses! He gave me a Rochefort glass, and my wife a Lambic glass! We figured our total would be about 200 Eurosm but it came out as 109! Score!
I'll be back. He said he was closed in August for vacation, by the way.
957 characters
4.65
/5
rDev
+4.3%
Visited May '06.
Fantastic little beer store. Greeted at the door by the spectacle of some great Belgian beers (including Tripel Karmeliet) in enormous 3L bottles. Walls are lined with square wooden shelves with tons of Belgians and some French.
Service was great; owner made some recommendations, even telling me to put one of my choices (Lindemans Faro, which I bought anyway) back on the shelf. He recommended some smaller French beers for me to try, gave me a free matching glass for one of them, and threw a handful of coasters in the bag for good measure. Purchase was recorded by hand in a notebook and change was made out of his pocket.
Walked away with Lindemans Faro, Cantillon Gueuze-Bio, Cantillon Kriek, La Rouge Flamande, Ch'ti Tripel, Belle-Vue Gueuze and some Guinness SES.
Great experience; don't miss it if you get a chance to visit Paris. A bit away from most of the tourist attractions, but it was only a Eu5 cab ride from near the Eiffel Tower.
977 characters
4
/5
rDev
-10.3%
Visited here on the 8th March 2006. Slightly off the beaten track (in the Montparnasse district) but pretty easy to get to – about 10 minutes walk from the Gaite metro stop on line 13.
Excellent selection of Belgian brews (probably around 100 different ones) including Cantillon (gueuze and kriek), St Bernardus, Rodenbach, Rochefort and some De Dolle. I only grabbed one Belgian bottle – a 75cl bottle of Poperings Hommel Bier.
Sadly the selection of French brews wasn't the biggest but I did bring back a few - L'Angelus, Cervoise Lancelot, Belzebuth, Duchesse Anne and some Telenn Du.
Prices weren't too bad – around 2 euro per 33cl bottle and around 4 - 5 euro per 75cl bottle. The owner seemed pretty friendly and helpful – even with his limited English.
Overall, well worth a visit if you're in Paris.
827 characters
4.35
/5
rDev
-2.5%
The typical French wine shop except only for beers. This means there is no food and nowhere to sit down and have a pint. Not too hard to get to. Very good selection of beers from Belgium, with a somewhat random assortment of other beers from other countries(France, Canada and Korea in particular). Though it isn't the most extensive collection, it makes up for this by selling only quality beers and at a reasonable price. Also has a pretty extensive quantity of beer glassware for sale. In the United States this wouldn't be anything special but in Paris beer isn't a focal point and this is so far the best beer store I've found.
632 characters
4.15
/5
rDev
-7%
Located at 82, rue de l'Ouest in the 14th arrondisèment, not the 15th. Closest Metro stop is Gaîte on the 13, followed by about a ten minute walk. Also keep in mind that the Bootlegger has kind of weird hours: open from 10:30 - 1, closed for lunch from 1 - 4, and then open again from 4 - 8.
The best selection of beer I've found so far in Paris, although still not as extensive as a large craft beer store in the U.S. Good selection of Belgian and German beers, OK selection of English beers, and some "greatest hits" from the rest of the world, such as Sam Adams, Pilsner Urquell, and Guiness. Also, oddly enough they carry a number of Unibroue products at far lower prices that I can get in Baltimore.
The owner was very friendly and seemed both knowledgeable and eager to help. With regard to the pricing complaints someone mentioned in the forums, I didn't think they were terrible. The Belgian prices were, obviously, far lower than the U.S., but also cheaper than some markets in Paris. Likewise, beer here is a steal compared to the outrageously high prices of many Parisian bars. For example, Rochefort 10 is €3.20, versus over €10 in one of the beer bars near my apartment in Montparnasse. The Bootlegger also stocks reasonably priced gift packs and an extensive selection of glassware.
While I'd like to find a little bigger selection, I'm definitely coming back to the Bootlegger. The best beer store I've found so far in Paris.
1,454 characters
Bootlegger Bofiad in Paris, France
Place rating:
4.46
out of
5
with
14
ratings