Drinks of the World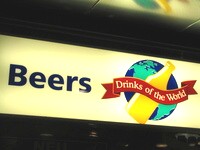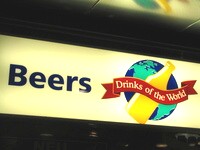 Store
Bahnhof Zürich
Halle Landesmuseum
Zürich
, 8001
Switzerland
+41 44 211 1051 |
map
beerworld.ch
Notes:
Reviews: 8 | Ratings: 14
Reviews by DoctorZombies:

4.61
/5
rDev
+21.3%
vibe: 3 | quality: 5 | service: 4.5 | selection: 5
Over 500 beers from around the world. It was busy and crowded this evening and the service was great, knowledgeable,friendly and English speaking. I had my list from looking at their website, and in minutes had a basket of tasty beers. Beer from overseas is hugely expensive, USA beers are 2-3 times what we pay in the States, so get the Belgians which are 1/2 price what we pay! No Cantillon, etc. but mainstream Belgians are the bargain in this very expensive city!
467 characters
More User Reviews:
3.92
/5
rDev
+3.2%
vibe: 4 | quality: 3.75 | service: 3.75 | selection: 4.25

4.9
/5
rDev
+28.9%
vibe: 4.75 | quality: 5 | service: 4.75 | selection: 5

4.13
/5
rDev
+8.7%
vibe: 3.75 | quality: 4.5 | service: 4 | selection: 4

3.31
/5
rDev
-12.9%
vibe: 3 | quality: 3.75 | service: 2.75 | selection: 3.5
The store is one floor below the Hauptbahnhof main (track) level; with the tracks at your back, it's on the left side, one floor down, corner nearest the river and tram stops.
It's a store full of bottles, scattered haphazardlly and without any real sense of organization or style. Most are kept warm, or warmer, styles and origins are mixed and matched, etc.
However, fifteen minutes of searching yielded me a fair supply of IPAs to improve my hotel evenings in Zurich. If you're looking for good beer, they have some.
521 characters

3.44
/5
rDev
-9.5%
vibe: 3 | quality: 3.5 | service: 3.5 | selection: 3.5
(Visited in 11/2011): This Drinks of the World location is in the Zürich Hauptbahnhof (Central train station).
The interior is small, borderline cramped but well-organized with beers located on shelves and in coolers.
Pleasantly surprising selection of regional beers from Belgium and Switzerland. Also a decent amount of singles, as well as a few gift sets. A few examples include Turbinen, Sternen, Tschlin and many others. Some "imports" from the USA as well, but mostly larger microbreweries like Flying Dog. They even had Duff.
Service was friendly and no issues given the language barrier.
Overall we started off our vacation with quite a haul to take home. Worth a stop for any beer lover visiting Zürich
718 characters
3.4
/5
rDev
-10.5%
You are not going to find too many places with a variety of beer offering in Zurich, or Switzerland for that matter. Drinks of the World is probably your best bet though. Location is ideal for anyone traveling throughout the country since it is located in the Main Train Station. Prices were quite reasonable given Switzerland's pricey reputation. Selection was great...for Switzerland. Quite a few of classic Belgian choices and a lot of local Swiss craft beers I've never heard of. You can track down a few US craft beers - Sierra Nevada and Flying Dog, for example. Quite an extensive selection of German beers - again, the classics though. Service was non-existent. I may have spent a good 30 to 45 minutes in the store, and nobody approached me, nor could I find anyone who looked willing to help - this seems to be pretty consistent with many European bars/restaurants/retail, etc.
Worth a visit if you are in Zurich and have a desire to pick up some beer to take back to your hotel.
991 characters
3.2
/5
rDev
-15.8%
It has a great location, specially if you are travelling by train, altough the station is big and a little confussing. They have a nice selection specially in swiss beers, the prices are a little bit higher but i think that is just because all zurich is expensive.
What I like the most are some wood boxes to fill in with beer, there are different prices and are kind of easy to transport, which is a great idea when you are travelling
The service was not as expected, they dont help at all, just employees without any specific knowledge
540 characters

3.8
/5
rDev 0%
After taking the train back from Lucerne to Zurich, we went down two floors in the train station to check this place out. Decent sized store. Great selection of beers. They focus mostly on German and Belgian beers, and have a pretty decent variety of Swiss beers. Ninety percent of the beers are shelved, and there is only a limited selection refrigerated. We picked up a Swiss beer and a Swiss hard cider to try out. Near the register, there is a big box of free beer coasters. We asked the cashier for some plastic cups, and he gave us a few branded DOTW cups. We ended up sitting on a bridge late at night looking at the Grossmunster all lit up as we shared our drinks. I did not come across any other liquor stores in Zurich that sold beers on this scale. It was nice to find such an oasis in a transportation center like the Hauptbanhof.
842 characters
4
/5
rDev
+5.3%
Was in Zurich for a week on business so decided to find this place. It is down two flights in the train station. Look for the large "Beer Liquor" sign.
This place was PACKED with people. Of course, it was just after the first world cup game [Germany vs. Costa Rica] which was shown on a jumbo screen upstairs.
Place is small, but packed with beer. There is a liquor section on the right, but beer dominates the shop. There is a nice selection from a wide variety of countries. Two things I really liked were that everything comes in singles and that they had different size bottles [330ml, 750ml, larger] to choose from. For a traveler, this is great since you can pick up whatever you need and take it back to your hotel.
They also had some beautiful specialty bottles that would be great to pick up if I weren't traveling.
There is only a very limited refrigerated section, which is about the only downside. Overall, a very nice place to go if you are in Zurich and feeling thirsty.
998 characters
4
/5
rDev
+5.3%
For buying beer in Switzerland, it really doesn't get any better this this. My two times shopping for bottles in Zurich have lead me to this store in the train station, as recommended in Michael Jackson's handbook. They do have selections from all over the world and from 2002 to 2003, they have really improved their Swiss selections. They now stock many Swiss Micro producers with a good selection of German and Belgian brews with a couple good English selections. Nothing too rare in here though. If you're in Zurich and need something for the hotel, this is the place.
572 characters
Drinks of the World in Zürich, Switzerland
Place rating:
3.8
out of
5
with
14
ratings