Dismiss Notice
Dismiss Notice
Brooklyn American Ale
| Brooklyn Brewery
BA SCORE
79
okay
15
Reviews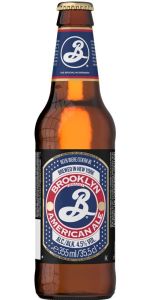 BEER INFO
Brewed by:
Brooklyn Brewery
New York
,
United States
|
website
Style:
American Pale Ale (APA)
Alcohol by volume (ABV):
4.50%
Availability:
Year-round
Notes / Commercial Description:
Here in New York City, things are complicated, fast and loud. So sometimes we want a nice beer that's simply tasty and refreshing. Brooklyn American Ale is easygoing, versatile, and dependable. It's a beer you and your friends can hang out with, no matter where you're from. Try it alongside pizza, burgers, spicy foods, sharp cheese, or just another bottle of American Ale.
Added by tempest on 05-02-2009
Reviews: 15 | Ratings: 82

4
/5
rDev
+20.5%
look: 4 | smell: 4 | taste: 4 | feel: 4 | overall: 4
Brooklyn American Ale | Brooklyn Brewery. Poured from a 12 oz can into a pint glass, this beer's head is 2.5 fingers thick, with spottier lacing, and a clear medium lighter golden amber body.
Smells like an earthier malt backbone amidst subtler pine&citrus hop notes.
I taste a very well balanced blend of what I'd just mentioned in the aroma, with a slightly more pronounced malt element. Clean and easy-going all in all.
The mouthfeel here is lighter with mild carbonation. Crisp, clean, and quenching.
I'll give Brooklyn American Ale | Brooklyn Brewery an overall rating of 4. A very sessionable APA that has quite the "craft gateway" potential to the uninitiated.
★
683 characters
3.9
/5
rDev
+17.5%
look: 3.75 | smell: 3.75 | taste: 4 | feel: 3.75 | overall: 4
12oz can poured into a small tasting glass.
A: Amber colored with a very mild chill haze. Head settles out quickly. Pencil lines of lacing.
S: Floral, grapefruit, citrus peel. Cracker and grain malt undertones with a drizzle of caramel.
T: Follows the nose. Hops lead with floral tones and peaks of citrus flavor. Grapefruit, candied orange peel. Malt undercurrents of drizzled light caramel, grain, and cracker. Quick and dry finish leaves cracker and floral hops to evaporate off of the palate.
M: Light bodied. Soft and creamy malt texture is scrubbed away by the aggressive, fine carbonation bubbles.
O: Straightforward, sessionable, light. Simple, but pleasant enough. Perfect to drink at the backyard party while you're playing horseshoes or some such lawn game.
★
773 characters
3.83
/5
rDev
+15.4%
look: 4 | smell: 3.5 | taste: 3.5 | feel: 4.5 | overall: 4.5
A friend shared a few bottles of this export-only beer. The label reads it's a mix of chinook and cascade hops for Sinebrychoffin in Finland. This beer reminds me of an English ESB (with American hops). There's a mellow caramel and bread crust malt profile followed by bigger pine and citrus hops with a herbal twist from the chinook. Very tasty and drinkable. This a great session ale I wish we had in the U.S.
★
411 characters
3.66
/5
rDev
+10.2%
look: 3.5 | smell: 3.75 | taste: 3.5 | feel: 4 | overall: 3.75
This is quite a decent beer that Brooklyn has made.
The hop profile is quite smooth, so it almost seems like it adjunct with wheat. There is a light hop start and then it has a bread and caramel profile and has a really good smooth malty finish. The malty clean finish is quite nice.
This is a great summer beer. I do prefer more hoppy beers, but the smooth and wonderful malty clean finish is done really well.
★
413 characters
3.6
/5
rDev
+8.4%
look: 3.75 | smell: 3.75 | taste: 3.5 | feel: 3.75 | overall: 3.5
As down home as apple pie, sunday school and porch swings, the brewers at Brooklyn Brewing Company bring us a summertime beer that optimizes all of what's best about American ale, but in a calm taste and a somber body.
Beautiful and bright, the pale ale gleans with a light copper and golden austere. Its balanced bouquet is floral with orange blossom, grapefruit peel and grass clippings- all hop-derived, but the taste is dryly of graham cracker and lightly toasted granola.
With little traction across the middle palate, the toasty grains pull away from the palate as the hoppy flavors take control with citrus, grass and pine flavor. Trending bitter, raw and cereal-like, the beer's crisp taste finishes with nuances tea, caramel, citrus and iron.
Alas, the beer's body is medium but zesty. High effervescence pops off the palate and pushes the malt away from the tongue, leaving a sharp carbonic bite and a light alkaline taste in its wake. Trailing shortly with grain and grass, the finish is quick and refreshing- just light all around.
★
1,046 characters

3.59
/5
rDev
+8.1%
look: 3.75 | smell: 3.5 | taste: 3.5 | feel: 3.75 | overall: 3.75
Golden liquid with a Huge white head and a ton of lace. Lovely. Nose is earthy and citrus. Light sweetness. Taste is light malt sweetnes with an earthy and citrusy hop combination. Notes of caramel and bread. Feel is crisply carbonated and refreshing. An easy drinking brew with a low abv that allows long hours of session drinking. An excellent beer for days when things have to get done, you're hangin' in the backyard grilling, or as a hot day thirst quencher. Not earth shaking but solid brew that you can hand to a macro swilling friend and watch the lights go on. Nice.
★
575 characters

3.5
/5
rDev
+5.4%
look: 3.5 | smell: 3.5 | taste: 3.5 | feel: 3.5 | overall: 3.5
Brooklyn American Ale is a super smooth, crushable treat. As soon as I popped the can and poured this yummy treat, I noticed a super golden color, with a nice amount of carbonation. In fact half way through the can I still see bubbles rising from the bottom up. A nice citrusy hop taste in conjunction with the light malt makes this bad boy an easy drinking treat. I am a big fan of just about anything this brewery puts out. This is not a complex beer for sure. Getting ready to sit down and slam down a few pizzas, with some old college buds, while watching some NCAA basketball and this will enhance the experience for sure. Glad we have a case of this treat . BTW, that pic is ages old. The can is red white and blue ! Super crisp and clean for sure ! This beer goes down nice and easy, as intended by the Brooklyn brew crew.
★
830 characters
3.47
/5
rDev
+4.5%
look: 3.5 | smell: 3.25 | taste: 3.5 | feel: 3.25 | overall: 3.75
A: The beer is crystal clear yellow in color and has a steady stream of bubbles rising from the bottom of the center of the glass. It poured with a short white head that quickly died down, but left a thin layer of bubbles covering the surface and lots of lacing down the sides of the glass.
S: Light to moderate aromas of biscuit malts and citrusy hops are present in the nose.
T: The taste has flavors of biscuit malts along with notes of citrusy hops and caramel malts. Although no bitterness is present, the hops mask any sweetness.
M: It feels light- to medium-bodied on the palate and has a moderate amount of carbonation.
O: This beer has a very good balance between malts and hops and is extremely easy to drink. It would pair well with food.
Serving type: can
★
771 characters

3.31
/5
rDev
-0.3%
look: 3.5 | smell: 3.75 | taste: 3.25 | feel: 2.5 | overall: 3.25
Bottled
Golden body, white surface bubble head that covers about 90%
Nice citra/citrus sherbert aroma
There is a hoppy citrus start and then malt body then it goes watery
it's thin
Not terrible but as unbalanced as your average Jack Nicholson character
★
255 characters
3.3
/5
rDev
-0.6%
look: 3 | smell: 3.5 | taste: 3.25 | feel: 3.25 | overall: 3.25
Appearance: Pale yellow, bubbly. Pours a small one finger head that recedes very quickly.
Aroma: Flowery hops with a hint of honey sweetness. Refreshing.
Taste: Quite light, but rather drinkable. Has characteristics of a hoppy lager rather than an APA in fact. The hops give way to a light malty sweetness, with some citrus undertones.
Mouthfeel: Light to medium body, medium carbonation
Overall: It's okay, but nothing amazing. A nice session ale, which I've in fact often had in bars in Helsinki, as you can get it in quite a few places. Decent value for money.
★
567 characters
3.2
/5
rDev
-3.6%
look: 3.5 | smell: 3.5 | taste: 3 | feel: 3.5 | overall: 3
Pours transparent orange with white head. Aroma of subtle spicy hop character, barley, and grain. Sweet malt towards the finish and a note in that malt that I am not a fan of. Maybe some adjunct possibly. Light in body and mouthfeel. Brooklyn's take on the American Ale is worth noting but I don't quite understand its purpose. A craft brewery putting money to make their product worse. Macro drinkers will keep reaching for Bud/Coors and Craft drinkers will try this once and then shy away from it.
★
499 characters
2.91
/5
rDev
-12.3%
look: 3.75 | smell: 3.25 | taste: 2.75 | feel: 2.5 | overall: 2.75
355 ml bottle, BB date 01/05/16, bought in a supermarket in Helsinki.
Clear, yellow; this is pale ale. Nice moderately persistent head. Pouring, the sound is perfect.
The smell is pleasant but not very strong, herbs and some citrus.
The taste is there, but not sufficiently strong. Hoppiness comes through rather blandly, but continues smoothly.
Feels slightly thin, perhaps watery.
Overall, a good start but disappointing finish.
★
434 characters
2.55
/5
rDev
-23.2%
look: 3 | smell: 3 | taste: 2.25 | feel: 2.5 | overall: 2.5
Can poured into a glass May 2016.
Recent happy encounters with Brooklyn Lager and IPA encouraged me to try this. I hoped for a tasty pale, moderate alcohol drink. I was thinking along the lines of the old Rheingold/Ortlieb version of McSorleys, maybe? Local ales that fit the bill and taste great are Blue Point Pale Ale and Montauk Driftwood Ale. Brooklyn American tastes more like Genesee Cream Ale. Brooklyn American Ale is well balanced, but doesn't have any real character. It's not so bad that it goes into the sink, but I'll be blending this into some more flavorful stuff.
I'll also try the new Pabst Old Tankard when I find it. The 1970's version that I drank then was very tasty and had a pale color of a typical American Ale. The new brew (and can design) appear to be throwbacks to an earlier strong, deep amber beer.
★
841 characters
2.29
/5
rDev
-31%
look: 3 | smell: 1.5 | taste: 2.5 | feel: 2.5 | overall: 2.5
This was clearly a dissapointment. I like other Brooklyn products I've tasted and Local 2 is one of my favourites.
Appearance is not that bad, little haziness copperish color. I didn't get much foam after pouring.
Smell is rather unappealing, sort of damp. I can't quite locate the smell, but somehow it's not that great. Sure, some hops but frankly - IMO it smells bad.
Taste is also very unappealing. It's somehow metallic and very mild. No hops, malt, booze. Nothing. Very bland. Mouthfeel goes to same direction.
So, this beer probably goes nicely in bar with having nice time with friends and perhaps straight from the bottle. But from the "serious" beer tasting point of view, this is at most average beer.
★
716 characters
2.11
/5
rDev
-36.4%
look: 3 | smell: 2 | taste: 2 | feel: 2.5 | overall: 2
Got this in a rare beer swap courtesy of Jay. Don't know what the American ale is supposed to be. I know Budweiser has one. Poured out like a deep orange amber color. Aroma was not there. No hops no malt it was like smelling water. Taste was the same. What was the goal here? Seems like it was to make a universal beer. It did not impress me. It looked like Brooklyn Lager but tasted like nothing. Glad I tried it but glad it's over too.
THANKS BUT NO THANKS
★
459 characters
Brooklyn American Ale from Brooklyn Brewery
79
out of
100
based on
15
ratings.