Brooklyn BAMboozle Ale
| Brooklyn Brewery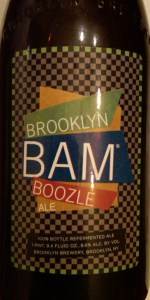 BEER INFO
Brewed by:
Brooklyn Brewery
New York
,
United States
brooklynbrewery.com
Style:
Belgian Pale Ale
Alcohol by volume (ABV):
8.67%
Availability:
Limited (brewed once)
Notes / Commercial Description:
Malt: Weyermann Pilsner Malt, Bamberg, Germany
Honey: Raw Wildflower, Tremblay Farms, Chemung County, NY
Hops: Perle (Germany) and Aurora (Austria)
Yeast: Our special Belgian strain, finished in the bottle with "Pris de Mousse" Champagne yeast
Original Gravity: 17.2 P
Added by schlimenhaumer on 12-11-2011
This beer is retired; no longer brewed.
Reviews: 14 | Ratings: 36

3.83
/5
rDev
-0.8%
look: 4 | smell: 4 | taste: 3.75 | feel: 3.75 | overall: 3.75
750 ml bottle poured into a Brooklyn tulip.
A- Pale golden in color. Healthy dense white head. Good retention and lacing.
S- Fresh fruit. Peach. Dried fruit. Fig. Belgian yeast. Sweet biscuit malt.
T- Bready malt character. A little spice. Sweetness, not quite fruit. At least not as much as expected from the aroma.
M- Medium body. Fine, tingly carbonation.
O- Pretty good. The depth of flavor disappoints after a strong nose, but still rather nice.
456 characters

3.68
/5
rDev
-4.7%
look: 4 | smell: 3.5 | taste: 3.75 | feel: 4 | overall: 3.5
A-Pours a foggy yellow color. Head rises and falls leaving speckles of random lacing along the glass.
S-Aroma isn't too big. Surprised by mellow nose. Its floral and a bit grassy with some sweet honey. Belgian spice is light and the yeast is noticeable.
T-Sweeter than the nose. Honey and Belgian yeast with a full malty component. Doughy. More chalky yeast and a champagne element from the champagne yeast. Light noble hoppiness. A bit of spice. Its hard to describe the flavors because they all come together to make this really uniform universal flavor if that makes any sense.
M-Medium bodied with a richness to it. Definitely quite bubbly. A bit sticky. Booze hidden very well.
O/D-A pretty neat Belgian Pale. I wouldn't purchase it again but it was worth a try. Fits right in line with their Local 1 brew.
815 characters
3.78
/5
rDev
-2.1%
look: 4 | smell: 3.5 | taste: 4 | feel: 3.5 | overall: 3.75
Always down for anything Brooklyn.
Darker color on this one; for a "pale ale". A touch of brown on gold. Flavor is good. Multiple subdued tones of citrus, sweet, and earthy all rolled up. Easy drinker. The carbonation seems a bit high. Gives that kind of froth all up in your mouth thing. Still a nice beer. Easy drinker.
323 characters
4.16
/5
rDev
+7.8%
look: 4 | smell: 4.25 | taste: 4 | feel: 4.5 | overall: 4.25
Had at the Brooklyn Brewery
A - Cloudy golden color. Significant lacing. White foamy head retains well.
S - Smells of fresh cut flowers, honey, and spice. There is notes of clove and corriander that stands out over time.
T - Has a champagne-like freshness from this off yeast strain. Sweetness of honey is in the initial sip. There is a spicy feel towards the end. Nothing is too dominant.
M - Actually very well balanced. Leaves a bubbly feel from the carbonation. Could pass as a toasting beverage. Crisp feel on the tongue. Easy to have a glass and not feel taxed.
O - I think I like this better than the Locals from Brooklyn. Not sure if its the honey flavors or the yeast, but this one has many of the same qualities Ommegang does with their belgian styles.
I'd get this again.
788 characters
3.75
/5
rDev
-2.8%
look: 4 | smell: 4 | taste: 3.5 | feel: 3.5 | overall: 4
Beer is a hazy golden with a good-sized white head. OK retention, some lace.
Smell is nice but a bit faint. Honey, biscuit and floral notes.
Fair amount of spice in the flavour. Coriander sticks out. Belgian yeast. Light fruit flavours, lemongrass. Bready malt. The champagne yeast is there as well, especially in the finish. A creamy honey flavour is present throughout.
Medium bodied, highly carbonated. Too much.
Overall, interesting beer but I am not a big fan. Not bad, but I certainly prefer the Local #1.
515 characters

3.93
/5
rDev
+1.8%
look: 4 | smell: 3.5 | taste: 4 | feel: 4.5 | overall: 4
A healthy pour yields a sizable head, thick and tall, and a cloudy golden fluid, Slow fade leaves some lacing and a thin covering. Aroma is delicate and inviting. Light sweet bready malt and a honey sweetness. Some powdery Belgian yeast with mild funkiness and light fruitiness. Apples and pears. A bit of white pepper. Taste is all honey and malt up front. Flavors of mild floral hops give a gentle bitterness with a dry powdery finish. A bit of a spiciness gives a nice flourish. Feel has a velvety creaminess with a light prickliness that smoothes out as it warms. Nice light body. There is a dry quenching quality that makes this one seem like a lager in its quaffability. A good solid BSPA That is high on the drinkability scale. If there is a session beer at this abv it's this one.
788 characters

4
/5
rDev
+3.6%
look: 4 | smell: 4 | taste: 4 | feel: 4 | overall: 4
750mL bottle, poured into a chalice
Thanks to Keanlacrosse for the share
Pours a hazy golden color with a fluffy bone white cap. The head rises about one finger and clings to the sides as it recedes. Some good sized sip lines cover the glass.
The aroma is of yeasty esters, band-aid funk, lemongrass, honey, clove, and some undercooked biscuits. Slightly more funky than your typical BPA.
The flavor profile follows the nose. Some band-aid and honey up front before a wave of biscuits, clove, lemongrass, and dry, estery finish. Some noble hops round out the finish with some peppery, earthy notes.
Light bodied, crisp, and dry. Moderate carbonation; prickly in spots.
This is a solid BPA, with a unique take due to the champagne yeast. Some light fruity esters with a crisp dry finish. I am not sure what was delivering the band-aid funk, but it is a welcome addition. Solid beer on all fronts. Would seek out again.
923 characters
4
/5
rDev
+3.6%
look: 3.5 | smell: 3.5 | taste: 4 | feel: 4.5 | overall: 4.5
Picked up a bottle of this at Community Beverage. 8.6 ABV, $9.99 for 750ml.
Appearance is classic BPA, light golden color, almost yellow. Cloudy with head that never fully disappears and plenty of lacing. Moderate pour into a chalice produces plenty of tight, bright white head.
Aroma - Honey, cloves, banana, yeast and biscuits. No real hop presence, but not needed as the malt is very subdued. Smells like a hefe, like a Belgian witbier but without the pepper.
Taste - very easy drinking. Reminds me of Weihenstephaner, but not quite as lemon-ey or bubble-gummy. Touch of honey, touch of yeast, touch of noble hops. Very drinkable and deceiving given the almost 9% ABV.
Mouthfeel is classic BPA. Not as aggressively carbonated as a hefeweizen, but very fitting for the style. Pleasant surprise that the bottle conditioning didn't lead to too much carbonation.
Very good. Hope they make this again. I am not a huge fan of the played-out BPA style, but this is a stand out example. Get it if you can.
1,007 characters
3.83
/5
rDev
-0.8%
look: 4 | smell: 3.5 | taste: 4 | feel: 3.5 | overall: 4
My first BA review.
I first tried this beer at the Brooklyn Academy of Music in November 2011 when I was there seeing Puscifer in concert. I enjoyed it then, and when I happened to find it in my local store in Staten Island I had to pick it up.
A: golden yellow, hazy, with a 1-1.5 inch foamy head.
S: smells fruity, like a sweet champagne.
T: tastes like it smells, champagne-like, sweet and not too bitter.
M: not too heavy, very drinkable. some carbonation.
O: very enjoyable, would have it again but it makes me want to try the rest of Brooklyn's big bottle refermented brews (Local 1, 2, Sorachi Ace) first.
621 characters
4.06
/5
rDev
+5.2%
look: 5 | smell: 4 | taste: 4 | feel: 4 | overall: 4
Quite an enjoyable beer by Brooklyn.
Poured into a Ommegang BPA glass at cellar temp (around 60 degrees F), the beer has a massive puffy head that rises an inch or so above the glass at its highest point. The smell is trong and aromatic giving off lemongrass, citrus-y hops, with hints of clove and banana when warmed a bit.
The taste follows the smell profile perfectly while the phenols are light and none too invasive. I hope this beer comes back again in the summer, when the season is more appropriate for this profile, in my opinion.
541 characters

3.12
/5
rDev
-19.2%
look: 3 | smell: 3.5 | taste: 3 | feel: 3 | overall: 3
A: Golden, crisp, clear, 1" foam clingy head.
S: Floral notes, light ...
T: The taste is similar to a so so Belgian Ale.
M: It feels medium-bodied on the palate with a moderate to high amount of carbonation.
O: Pretty ok, no reason to seek this out again. I like most of Brooklyn's beers, so I had to try it.
Worth trying for if you are a Brooklyn fan.
353 characters

3.58
/5
rDev
-7.3%
look: 4 | smell: 3.5 | taste: 3.5 | feel: 4 | overall: 3.5
I shared a bottle of this over dinner and while it is cheaper than a decent bottle of champagne, it was not blown away. The color was that of a wheat beer. lotsa bubbles and a very thick head that stuck around. the champagne yeast was overwhelming in all facets of the beer. there were some nice citrus notes and think the slight sweetness of the honey was a saving grace. This would make a nice gift for the holidays since it is not that exoensive and does not have to heavy an alcohol content. Ho ho ho!
505 characters
3.98
/5
rDev
+3.1%
look: 4.5 | smell: 4 | taste: 4 | feel: 4.5 | overall: 3.5
A: The beer is cloudy yellow in color and has a moderate amount of visible carbonation. It poured with a finger high white head that has excellent retention properties and consistently left a thin layer of bubbles covering the surface..
S: There are moderately strong aromas of floral hops in the nose along with hints of honey.
T: The taste is similar to the smell and as the beer warms up the flavors of honey become stronger.
M: It feels medium-bodied on the palate with a moderate to high amount of carbonation. The finish is very dry. It almost feels like champagne.
O: The taste of this beer definitely improves as it warms up. The honey flavors are reminiscent of Brooklyn Local #1.
689 characters
3.82
/5
rDev
-1%
look: 3.5 | smell: 4 | taste: 4 | feel: 3.5 | overall: 3.5
Picked this up because I hadn't seen it before. It was brewed to celebrate the 150th Anniversary of BAM (Brooklyn Academy of Music). Poured into a Delirium tulip at low altitude.
A: Pours a hazy honey color with a huge prickly white head that dissipates quite quickly without leaving much lacing.
S: Complex yeasty notes up front with some banana-like esters in the background. Reminds me a bit of a hefeweizen. Faint honey notes are present on the finish as well as a bit of alcohol.
T: Yeast notes dominate all the way through with a light malt body underneath. Banana notes come through toward the end with honey sweetness following. Almost no bitterness here. This one doesn't really fit into any style I've had before...
M: Medium-bodied with a wet mouthfeel and a some prickly carbonation. Slightly drying on the finish.
D: The alcohol is definitely noticeable here, and there's almost no bitterness to offset some of the sweeter notes here. While I'm glad I tried it, I'm not sure I would pick this up if it were on Brooklyn Brewery's normal rotation.
1,073 characters
Brooklyn BAMboozle Ale from Brooklyn Brewery
3.86
out of
5
based on
36
ratings.