Yards Brewing Co.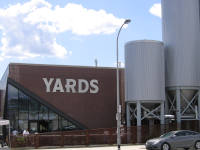 PLACE INFO
Type:
Brewery, Bar, Eatery
901 N. Delaware Avenue
Philadelphia
,
Pennsylvania
, 19123
United States
(215) 634-2600 |
map
yardsbrewing.com
Notes:
No notes at this time.
Added by BeerAdvocate
Reviews: 35 | Ratings: 131
4.22
/5
rDev
+2.9%
vibe: 4.5 | quality: 4.5 | service: 4 | selection: 4
I visited Yards Brewing Saturday, December 17, 2011. I had some friends in from out of town and they really wanted to try their beer. Parking is a bit tricky here, but we were able to find a spot on one of the adjacent side streets. They have a great bar area with both billiards and shuffle board! They also have a few TVs and we were able to catch some of the Flyers game. For $5 each, we were able to purchase a flight of their regular beers and a flight of their revolutionary ales. While we did not order any food, they were offering a soup and chicken wrap for bar patrons. We also were able to catch a tour of their facility. Overall I would say that this a great place to sample all of Yards beers and a fun tour, but also could be a cool place to hang out and watch a sports game.
★
789 characters
3.73
/5
rDev
-9%
vibe: 4 | quality: 4 | service: 3.5 | selection: 3.5
Stopped by on a late friday afternoon in December. Big, open, and airy environment with a horseshoe shaped bar in the back and about a dozen folks chatting, eating chili and pulled pork, and having a few. Quiet and chill, I liked it and it was just what the doctor ordered as I neared the end of a very long day and road-trip. The bartender was a friendly sort, perhaps not super well-informed about his beers, but low-key and courteous. Only knock was he spent a little too long chatting with his pals and had to wait to settle up my bill for a few minutes as I couldn't get his attention.
Beer is good, not great. Flights, pints, growlers, sixers, cases, and kegs are all available. Plenty of merchandise on offer as well; left with a pretty sweet Yards Brawler T-shirt.
I'll definitely come back next time I'm passing this way. Food looked pretty tasty and I need to try some of the "Beers of the Revolution," as I stuck with their flagships the first time out. They had a cask offering on as well but I can't recall exactly what it was.
★
1,043 characters
3.7
/5
rDev
-9.8%
vibe: 4 | quality: 3.5 | service: 3.5 | selection: 4
Nice layout for Yards. There's a refurbished industrial theme going, on but mostly the focus here is on the beer, with simple decor and some brewery operations in sight. A good-sized bar seats a decent crowd and there are plenty of tables and lots of room to accommodate a fairly large crowd. Service and bartenders are generally fine, but I've gotten a lot of grumpiness almost every time I've gone there. Beer selection is nice, particularly if you like Yards' beer, which is all they serve here, as one might expect. They keep a good amount of stuff on tap, basically anything they have available at the time, from their year-round selections, to specials and seasonals. Food menu is basic and somewhat limited, but everything looks good. I've yet to actually sample their wares (other than the beer of course). Nice layout, simple and to the point, great beer, and worth multiple visits for sure.
★
900 characters
4
/5
rDev
-2.4%
vibe: 4 | quality: 4 | service: 3.5 | selection: 4.5
So happy we stopped here. Maybe a 2 minute drive from the Old City area. No parking lot, but parking on the street. There is a casino down the block with an open lot, but tons of signs warning against parking there.
Went in early on a Friday. My wife and 2 year old were with me. Cool vide to the place. Warehouse feel, but clean. Pool table and shuffleboard. A bunch of seats and a decent sized bar. People seemed cool, no one complained as my daughter played shuffleboard.
On to the beer. Started with their standard sampler, which included the excellent Brawler and ESA. Both good quality session like beers.
From there, had to try to bourbon aged GW Porter. Strong, but subtle. Not crazy alcohol flavor and rather smooth. Highly drinkable. Afterwards, had a pint of the Franklin Spruce Ale. Another unique and quality offering.
Loved it there. Wish we could have stayed longer. Plenty of other beers, Love Stout and the rest of Founding Father Ales. Wish I had a chance to sample the scotch ale as well.
Plenty of items to buy, from shirts to signs to pint glasses. I highly recommend making a stop.
★
1,109 characters

4.1
/5
rDev 0%
vibe: 4 | quality: 4.25 | service: 4 | selection: 4.5 | food: 3
A decent tasting room that features all of Yards regular brews and Ales of the Revolution plus a few rotating options like a cask, seasonal, limited release and even a root beer. Overall about 10-12 options at a time, which is very good good for a non-brewpub. Flights can be had for either the regular or Revolution ales. I question the $5 a pint price, but am told that Yards does not want to undercut all of the bars in the area that carry their product. That is also why they only stay open until 7 and serve a handful of snack type items instead of being a fully functional brewpub. The food is good and will satisfy your hunger, but don't expect gastropub or old school bar food.
The atmosphere is hard to describe as it is a weathered, used and lived in industrial space filled with recycled and reclaimed decor. The bar itself is interesting as the top is an old bowling alley - high gloss and all. Their website gives a good overview of their mission to be green. Also, don't expect to go and catch a game, as they only have 1 TV which is sometimes on, sometimes off. The people who work their are fantastic but bar service does slow down at times.
The brew house itself is well kept, lots of open space. The 45 minute tours are very informational and are a much more personal experience than many other brewers in the area. They throw some fantastic small scale events as well as larger beer festivals that make use of the bar area and brew house - cant think of a better atmosphere for that.
While i wish this place would strive to provide the complete brewpub experience, but you cant fault them for doing what they want and continuing to produce good beer.
★
1,673 characters
3.58
/5
rDev
-12.7%
vibe: 3.5 | quality: 3.5 | service: 4 | selection: 3.5 | food: 3
I went to Yards on the way to the airport and had 4 by 4oz flight of there beers and had lunch as well. Food was average, beers were average, service was prompt and polite. Nice place and enjoyed although I didn't stay long and didn't have time for the free tour. Atmosphere was ok. Parking was dicey as you had to park on the street. I could tell that a lot of the furnishings and fixtures were old and asked about then and I was told that they were reclaimed. As well as parts of the building itself.
They also claim 100% wind powered brewery. They also use recycled paper and cardboard for the packaging. They are a green company.
★
635 characters

3.33
/5
rDev
-18.8%
vibe: 4.5 | quality: 3.75 | service: 2.5 | selection: 3.5 | food: 2.5
I'm torn writing this review because I really love having a quality Philadelphia brewery that makes its beer inside the city, but touring and spending time atthe actual facility was disappointing.
First the good:
-The tourguide was knowledge about the brewing system. He answered my questions about their yeast handing, whirlpooling, brewhouse capacity, pilot batches etc.
-we got samples of beer as soon as we walked in and also at the beginning of the tour
-All of the standard beers and the rotating beers I know of were available at the bar
-The space is beautiful. Tall ceilings open floor plans bright windows outside and into the brewery
The Bad:
-there were tons of birds in the actually brewhouse a fair bit of bird poop inside the brewery and on some of the fermenters. Not exactly appetizing
-The beers were expensive. $5-6 for most of their beers which is about as expensive as you'll find them at any bar. I think down the street at the Sugarhouse Casino you can get almost every beer for $4. The $5 sampler is a good deal though
-Bartender was rather apathetic to our presence even we got there early on a Saturday before it was busy. It took about 5 minute to get our beers after we ordered them. Also the tour guide was rather snarky when he said, "I know where the broom and mop are, but since you don't can pour your beers in a plastic cup at the bar?" He could have asked us more nicely like adults do or imagine this, grabbed a couple cups for us when he saw us walk in with beers we bought.
-The food was okay. It was fairly reasonably priced but $3 bought you a regular grilled cheese with a pickle, no sides not even a bag of chips. The bison chili I had was barely warm. If you are going to serve food it had better be good otherwise why bother? At least they let people bring their own food eventhough they have food (usually a good sign that it's a disappointment)
-Merchandise was very expensive. A love stout t-shirt was $18 and a ales of the revolution tulip was either $8 or $9 according to the bartender, I forget exactly how much it was even though glasses were listed at $5 on the chalk board. I didn't argue because I wanted to support the brewery and like the glass but damn that is a rip-off.
-The crowd there was not people interested in beer necessarily--some were just there for the free beer and went on a couple tours in a row
Overall, I still like Yards, they have really solid beers Philadelphia can be proud of. However, they need to have more affordable beer in the tap room and merchandise and better food
★
2,562 characters
3.8
/5
rDev
-7.3%
vibe: 4.5 | quality: 4 | service: 3 | selection: 4 | food: 4
This newer Yards location has added a good bit of difference to the what they had at the amber street location. the focus is on giving the customer a complete experience with a great views of the brewery and operations and lots of space for gathering, pre/post tour and just anytime.
Quality of everything is good, have all beers on draft as well as whatever seasonals are current. Service is acceptable and food is simple but very well done.
Service is mixed, if you are at the bar it is ok, if you are not and its a saturday its a littler harder as you have to order from the bar. Not a big deal but it can get busy and crowded.
Selection of food and beer is good. Obviously all the yards standards plus seasonals. basic food, sandwiches, etc.
Menu for food was small and basic but everything we had was very good; nice sandwiches, great bread from spent grains and nice mix of locally based eats.
value is just a bit more than you would expect to be purchasing from the source. food prices are reasonable
★
1,012 characters

4.3
/5
rDev
+4.9%
vibe: 4 | quality: 4.5 | service: 4.5 | selection: 4
This place was really cool. We came expecting to have a crowded, hard to park place in Philly. We got street parking right outside the door, were welcomed in the door, and enjoyed a draft and pool until the tour started, The tour started with free beer and was mediocre in quality... our guide was not real knowledgeable. I was asking about the oyster stout and he had no clue... even though I just had it on draft. It was very scripted. The merch and beer were all very reasonable... I had a 4x4oz flight and my wife had a root beer and it was $7... not bad for Philly.
★
570 characters

3.98
/5
rDev
-2.9%
vibe: 4 | quality: 3.5 | service: 4.5 | selection: 4
I've held a private event here - a really nice but quirky brewery with no-frills here. I came down here in the middle of the day to scout out the brewery for a private event I was holding later on that year. This place is situated inside this large warehouse row in a not-so-safe area right off I-95. The manager there is awesome and extremely laidback. Very reasonable with pricing and flexible. He even bartended my event and took me and some colleagues on a private tour and let us drink out of one of the vats that was just wrapping up. Yards has made an explosion in presence everywhere with their beers. I am quite partial to their Jefferson beer which I think is the best of their usual suspects line up. The brewpub area is small and has a few tables surrounding a pool table. Good times.
★
796 characters

4.81
/5
rDev
+17.3%
vibe: 5 | quality: 5 | service: 4.75 | selection: 4.5 | food: 5
I stopped at Yard's on Monday when "BeerAdvocate Preemptively 'did' Philly."
This was my first time at Yard's. I was excited to see what it was like.
The location is wide open, but planned well. The brewing area is displayed just behind the bar through glass doors. After being completely awestruck, I sat back an got comfortable.
Yard's beers are all on tap. There is a list of the beer available just next to the bar area on a chalk board. You can order a "small" or a pint. Pints cost money, smalls are for sampling and are on the house. Taste a few and order a pint of what you like the most. The beer is excellent and ridiculously fresh.
Also, give a look at the food menu also located on the chalk board. I gave the pepper pot soup a go and absolutely loved it.
Everything was priced well so that you could taste, drink, and eat as you please instead of rack up some bill that you don't want to pay. That's what Yard's seemed to be all about; making their customer happy instead of ripping their wallet away, emptying it, and taking off. The staff was kind, the head brewer (Tom Kehoe) was on site, the guys were open to showing guests around, and would chat it up without making anyone feel rushed. Tom was kind and was talking to us for about a half an hour about his ideas, goals, and how he felt about the local beer scene. Steve (head of operations) was hanging out amongst the guests, showed us around town, and came out to dinner with us later on.
Overall, a great experience. The guys at Yard's are humble people. I will go back with friends, will feel comfortable and a part of the family, and will recommend Yard's brewery as a perfect place for an on the go meal accompanied by some wicked beer.
★
1,712 characters

4.33
/5
rDev
+5.6%
vibe: 4.5 | quality: 4.5 | service: 4 | selection: 4.5 | food: 4
The wife and I came to Yards as part of our beer exploration of Philly. The industrial location reminds me of Goose Island in Chicago, but the interior is bigger and better than most breweries I've been to. Airy, spacious, with high ceilings and a lot of light, a pool table and a shuffleboard, plus the big wooden bar, which wraps around and sits a heckuva lot of folks.
The atmosphere is great- a working brewery with the beer tanks on view and a genuine, working-class feel. Nice, friendly bartender; a bit overwhelmed when the bar filled up (he cooks, pours beer, sells kegs and cases), but alright.
They have eight taps and offer $5 flights. I got the "Revolutionary Ales" flight, with 18th century recipes: Tavern Porter, Tavern Ale, Tavern Spruce and a nitro-based Love Stout. These were all interesting but not great
There's some food at reasonable prices, including a bison chili, a grilled cheese sandwich, a big bratwurst on rustic bread and some soup, plus desserts like fudge from Philly's own Betty's Speakeasy.
I also had a bourbon barrel-aged Tavern Porter, disappointing and pricey at $7.
But other than that, Yards is a fun place to visit, hang out at and buy some beer from. I highly recommend it!
★
1,223 characters
4.25
/5
rDev
+3.7%
vibe: 4.5 | quality: 4.5 | service: 4 | selection: 4 | food: 4.5
Date of visit: 12.23.2010
This was the third time I've been to the tasting room at Yards. Got there a little after noon and there were already 4 other patrons inside. Since it was a working day I saw some cleaning being done on some of the tanks as well as the bottling line moving. The whole place had the awesome smell of beer being brewed.
We brought with us a sample of some homebrew since we were told by them last time that it if you homebrew bring it when you visit a brewery. I highly recommend doing this as the staff was excited to try it and offered critiques and compliments.
Along with the Ales of the Revolution and the yearly Yards offerings on tap they also had Trubble de Yards, Love Stout and a Bourbon Barrel George Washington Porter. The food is not your standard bar food but instead some high quality soups and grilled cheese sandwiches. For desert they also have fudge and Tasty-cakes.
The tasting room is very spacious with a large clean-looking bar with plenty of seats. There are a few booths as you walk in and tables scattered throughout also provide adequate seating. As the day grew later more patrons showed up perhaps making a little bit much for the staff to keep up with.
Overall the Yards tasting room is one of the best around to grab a few pints and have some good food and conversation with the guys who make it. I highly recommend taking one of their tours on a Saturday and if you can go for lunch on a weekday to get a little more personal relaxed experience.
★
1,507 characters

4.35
/5
rDev
+6.1%
vibe: 4.5 | quality: 4.5 | service: 5 | selection: 4 | food: 3
Nice that you can review this place now. My wife went here last winter when the bar area openend to the public and again today for some good stuff. The atmosphere is very laid back and fun. They used to have a t.v. but I guess they took it away. As you walk in the door you are greeted by a host (hostess) behind a glass case with a couple of knick knacks (t-shirts,glassware,etc.) To your right is a knight which watches over the pool table. Also a shuffle board which runs the length of the back wall. The tanks are visible behind a massive clear plexi-glass wall. The bar-top which is made from old bowling alley in the back.
The service is amazing it was kind of dead when we walked in today but that's inclines to be more fun (easier to get to the pool table or shuffle board and no wait at the bar)
The only problem with the place is the food. A few things like a grilled cheese or a pressed turkey sandwhich but it is not the food we are here for.
As for the brews. They are stellar.I had the Love stout for the very first time and I will say I was blown away. This place is a playground for adults. I just wish it had a bit of later hours and I would be here more often.
★
1,183 characters
3.94
/5
rDev
-3.9%
vibe: 3.5 | quality: 4 | service: 4.5 | selection: 3.5
Visited 9/11/10
After a filling lunch, an easy drive from South Philly led me straight to Yards. I'd anticipated giving their beers a taste or two on my weekend visit, but changed plans upon reading on their website that free hourly tours were given on Saturdays AND that they'd opened a taproom earlier in the year. Sold.
Located along busy Delaware Ave, yet in a somewhat desolate industrial area (despite the towering condos on the neighboring riverfront), Yards has established themselves as the 'green brewer' for the city, perhaps the region, in the two years since this location opened. Their website and tabletop placards proudly boast of an extensive reuse/recycle program; a reliance on wind power, floors made of sustainable 'soy-crete', spent grains feeding livestock and so on. Hell, even the bar tops are crafted from old bowling lanes. The taproom, like the brewery, is a large volume, industrial-feeling with exposed floors, block walls and steel trusses. South facing windows allow for a fair amount of sunlight, which filters across the room through large screens (though the space stayed cool enough, thanks to several ceiling fans). One side of the room is mostly glass, providing views to the extensive brewing facility; a few booths line the walls, clusters of tables (short and tall) fill the center and surround and a long peninsula-shaped bar. Banners featuring different Yards beers sway in the rafters. On this day, there was a small bachelorette party ongoing in the midst of the crowd (staff said it was a first, but that they've hosted plenty of events, anniversaries and parties, including ones for children!).
Before this day I was a complete novice when it came to Yards beers, having never tried ONE before, let alone the NINE that were on draft (mostly their bottled standards with one or two exceptions). Beers could be ordered individually as pints or as 4-pour flights. For $5, I could choose from either the 'Core' flight (Brawler, ESA, Philly Pale, IPA) or 'Revolution' flight (George Washington, Thomas Jefferson, Poor Richard, Saison). Having a great base after a hearty lunch, the decision was easy: Both! Pints are $5 (tax-included), with the exception of the ESA 'special of the day', a paltry $3. Also, the Love Stout was available on nitro-tap, $5 for a 12 oz.+/- pour to slimmer stemware. There was also a house root beer, which I kinda wish I'd tried. It's all scribed on a large chalkboard to the left of the bar, so no worries if you're as unfamiliar as I was.
The place was lively at 3pm (see comment above), as the last tour of the day was about to commence. Roughly 50 people crowded into the brewery, I being one of them until I realized that the Beer 101-focused tour was keeping me from one of many suddenly vacated bar seats. After 10 minutes, I bailed on the tour and grabbed a spot near the taps and coolers. The decision was a smart one, as those throngs refilled the room 20 minutes later while I sipped comfortably and chatted with a couple of the bartenders (Mark and, uh, Matt and...) about beer and the Phillies and such. I also heard some great recommendations for places to visit while in the city (once they learned I was from Oregon).
One thing I skipped was food. The menu showcased local ingredients and seemed to have options for both vegetarians and carnivores alike. Fare is pretty simple: soups, grilled cheeses, paninis. Prices ranged from $3-5 for many items, $7-9 for combos - all reasonable and what I witnessed passing by looked/smelled good.
Besides enjoyable conversation and a belly full of good/very good and extremely fresh beer, I took away a mixed 6-pack ($12). They also sell cases, growler fills, and kegs to go. Me? No room in the suitcase... Glad I made the effort to get here and would recommend the tour and a trip to the taproom for anyone visiting...or local.
★
3,861 characters
Yards Brewing Co. in Philadelphia, PA
3.81
out of
5
based on
8,792
ratings.