La Médiévale Ambrée
| Brasserie De Bouillon / Le Marché De Nathalie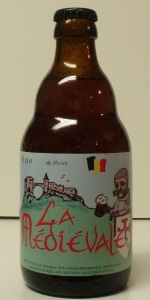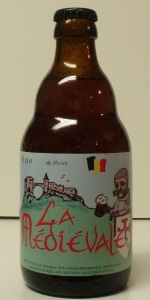 BEER INFO
Brewed by:
Brasserie De Bouillon / Le Marché De Nathalie
Belgium
brasseriedebouillon.be
Style:
Belgian Pale Ale
Alcohol by volume (ABV):
6.00%
Availability:
Year-round
Notes / Commercial Description:
No notes at this time.
Added by TheLongBeachBum on 08-10-2005
This beer is retired; no longer brewed.
Ratings: 7 | Reviews: 7
Reviews by NoLiberty:
3.98
/5
rDev
+17.4%
look: 4 | smell: 3.5 | taste: 4 | feel: 4 | overall: 4.5
App: Nice color - apple reddish orange with subtle soft fruit notes. Clear with slight haze and delicious white head with strong retention and good lacing.
Aroma: Apple and pear notes catch up front with clear malt tones. Crisp earthiness deeper down and subtle funkiness from possibly the yeast.
Taste: Starts with a mild hop dryness and moves to soft apple-like middle with good flavor movement and overall dryness throughout. Very clean with some crisp earthiness as well.
Mouth: Light bodied and crisp and clean. Smooth and soft with very good carbonation level.
Drink: Very good on drinkability. Lots of varied flavor and nothing too overpowering.
656 characters
More User Reviews:
4.18
/5
rDev
+23.3%
look: 4 | smell: 3.5 | taste: 4.5 | feel: 4 | overall: 4.5
An amber brown beer with a thick, creamy head.
Smell is full of brown flavors, syrop, molasses, caramel (coloring) and a stock/bouillon smell. All on top of a pilsener maltiness. There is a fruitiness that reminds me of English yeast, it also leaves a woody smell.
Taste is malty with mild caramel notes. The most important taste component is the yeast. This give a very nice fruitiness that I can only describe as being English. Together with the biscuity malt, this beer has woody and marmelade notes that I only have tasted in English beers sofar. Bitterness is medium, but at the right level, it balances the beer. A great beer!
634 characters

2.68
/5
rDev
-20.9%
look: 3 | smell: 2.5 | taste: 2.5 | feel: 3 | overall: 3
Bought at the Bierparadijs and poured into a D'Achouffe Tulip glass.
Body is an interesting redbrown with some carbonation and a coarse cream-colored head that reaches to the top of the tulip and reduces slowly to nothing but leaving some lacing behind.
Metallic smell with hops and lemon.
It mainly tastes bitter but also watery and metallic
It's a refreshing beer with medium carbonation
There is nothing special about this beer. It is drinkable but with that metallic aftertaste I will not buy it again, if I can find anything that is not a Bud light.
559 characters
3.7
/5
rDev
+9.1%
look: 4 | smell: 4 | taste: 3.5 | feel: 4 | overall: 3.5
No freshness date. Good presentation with nice and lasting tellowish head. nose is good freshsour and carramellic.Spicyness there but hard to say witch and some licorice. Taste is very peppery, litle sour, very dry and litle caramellic. After a while this medical taste comes out witch is strange and IMO not suitable for beer. Still great adchiefment getting so many herbs in and this gember aftertaste makes mouthfeel great but very spicy and hot. Good brew and something else, most certainly if you like beer hot and spicy.
526 characters
2.99
/5
rDev
-11.8%
look: 4 | smell: 2.5 | taste: 3 | feel: 2.5 | overall: 3.5
Bottle. Amber reddish color, strnagely clear to be unfiltered and refermented in bottle. I find aroma of cookies and caramel, a little earthy. Some spice that I'm not sure, maybe all spices? Very light body, in the mouth I fell cookies and some caramel again, some lemon and a little earthy. A bit disspaointing, in my opinion.
327 characters
3.6
/5
rDev
+6.2%
look: 4 | smell: 4 | taste: 3.5 | feel: 4 | overall: 3
pours 20% head into a goblet...served at 50f. this beer has a very odd smell, very peppery, as if black pepper is in the beer (is there any in it?).
taste resembles the smell, a peppery bitter taste along with more typical hoppy amber characteristics. beer is very carbonated.
aftertaste is spicy more than anything else, a sense of pepperiness slowly fading away. Hoppy bitterness is prominent as well, the two seem to alternate.
curiously ingredients listed are only water/malt/hops/yeast.
This is the second of this brewery's beers I have tasted and both have been very decent beers. This is certainly worth tasting, and worth seeking out if you like spicy/peppery beers.
687 characters
2.59
/5
rDev
-23.6%
look: 4 | smell: 2.5 | taste: 2.5 | feel: 2.5 | overall: 2.5
Amber red color, quite dark. A beautiful beige head, abundant end compact. Good appearance.
The smell is not so good. Typical heavyness of the belgian beer too sweet, a very sweet fruitiness, tropical. Apple notes, too.
The taste is malty - honey - sugary, but, after all, not too heavy. In the end, decent.
Sure, the drinkability it is not so high, for the excessive sweetness.
381 characters
La Médiévale Ambrée from Brasserie De Bouillon / Le Marché De Nathalie
Beer rating:
0
out of
100
with
7
ratings