Dismiss Notice
Wellingtons Pub & Grill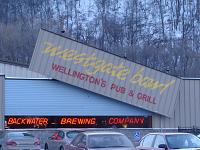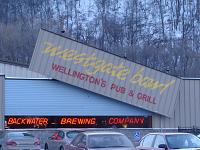 PLACE INFO
Type:
Brewery, Bar, Eatery
1429 W Service Drive
Winona
,
Minnesota
, 55987
United States
(507) 452-2103 |
map
westgatewellingtons.com
Notes:
No longer actively brewing at this pub, brewing moved to Wenonah Brewing Company.
Added by ADR
HISTOGRAM
Ratings: 11 | Reviews: 10
Reviews by beerwolf77:
3.68
/5
rDev
+7.6%
vibe: 3 | quality: 4 | service: 4.5 | selection: 3 | food: 3
Hopped over the river while in the area and found this little brew pub.
A rather unassuming brew pub tucked into a bowling alley off a frontage road. Not exactly easy to find. Once inside we grabbed a couple stools and ordered a round. Not many people in the place so we had the bar tenders full attention. The beers were decent although nothing real memorable. The selection was four or five house beers and a handful of BMC.
The owner was roaming around taking care of things in the bar and stopped for a bit to chat. Very pleasant. The bartender was friendly and eager to give us the full history of the place.
We ordered the soft pretzels with cheese. Decent but nothing above average.
Overall another tick in the brewery/brewpub belt.
746 characters
More User Reviews:

2.48
/5
rDev
-27.5%
vibe: 2 | quality: 2 | service: 3.5 | selection: 2 | food: 3
This is about as generic of a bowling alley bar as you can get. It is old, tattered, not enough hockey memorabilia for Minnesota, with stained ceilings. You can see the brewing equipment in the back.
They were offering like 2 of their beers and a few macros and Fat Tire and maybe something else. The 2 beers that I tried, the pale ale and the wheat beer, were both pretty average.
The food is pretty inexpensive but it is simple bar food, nothing special. They bill themselves as a BBQ place but the ribs were pretty generic.
This is worth it if you are in town but down seek this place out, it is extremely average.
It is nice that they have a bowling alley, it was the opening day of the season.
703 characters
3.8
/5
rDev
+11.1%
vibe: 3.5 | quality: 3.5 | service: 5 | selection: 3 | food: 4
We visited Wellington's Backwater Brewing while we were in Winona to take part in a dedication ceremony. My wife and kids were part of the ceremony and I was just the driver. We were pleased to find a brewpub in Winona. It is set up in the bar portion of a bowling alley. There is plenty of seating and the menu was fairly extensive. Super friendly service. The atmosphere was quiet but it was also a Monday at lunchtime on a cold day. The quiet atmosphere could have contributed to the phenomenal service, but I won't be so cynical and just say the service was excellent. There were only 4 beers on tap, but in a town the size of Winona I would understand if that was by design to control expenses. Four is fine, beer folks would obviously like to see more. The plus side is that with two beers each between my wife and I, it was possible to give the whole list a fair rundown. The pale ale was noteworthy and the other beers were average and relatively standard. . . wheat, nut brown and stout. The place was clean and well lit. The restrooms were tidy. Definitely kid friendly as the server gave each of the kids a coloring book and some crayons. Our server was very helpful with menu selections. A little advice is always appreciated when you are new to a location.
1,269 characters
3.6
/5
rDev
+5.3%
vibe: 4 | quality: 3.5 | service: 4.5 | selection: 2.5 | food: 4
Atmosphere is pretty good, even better if you're bowling. Lots of people and karoke sometimes which is always entertaining. The quality is not bad...it's a bowling ally sooo...
Very good service, a little slow on the food, but very friendly and quick on the drinks.
Not much of a selection mostly BMC's. aside from that they have Guinness and their home brews. I tried three, the nut brown, the stout, and the wheat. I only enjoyed the nut brown, the others are pretty bad. overall for the home brews they all have the same odd alcohol sting...I don't know if I didn't eat enough that day but after two beers I was really feeling it, I could swear the average abv was almost 8%.
The food however was very good, I got a cheeseburger which was pretty inexpensive and delicious! Everyone I was with enjoyed their meal.
Overall: A great place to go with friends and hang out as long as you're not looking for anything special in beers.
934 characters

3.45
/5
rDev
+0.9%
vibe: 4 | quality: 3 | service: 4 | selection: 3 | food: 4
I have been to wellington's several times, this is a pretty cool place. The food is pretty good, I have not been dissipated yet. My family and I went there for lunch when they came down for my graduation. The service was pretty good and everyone enjoyed there food. We all tried different beers, I got a brown ale that was pretty good. Though no one was impressed with the beer it was all pretty drinkable. Though I would not go just for the beer I would definitely go there for food and sample some of the beer while you are there. Over all a pretty nice place to get a bite to eat, and if you do not have plans there is a bowling alley connected so go have some fun either before or after dinner.
698 characters
3.98
/5
rDev
+16.4%
vibe: 4 | quality: 5 | service: 4.5 | selection: 2 | food: 4.5
Went out here with my girlfriend and I was very impressed. I went on karoke night which was definitally enjoyable. Fun atmosphere. The service was great. The best I've had at a bar. The servers were very attentive and always were helpful. If I asked about a beer I got a sample. It was great! The food... amazing. I had the mexican fries which were great full of flavor and toppings. A little scary as good as it was then I had the pizza burger.... great! I loved it! As for their beer... the pale ale and the wheat beer were great the nut brown... not so good. You can see the bowling ally through the bar whuch is awesome. Keeps the entertainment up. This place was great for me. A mixture of entertainment with the tv and the bowling plus the karoke! Wow I've never been more distracted. The owner ( though I didn't talk to him) was friendly when talking to other people and seemed like a stand up guy. The best place in winona I've seen. Very fun
950 characters

3.88
/5
rDev
+13.5%
vibe: 4 | quality: 4 | service: 4 | selection: 3.5 | food: 4
Wellington's Backwater Brewing is a brewpub-and-bowling alley combo that's been in operation for quite some time. Owing to the fuzzy driving directions we made our way to the other bowling alley in town before backtracking, but when we found it Wellington's was a sight for sore eyes. In fact it has quite the impressive façade! Inside we found our destination to be well-appointed from stem to stern, complete with a separate bar area in the bowling alley (Michelob Amber Bock, anyone?) Seeing as how Sundays are "Quarter Night", we shared our bowling experience with a local youth group, and I have to admit they were better behaved than I'd expected – who knew you could get kids wired on two-bit sodas and MTV and they still don't spit and cuss? After bowling (badly) we took a seat in the dimly-lit environs of the Backwater Grill proper, and it's quite spacious, although a bit quiet on the evening we visited. I took a look at the brewing area but couldn't get much of a view besides the glean of the fermentation tanks. On the other hand, I was happy to see Chris Gardner's own Root 19 root beer on tap. I first met Chris when he was partnered with Arv Fabian at Das Wurst Haus in Lanesboro, and later ran into him hawking his wares while I worked the beer cooler at Surdyk's. I didn't know then (shoulda read the website better!), but Chris's brother owns Wellington's, so all of the brewing is done by Chris himself, and in fact is not straight extract-based brewing, as evidenced by the sacks of Briess malts stacked outside the brewing area. As for selection, there are about 17 bottled selections (including two craft brews) for those who want something more familiar than the house-made brews. With regard to the menu, the selection is rather meat-friendly if you know what I mean (next time I'll have to try the barbecue!) Both the service and the food were quite good (I didn't ask the bartender any tough questions on the brews, but he had the rudiments down.) I had a bacon and bleu cheese burger that couldn't have been better, and my gal had a chicken fingers basket (and that's a hard one to fumble.) Still, it's worth mentioning that the kitchen is tiny: I'd hate to see this place packed to the gills and the kitchen at that time! We only had time for a drink and our meals before they began hastily turning the place down for the night. In all fairness the ball game was over and there were only half a dozen patrons in total, otherwise, we'd have grabbed another round and played a game of pool. That'll have to wait for next time I guess, and I look forward to my next visit.
Note: this is the first time since the statewide smoking ban went into effect that I've seen a bartender harsh a smoker's vibe, and he was very professional about it - points to the bartender!
2,809 characters
3.12
/5
rDev
-8.8%
vibe: 3.25 | quality: 2 | service: 4.5 | selection: 3
I stopped in here on a Wednesday night with a co-worker and fellow beer snob. We grabbed a couple seats at the bar, which right behind featured large windows with full view of the bowling alley. The alley was packed, and a few people in the lounge, but we got there early enough to miss the rush which was just starting when we left, around 8:30 or so.
The atmosphere was much better than I expected to see in a "bowling alley bar," and probably a lot nicer now since the smoking ban was passed at the beginning of the month. It also helps that aside from the windows behind the bar, it was completely separated from the alley. Fairly cozy and laid-back, definitely a lot different from most places in this college town.
The service was excellent. The moment we took our seats at the bar, the bartender (with a nametag that said "Manager") showed up and after asking about the house beers, he gave us a quick but detailed run-through on their five brews, along with some free popcorn. He definitely knew his stuff, both beer and customer service.
This place has five of their own brews, plus a small bottled selection, which aside from a small handful of local/regional brews is not impressive at all. We were also informed that contrary to the other reviews, it's actually a three-barrel system and not just one, though they've probably upgraded since the others were written. I also noticed a nice selection of top-shelf liquors, for Winona standards at least, but we along with most others who are reading this were there for the beer.
The first beer I tried was the nut brown. Frankly, I was disgusted... it tasted a lot like a sour Newcastle, and that's about it. My friend had gotten the pale and was thoroughly impressed, so I decided to follow suit not really expecting much. Thankfully I was wrong, and it was definitely above-average. I also tried the wheat, which I insisted had no lemon, and I'd have to say it was definitely a very sessionable brew.
I didn't get a chance to try the red before we left, though they did have all five beers on tap. As far as the stout, I didn't really try this either, but my friend did and I stole a couple sips. The bartender warned us before-hand that this batch was a little bit off, and I hope for his sake that he was right. It was extremely thin, comprising the body of a Guinness, though a little more flavorful. It sounds like consistency might be a problem for them.
Overall, it may be nothing special, but this is the only place to get beer brewed in Winona, with a nice atmosphere, and a price of $3.50 a pint. I'm looking forward to stopping in again.
Edit: (3/2010)
I've come back a couple times. When the beer is good, it's good. However, I've tasted some obviously vinegary or somehow otherwise infected beer. It's really flipping a coin.
2,808 characters

3.38
/5
rDev
-1.2%
vibe: 3 | quality: 2.5 | service: 4.5 | selection: 3 | food: 4.5
The atmosphere of this place is fitting for the building it is in, a bowling alley. It had the generic sportsbar feel to it, with a lot of macro stuff hanging on the walls. Knuckles disrctiption of the quality was dead on. The food was great, but most of the beer average. The pale ale is one of the best I have had to date. It was full of citric hops. The wheat, which is actually a kolsch, is also above average. The amber and stout where okay, but the brown ale was horrid. It tasted as if it could be infected, and had no carbonation. The selection was about all that can be expected from a place as small as Wellington's. Five beers is enough, but it would be nice to see some rotational selections. I have the felling that I could visit this place a year from now and the same five beer would be on tap. The food was good, and messy; the way barbaque should be. Overall, although this is not the world's best brewpub, it does have a couple good beers and some good food that will bring me back.
1,000 characters
3.23
/5
rDev
-5.6%
vibe: 4 | quality: 2.5 | service: 4 | selection: 2.5 | food: 4.5
I woke up in the passenger seat of our rented Ford Explorer just outside Rapid City, SD at about 6:30 AM. My sister and I had had a late night involving bike week in Sturgis and Deadwood, as many pints as I could choke down in an hour at the Firehouse Brewery and Restaurant in Rapid City to the musical accompaniment of bikers doing rockaraoke, and then a misguided late-night drive out to Mount Rushmore only to discover that the lights were off on that fucking mountain. So Kerri drove as far as she could, then pulled into a rest stop at about 4:00 before she drove the truck off the road. I had passed out from exhaustion+beer approximately an hour before, and continued to sleep on. Anyway, I rousted my ass out of the passenger seat, went into the men's room and splashed some water on my face, then came back and kicked her out of the driver's seat and took over.
We hit Wall Drug about 7:00 for some much needed but completely undrinkable coffee, picked up some trinkets and post cards, then pressed on. A stop in Mitchell, SD to see the Corn Palace (I want a corn palace of my own, goddammit) and then another brief detour into Sioux Falls to check out the incredibly stunning Falls Park. Then we blasted on into Minnesota with Wellington's Backwater Brewing Co. being our goal for dinner. We pulled into Winona around 7:00 or so, and I was having trouble seeing. It appears that wearing your disposable contacts for three days without taking them out creates a wee bit of a film across them, making it seem as though everywhere you go some jackass has been shooting off fireworks just before you get there. Sadly, that wasn't the case. I was the jackass, and there were no fireworks. It was just eyeball scum.
Anyway, we drive past the brewpub because Kerri says, "No, that's not it, it's a bowling alley." Well, she was right, and she was wrong. The brewpub has taken over the lounge of the bowling alley. Very, very cool. We walk in and are greeted enthusiastically by the server, seated immediately and have a sampler coming stat. This place is a brewpub and BBQ joint, with the emphasis on the barbecue.
Atmosphere: Come on, man, it's a bowling alley lounge with a one barrel brewing system. This place kicks ass. If we'd had time, I'd have been out there bowling a few lanes after I gorged myself on brisket and pulled pork.
Quality: The food was excellent, but the beer was only so-so. By far the best of the lot was their pale, one that I could drink on a regular basis. The worst of the lot was their nut brown which tasted like it was infected (or just not very good). Everything else was passable, but not my cup of tea. I liked the approach he took with his wheat, however, as it was clearly an attempt to wean the light beer drinkers off of their Bud Light and onto something a bit more interesting.
Selection: Only five beers on tap (red, stout, wheat, nut brown and pale), but what do you want with a one barrel system that is servicing Winona, MN of all places?
Food: Like I said, this is definitely the emphasis, and well worth the detour off of I-90. Delicious, tender and smoky brisket, fantastic pulled pork. All came with Texas Toast, cole slaw and beans. Great, great stuff (and I couldn't finish the plate).
I have never felt as sticky and gross in my life as I did while sitting there in Wellington's. If someone could have come along, picked me up and pushed me into the wall, I would have stuck, flip-flop shod feet dangling in the air-conditioned breeze. No showers, on the road since 6:30 AM, and eyeball scum lining my contacts. However, I was able to de-scum the contacts and enjoy the bowling alley smokehouse vibe of Wellington's, and have a kickass time. Then we headed back onto 90, and into Madison with the intention of staying at the youth hostel there, and hitting the Great Dane. But that's another story for another review...
3,897 characters
Wellingtons Pub & Grill in Winona, MN
Brewery rating:
3.13
out of
5
with
22
ratings