Moat Bone Shaker Brown
| Moat Mountain Smoke House & Brewing Co.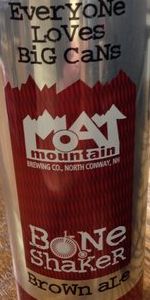 BEER INFO
Brewed by:
Moat Mountain Smoke House & Brewing Co.
New Hampshire
,
United States
moatmountain.com
Style:
English Brown Ale
Alcohol by volume (ABV):
5.50%
Availability:
Year-round
Notes / Commercial Description:
An English-style brown ale. This beer has a biscuit-like smoothness with a rich, malt body and medium hop bitterness.
Added by BillyBrew on 10-06-2002
Reviews: 38 | Ratings: 172
4.42
/5
rDev
+11.9%
look: 4 | smell: 4.5 | taste: 4.5 | feel: 4 | overall: 4.5
Poured from a tallboy into a tumbler pint, the beer is a clear, vibrant, chestnut coloring with a tall, frothy, dense, off-white head of about a half an inch. Aromas of chocolate, butterscotch, and maple blend together for a very sweet, inviting nose. Flavors are rich, but remain light, with a roasted hazelnut and chocolate blending that is pleasantly sweet but not overpowering. The chocolate gives a slight bitterness to keep all the sweet characteristics in check. Very decent on the palate. The aftertaste is a roasted coffee and caramel blending, almost like after drinking a caramel machiato (sp?). Smooth, clean finish with only a hint of the roasted qualities left behind. Tasty, and easy to drink.
708 characters
4.47
/5
rDev
+13.2%
look: 3.5 | smell: 4 | taste: 5 | feel: 4 | overall: 4.5
Had on-tap at Street in Portsmouth. I've had this beer on-tap at the brewery several times before, and it's a stand-out in a style that is too populated by mediocre beers.
A: Arrives, beheaded, in a tumbler glass; brown as all get-up and probably right-on for the style, but doing little to attract attention, aside from the pleasant lacing that will linger throughout the glass, and with the clarity common to Moat beers.
S: Roasty, toasty, nutty and bready--the nose is all malt, but very clean, with caramel dominating and just the slightest hint of hops.
T: Crisp and clean, as all Moat beers seem to be, this is fairly hoppy for the style, but still a malt-focused beer. The malts are bready, semi-sweet, but largely dry and perfectly balanced by the earthy hop bitterness. This exhibits none of the cloying, sticky sweetness that seem to predominate so many browns.
M: Mouthfeel is good--fairly full and smooth, but just slightly on the light side perhaps. Still, very clean.
O: Easily the best brown ale I can think of. While I enjoy many of the other browns from this neck of the woods--Smuttynose OBD, Throwback Dippity Do and Woodstock Pigs Ear--the Moat brown leads the pack. This is a style I rarely go for, but there's no hesitation when I see this on-tap. Word was they were planning to put this in 24 oz. cans along with the pale ale a few years back. I hope those plans come to fruition.
1,408 characters

4.2
/5
rDev
+6.3%
look: 4 | smell: 4 | taste: 4.5 | feel: 4 | overall: 4
A lightly reddish tinted brown color with nice cap of light khaki colored head, good retention. Scent is of roasted and toasted nuts, crusty dark bread, powered cocoa and decent earthy hop notes. Taste surprises with strong nutty notes mixed with powdered cocoa, dark grainy and crusty bread and earthy hop notes. Medium bodied, nice and hefty on palate for the style with some earthiness to it. A fantastic brown ale that does it all right.
441 characters
4.11
/5
rDev
+4.1%
look: 4.5 | smell: 3.5 | taste: 4 | feel: 5 | overall: 4.5
Enjoyed a pint earlier today at the Brewpub for $4.00.
Beer was served brown with a solid tan head that was long lasting.
Nose had hints of malt and cocoa.
Taste was somewhat nutty with a hint of cocoa. Decent hopping balanced the malt sweetness quite well.
Mouthfeel was perfect. I cannot say i have ever had a brown with this full of mouthfeel and smoothness.
Overall a solid beer, glad i picked this one to try!
420 characters
4.2
/5
rDev
+6.3%
look: 4 | smell: 4 | taste: 4.5 | feel: 4 | overall: 4
Review from BeerAdvocate magazine Vol. II Issue X:
Toasted pie-crust brown color with a crystal-clear clarity, the lacing shows great retention. Nutty aroma with a hint of sweet caramel, toasted bread and a faint raisin fruitiness. Very smooth with more than enough crispness to keep things lively within the medium body. Pleasantly heavy on the toasted side, as it comes across with a very tasty, nutty character. Mild caramel and bready sweetness in the middle. Hops are modest and let the malt pull this beer along, though the bitterness is firm enough to keep things balanced. The toasted and nutty flavors don't leave quickly, and they linger very far into the semidry aftertaste.
This is one of those epic Brown Ales that we could see drinking all night long without hesitation. A growler to go will suffice for now--staying over in their inn sounds like a good idea.
875 characters
4.3
/5
rDev
+8.9%
look: 4 | smell: 4 | taste: 4.5 | feel: 4 | overall: 4.5
Yummy! Had on tap at the Blue Mermaid in Portsmouth NH. Nice darkish red brown, with a nice white head. Aroma of sweet malts, nuts and caramel. Taste is super! Sweet nutty malt flavors,are followed by just a hint of hops. Malts really come thru with brown sugar/nutty blend. This is a great beer!
296 characters

4
/5
rDev
+1.3%
look: 4 | smell: 4 | taste: 4 | feel: 4 | overall: 4
This was a very nice beer. On tap, served in a mug, the beer was a reddish/brown color with a thick off-white head. A little bit of lacing. A caramel aroma primarily, also a little nut aroma. Taste followed aroma, caramel and nuts. Nice hops kick at the end. It felt good and tasted good.
288 characters
4.55
/5
rDev
+15.2%
look: 4.5 | smell: 4.5 | taste: 4.5 | feel: 4 | overall: 5
my favorite brew pub on the planet--moat mountain in north conway, nh on the east side of the white mountains. far and away my favorite place.
anyway, brown ale isn't my beer of choice but i make an exception for moats.
far and away the best example of the style i've ever had. big 22 oz glasses!
298 characters

4
/5
rDev
+1.3%
look: 4 | smell: 4 | taste: 4 | feel: 4 | overall: 4
Poured a hazy ruby and brown hue with a one finger foamy white head. There was good retention and lacing
The smell featured solid coffee and toasted malt aroma.
The taste was a clean and dry coffee and cocoa flavor. Good bitterness. Pumpernickle bread sort of doughiness.
The mouthfeel was clean with good carbonation.
Overall a very drinkable ale. Nice and dry. ABV - 5.5%.
386 characters
4
/5
rDev
+1.3%
look: 4 | smell: 4 | taste: 4 | feel: 4 | overall: 4
Pours a coppery brown, topped with a one finger off-white head. Only leaves sparse bits of lacing on the glass.
Caramel, nutty and earthy aroma, nice amount of hops for a brown ale.
Pretty consistent from aroma to taste, caramel, nuts, earthy. After the malty flavors some floral hops come out.
Medium bodied, to the lighter side, a pretty basic brown at first I only had a sampler, but the hop note convinced me to order a full pint on our second visit.
457 characters
3.83
/5
rDev
-3%
look: 4 | smell: 3.5 | taste: 4 | feel: 3.5 | overall: 4
This bier has a deep copper color, perhaps more closely approximating mahogany. Head was thin and a touch off-white. A bit of lacing, but not much. Nose had a nutty, semi-sweet malt aspect, with a hint of hops as well....though it was mild, in general. Body could have had a bit more to it....lies better than thin yet not quite medium. Still, it felt fairly smooth on the tongue. Nutty notes show in the flavor as well, along with some toffee characteristics. Balance is nice, with hops making a good statement at the end, with a pleasing, floral finish with out being bitter. Prosit!!
overall: 3.85
appearance: 4 | smell: 3.5 | taste: 4 | mouthfeel: 3.5 | drinkability: 4
579
679 characters
4.5
/5
rDev
+13.9%
look: 4.5 | smell: 4.5 | taste: 4.5 | feel: 4.5 | overall: 4.5
I saw the tap handle and thought, "not another brown ale." It came down in front of me, brown with a decent head. I took a sip, "wham". Hey, who put the hops in here? Initial shock turned to fascination. This was a crossbred beer, a yankee innovation. It had the sweet maltiness as it entered your gullet, then "wham", hops. A must try. A brown ale for hop heads? What next, stouts? Hmmmmmmmmmm....
398 characters
3.98
/5
rDev
+0.8%
look: 4 | smell: 3.5 | taste: 4 | feel: 4 | overall: 4.5
Nice American brown. Auburn-brown colour with sticky, tight head with lace and cap that are long lasting. Sweet maltiness and very slight hop flower. Solid, thick malt with some sweetness and hop bite. Very smooth, thick medium body.
A nice hoppy brown with a very smooth body and a nice look. Cheers!
311 characters
Moat Bone Shaker Brown from Moat Mountain Smoke House & Brewing Co.
3.95
out of
5
based on
172
ratings.