La Cervoise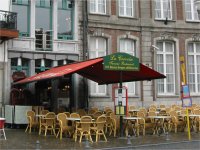 Reviews by TheLongBeachBum:
TheLongBeachBum from California
4.15
/5
rDev
-1%
vibe: 4 | quality: 4.5 | service: 3.5 | selection: 4.5 | food: 4
La Cervoise is only two buildings down from the L'Excelsior and just across the beautiful cobbled Grand'Place from the Maison des Brasseurs, the other 2 notable BeerBars in Mons. If you have several hours here, the 3 Bars make a very interesting ménage-a-trois, and if it's raining (as it was when I was there), you will barely get wet.
Whilst L'Excelsior obviously has class, the Cervoise is the most down to earth of the 3 BeerBars, and it also has the most extensive Beer List.
Sitting on the edge of the main square, it is a very small 3 storey building that appears to be wedged in the tiny gap between its taller adjacent neighbors. It appears to be no more than about 20 feet across, yet nevertheless, it has an outside seating area, or terrace as the Belgiums like to call them. This comprises of some 6-8 Tables with whicker Chairs underneath a red awning.
As you enter, the bar is on the right hand side with some stools. A few Tables at the front offer a good view of the Main Square from inside. Further down the bar there are more high stools and some cubicles offer more cozy seating for couples.
The Beer List stretches to nearly 200, and concentrates very heavily on local Wallonian beers with only a few from outside of the locale. However, this is a great chance to brush up on beers from the nearby provinces of Hainaut, Wallonian Brabant and Namur, as well as a few from France. The Beer list includes some extraordinary offerings from local Breweries that may be experimental one-offs, unknowns, or maybe they just use the Bar as a proving ground for new beers. Don't be surprised if you don't recognize some of the beers on the list. Either way, they add a very interesting dimension and intrigue for Belgium beer fans.
Meals are served at lunchtimes and evenings, and the food menu has something for everyone, the home-made Pasta is particularly good.
A great Beer Bar, owned by local Belgium beer geeks, the best in Mons, and an excellent place to sharpen your Wallonian drinking skills.
Last Visit: 20th April 03
May 07, 2003
More User Reviews:


Radome from Florida
3.83
/5
rDev
-8.6%
vibe: 4 | quality: 4.5 | service: 3 | selection: 3.5 | food: 4.5
I was in Mons on business and met some friends in the Grand Place. It turns out this was the place they chose for dinner before I got there. Lucky for me, since this is the bar I hoped to try.
We sat outside in the cafe tables until it got too cold on that mid-October evening. The location and atmosphere outside were outstanding, inside it was a fairly standard Belgian pub.
Beer selection was impressive, but not Earth-shattering. I had two nice bottles I had not tried before, about 4 Euros each.
The food menu was fairly extensive, but not overly imaginative. Food was fresh, well-presented and delicious. It was more than I could eat.
Prices were reasonable for food and beer. The only complaint I had was the slow service. I got there after my friends had ordered and received their food. It took 45 minutes before the waiter deigned to take my order, then another hour or so before the food got there. Luckily it was worth the wait and the beers I had in the meantime helped make up for it. I understand extremely slow service can be a common problem in Belgium. The waiter was friendly and responsive otherwise.
Overall, I can recommend this bar/restaurant for their location, beer selection and excellent food; just don't go there if you are in a hurry to get someplace afterward.
Oct 26, 2012
BlackHaddock from England
3.75
/5
rDev
-10.5%
vibe: 2 | quality: 4 | service: 4 | selection: 4
Mons on New Years Day 2012; stopped overnight on the way home from Luxembourg and popped into four of the establishments around the Grand Place: this was our third venture into Mons's beer bars.
Long and thin with raised tables for two on the right, the bar taking up almost all of the left hand side. Modern without really trying, it doesn't ooze 'friendly boozer' or 'warmth,' it just has a large beer list: which is why we went in!
Cold outside, no tables and chairs out front: those inside were almost all empty, the locals had over done the night before, the young man fronting the place confirmed this and said he wouldn't have got out of bed either if it hadn't been his shift!
The place was too quiet really, it was 21.00 on New Years Day though: so I had two quick beers, the wife one and we left him with a couple of his mates who looked like death warmed up: I'm sure they were all pleased to see us leave so they could lie down and whine a little.
I didn't think the tap choice was overly impressive, I had a draught 'Binchoise Biere des Ours' while perusing the bottled list, ordering a 0.33 cl Silly beer: La Divine. Both beers were fine, the wife had a bottle of still water.
Caught the place on a bad day, beers were fine, it just lacked everything else a good beer bar should have.
Feb 08, 2012
chwilliams from Oregon
4.5
/5
rDev
+7.4%
vibe: 4.5 | quality: 5 | service: 4 | selection: 5 | food: 3
This place has the best beer list in Mons, bar none. I spent two weeks in Mons on business in the summer of 2008 and kept coming back to this place time and time again. I'm going back in a month and can't wait to go there.
The menu is reallly long, covering all the diverse styles that make of the Belgian beer scene. They've got stuff you've heard of and stuff you'll never see again, they even have Guinness and Stella just in case you happen to bring a friend along.
Note: the waiters know what they're talking about. When they say "we have more Saison Du Pont, but we don't recommend serving it b/c it's warm" they mean it ;)
Sep 27, 2009
BrewMaster from California
4.4
/5
rDev
+5%
vibe: 4 | quality: 4.5 | service: 4 | selection: 5 | food: 4
I visited this establishment on a sunny Saturday afternoon of June 25, 2005. The terrace this day was covered with people. They had at least 50 tables out in front of the establishment and about 80% of the chairs were full. We were seated quickly and cordially by the staff and left to select our beers. The long beer list included many beers we had never heard of as well as many well known and good Belgian beers. All the beers on the list were Belgians and most were local. The staff was very friendly and they all cracked jokes whenever the situation permitted. All of the beers were served properly and with care.
The food was pretty good too. The food was also a bit pricier compared to the beers. But all around it was well worth it. I look forward to returning to La Cervoise next time I am in Mons.
Jul 01, 2005
La Cervoise in Mons, Belgium
Place rating:
4.19
out of
5
with
6
ratings