Maisson Des Brasseurs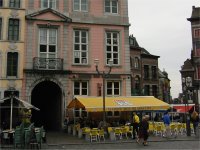 Reviews by TheLongBeachBum:
TheLongBeachBum from California
3.45
/5
rDev
+35.3%
vibe: 3.5 | quality: 3.5 | service: 3.5 | selection: 3.5 | food: 3
The Maisson des Brasseurs was the third, and final, stop during my recent trip to Mons. After the classy L'Excelsior and the superb beer range in La Cervoise, it was time to cross the Grand'Place and take the opportunity to sit outside, as thankfully the rain had stopped by the time we moved here.
The Maisson des Brasseurs has a lovely Terrace outside what are actually two Buildings formed into one. A large, pink painted 3 story building right on the corner of the Grand'Place has been opened out inside. With the high roof of the ground floor it lends a spacious feeling to the interior. It has been extended by knocking through into the much smaller three story brown brick building just around the corner. The two-buildings-in-one adds plenty of character, as do the old-fashioned pictures painted all around the walls.
The "Brewers' House" sadly has no Brewery, but it does have a large Copper Kettle Lid above the Bar, similar in style to that of the Brouwzaele in Gent.
The Beer List is 50, or so, but like the other 2 bars above, it is strong on local beers. These include St. Feullien and Dupont, as well as a couple of the highly excellent beers from Ellezelloise. There are few regular beers and most are worth trying here.
I never had any food here, but from what I could see elsewhere, the food look like it was limited to just snacks and plated light meals.
The real beauty of this Café though is the Terrace outside, you can view all of the rest of marvelous old style cobbled Grand' Place from here, kick-back with a great Wallonian beer and just watch Mons go about its business.
Last Visit: 20th April 03
May 07, 2003
More User Reviews:
BlackHaddock from England
1.64
/5
rDev
-35.7%
vibe: 1.5 | quality: 1.5 | service: 1 | selection: 2.5
Please do not use this place: read on for the reasons.
Mons on New Years Day 2012; stopped overnight on the way home from Luxembourg and popped into four of the establishments around the Grand Place.
It is now 22.00 and our evening had been going really well: this bar is on the corner that leads back to our hotel; we saw it earlier and decided to use it for our night caps. On entering you notice how bright it is, steps lead down to a lower level with a neat looking bar, we sat near the bar with its brewing kettle lidded roof, the place is almost full, with people at every table; we were lucky to get our place, or were we?
I asked if it was OK to use English, as I normally do if I can't speak the local language, I don't do French: the young chap in his bright yellow shirt and tie said he had good English.
I ordered a Quintine Blonde (from Ellezelloise) on tap, it was well advertised around the bar and appeared to be the only draught beer available: the wife ordered one as well, along with a bottle of still water. When the guy returned he served me my lovely looking beer: my wife got an OXO cube in boiling water with two small pieces of toast. My wife and I looked at each other; smiled and wondered if they were taking the piss: it was cold outside, so the wife excepted the OXO and I had the toast pieces with my beer, the OXO and toast cost less than the beer, I checked the menu to make sure they weren't trying to rip us off.
I enjoyed my beer and ordered another, different beer, this time a bottle of Montagnarde from Abbaye des Rocs, the wife now warm inside, asks for a glass of Ros~e wine, there was a choice of two: my bottle and glass arrive as requested but my good lady watched the barman pour her wine into a glass, he realised there wasn't enough wine in the bottle to fill the glass, so he wandered over to the draught wine taps and tops up my wife's Ros~e with draught white wine. She was not impressed, but we'd been drinking in three bars already, we have no French language, and we didn't want to cause a situation we couldn't control; we certainly were not drunk but it wasn't the time or the place if you know what I mean: so we supped up and left, leaving no tip.
We intend to revisit Mons again one day, but we'll be giving this place a miss and I'd like you to do the same.
Feb 08, 2012
Maisson Des Brasseurs in Mons, Belgium
Place rating:
2.55
out of
5
with
2
ratings