Dismiss Notice
Weeping Radish Bavarian Restaurant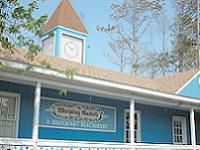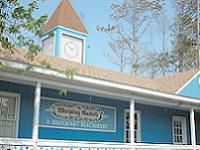 PLACE INFO
Type:
Bar, Eatery
623 US Highway 64
Manteo
,
North Carolina
, 27954
United States
(800) 896-5403
// CLOSED //
Notes:
No notes at this time.
Added by BeerAdvocate
PLACE STATS
Reviews:

14

Ratings:

pDev:

13.79%
HISTOGRAM
Ratings: 14 | Reviews: 14
Reviews by JayQue:

4.45
/5
rDev
+18%
vibe: 4 | quality: 4.5 | service: 4.5 | selection: 4.5 | food: 4.5
Visited the restaurant on my last trip to the Outer Banks in August. Stopped for lunch. The restaurant atmosphere was good, decorated like a German Beer Hall. The bar looked inviting, I'm sure I would have enjoyed an afternoon of drinking beer there if time permitted. The menu was German food: sauerbraten and various choices of sausages for a platter. The food was good, the service excellent. I bought a six-pack of each of the four varieties they had on sale in the store and a buy-one-get-one free pint glass. I go to the OBX every year and plan on making this restaurant a regular stop. They have an Octoberfest in September, might have to check that one out too.
669 characters
More User Reviews:
2.95
/5
rDev
-21.8%
vibe: 4 | quality: 3 | service: 2.5 | selection: 2.5 | food: 4
We visited this place under the pretense that it was an actual traditional Bavarian-style brewery while a large group of friends were on spring break. Unfortunately I learned that it was not in fact a brewery at all and all the beer was shipped in. Being a beer guy that is a bit disheartening, but not a deal breaker I suppose. The place isn't easy to miss, its themed like a Bavarian village house or pub and the interior is similar. Large and wide open with a retail shop near the door. Our larger group was seated in a pleasant sun-lit room off of the main floor with two tables so unfortunately we were split up, but that wasn't a big deal. The beer was pretty good, traditional German brews but a bit mild overall. The food was also traditional German fair and very tasty; certainly the highlight of the visit. The strussel and the lemon dessert were fantastic. The service however was a bit lacking. The lady who took care of us wasn't too attentive or friendly despite the fact that we were practically the only people in the place at about 3:00pm. Also the place isn't cheap so be prepared to drop a few bucks. Not my favorite establishment by any means but worth a try especially if you enjoy German food, which I do very much.
1,237 characters

3.88
/5
rDev
+2.9%
vibe: 4.5 | quality: 4.5 | service: 3.5 | selection: 3 | food: 4.5
Went to this restaurant during a road trip. Was a place I set out to go to, had planned on going to their eco-farm brewery on the way to this restaurant, but I drove by it, oh well.
The place was a real novelty, I really enjoyed the Bavarian setting, it's almost like a small village the way it's set up. Unfortunately most of the shops were closed at the time so I didn't get to peruse, and my girlfriend is afraid of anything German or Bavarian, so we didn't stay long after eating.
The food was good, we each got a different kind of wurst, I can't remember which they were cause I've never heard of them, but they were delicious. Service was good, I think our waitress was Bavarian from her accent which added an authentic aspect. The restaurant also had a Bavarian atmosphere which I liked very much, with a giant sign of a weeping radish and a cool looking chandelier. (Note: The name weeping radish was derived when they put salt on radishes to eat, the salt would draw out the moisture and make it looked like they were weeping.)
The beer wasn't too bad, the only ones that really stood out to me were the weizen and maibock, the rest were alright. I bought bottles of every kind they had so I could try them out.
1,223 characters
4.25
/5
rDev
+12.7%
vibe: 4.5 | quality: 4.5 | service: 4 | selection: 4 | food: 4.5
This is truly a gem of a restaurant. Nestled in the middle of Manteo island off the coast of NC deep in the woods is this Bavarian microbrewery oasis that provides an authentic German food and beer experience.
From ornate carved woodwork and beer-hall-style tables, benches and bars to mounted deer and elk head on the walls, you'd swear you're somewhere in the black forest, not the crystal coast. The food is very traditional but the staff is willing to accommodate; I wanted some schnitzel (who wouldn't?) and all they had was a schnitzel sandwich. I ended up talking to our waitress who changed the order, sides and basically the whole dish so I could get what I wanted. She also did this for the friends I was eating with. They have a number of good beers (they are regarded as one of the first microbreweries in the US) and a great gift shop where you can walk out with some growlers of the beers they have. You absolutely have to make a point to stop at this restaurant if you're anywhere near the area.
1,012 characters
3.68
/5
rDev
-2.4%
vibe: 4 | quality: 3.5 | service: 3.5 | selection: 4 | food: 3.5
Stopped in for a late afternoon snack and a beer. I saw my beer sitting on the bar for about 5 minutes before the waitress asked another server to bring it over. She did later tell me she was buying the drink because of the delay. A second round I ordered came right away. We ordered a cheese and sausage platter to snack on and it went quite well with the Black Radish Dark Lager I was drinking. I considered trying a tasting tray but the waitress said the beer samples were served in little plastic "dixie cups." I passed.
After eating I went into the small gift shop and made up a mixed case of the 7 styles available to bring home. I'll do the tastings out of glass in the comfort of home. The ladies in the shop were a blast and we had a good time while shopping.
Overall it was an enjoyable stop.
809 characters
2.78
/5
rDev
-26.3%
vibe: 4.5 | quality: 2.5 | service: 2.5 | selection: 3 | food: 2
We arrived at lunchtime during their Oktoberfest celebration in mid September. We were greeted by a nearly full parking lot, a large temporary Oktoberfest tent, and a little wooden entrance way with benches on either side that were filled with some very friendly patrons greeting us. What we then saw was a wonderful wooded courtyard with several levels of wooden decks. What great atmosphere! And we haven't even stepped foot in the restaurant yet! There was a band playing too, that my 2-year-old son loved. A pretty decent little polka band and three ladies playing their hearts out on the bells. Later there was a bluegrass-ish trio that wasn't all that great, but oh well.
Although there was food being served outside, we ventured indoors since we had a couple vegetarians in our party and there weren't many options for them outside. The inside decor was very nice. Traditional German, a little cramped, but not appealing. The server's uniform was attractive and traditional and she even had the accent, a real accent... though I heard a guy at the next table saying she wasn't German, she was Austrian. Whatever, close enough. Nice girl... but not the most knowledgeable about the menu or the beer. Nor was she the most efficient as our beers sat on a tray on the bar for over 10 minutes before she brought it over to us and served it (you bet I was counting, we had been on the road for hours before our stop at this brewpub and I was thirsty!). The appetizers came and after tasting them, we were quite excited for the main course. The pretzel bread was very good, but their cheese spread was fantastic! BUT the rave reviews came to a crashing halt when we got our entrees. I got a platter that had three different German sausages on it (Bratwurst, Brauenwurst & Knackwurst) that were... to say they were sub-par is being kind. The rest of the side dishes were also nothing to write home about, unless you're writing to tell the to avoid this place. Everybody else at our table, including my son, shared my disappointment with the meal.
And the beer was nothing special either. I hear Weeping Radish talk about how their Black Radish has won several awards... and I'm sorry but I just don't see it. I've had far better. Around the table we sampled all the available beers, and with the exception of the Kölsch nothing was at all memorable.
The bill was outrageous for what we got! And totally not worth the experience. What a bummer! It started off so well, and then just flopped. I want to say don't EVER visit this place, but every place has their off nights, and with everything going on because of their Oktoberfest celebration, I guess that's a little understandable.
So my final say: wasn't a good experience, but it definitely has potential.
2,784 characters

3.75
/5
rDev
-0.5%
vibe: 4 | quality: 4 | service: 3.5 | selection: 3.5 | food: 4
Not too bad to find off 64, if heading East it will be on your left before you get to 158.
Entering the building is much more difficult. You wind around the porch and finally come to a poorly marked door, enter there and you still have to ask where to sit. Dunno who figured out this to be a good arrangement, but I hope they were not paid to do it.
The atmosphere was pleasant with Oom-pa-pa music playing and a real Bavarian feel to the place. The first server was pleasant, the next guy was punctual, but had the personality of a stick of wood and was not up to date on the beer selections. He told me that 4 were on and as I left I glanced in the pub and noticed some other selections were available. At any rate somwhere between 4 and 6 beers were on.
The food was good, nothing spectacular, but tasty. The prices were a bit too high for my tastes. I'd go back, but I wouldn't make another special trip. I saw no evidence that any beer was brewed on the premises and the bottles were marked MD and the take home liters were marked as "packaged at", not brewed at. I think the beer is still being trucked in from out of state.
EDIT: The beer is currently being trucked in from MD, nothing brewed on site according to a local source.
1,248 characters

3
/5
rDev
-20.4%
vibe: 3 | quality: 2.5 | service: 4 | selection: 3 | food: 2
Reasonable, or you get what you pay for. I visited this place while vacationing at the Outer Banks recently.
Pseudo German setting replete with the outfits worn by the staff. The service was ok, the beer was too. The rest, however, was not the best. The food was not near as good as advertised. Some sort of "German" pretzel that would mortify anyone from Philly. Dried out, salty something or other. The meal didn't get any better after that, either. Undersized portions, rolls not so fresh. You get the picture.
In conclusion. Unless you are right across the sound from the island, don't bother. I drove all the way from Southern Shores to go. Not near worth the hassle of traffic. Go to the Outer Banks Brewery instead.
728 characters
3.5
/5
rDev
-7.2%
vibe: 4 | quality: 3.5 | service: 4 | selection: 3 | food: 3
Stopped by for lunch on a recent trip to the Outer Banks and enjoyed it. If you are in the mood for German food and beer while visiting the beach, this is the place. I had the sausage plate for lunch with two different types of sausage, a pretzel, and sauerkraut for about $10. It was pretty good but nothing exceptional. Good atmosphere, good service, fun place to check out. Tried the Black Radish Lager, and again, it was good but nothing exceptional.
They did have a rather large gift shop where my friend was able to buy a liter glass for his collection so he was happy. I probably would not make a point to stop by again unless I was in Manteo and was in the mood for some German food.
694 characters
3.93
/5
rDev
+4.2%
vibe: 4.5 | quality: 4 | service: 3.5 | selection: 4 | food: 4
Weeping Radish has been contract brewing their brews up in MD, so I've had the opportunity to try the bottles. We were in the southern part of Nags Head, only a short hop over 64 to Manteo, so just had to stop in and get a gander.
Set up German beerhall style--just enough to remind me how I long for the old Baltimore Brewing Company--loads of wood, lots of open spaces, etc. etc. Around six or seven beers on tap, with allowances all the way up to German beerhall liter sizes. (Mmm, drinking liters always makes me miss the Paulaner in Bangkok) The dunkles and the altbier were pretty good. Taps appeared to be of nice quality, no stinkers in the bunch.
German food on the menu--are you surprised? We had the whole arrangement on the table, sausages, red cabbage, pretzels...All were well done and of ample sizes.
Overall, we had an awesome time washing down sausages with liter sized mugs of goodness. If you are in the southside of the OBX, this one is a must stop.
979 characters

3.9
/5
rDev
+3.4%
vibe: 4.5 | quality: 3.5 | service: 4 | selection: 4 | food: 4
Easy to find right off Highway 64, next to a large Christmas Shop. The building screams German style - lots of dark wood, loud, and festive. Large gift shop just off one main entrance that had loads of t-shirts, hats, and cases of beer. Stopped in mid-afternoon on two seperate occasions during our trip. We avoided the crowded main dining room and opted to sit at the small 8 stool bar both times.
There were six beers available: the standard gold lager, fest, dunkles, weizen, along with two seasonals an altbier and kolsch. Beer quality was decent but not overwhelming. 1/2 pints, pints, and litre glasses are available. When we visited they were experiencing a cooler problem, so the beers came out slightly warmer than what are they normally served at, which upset some of the patrons but not me. They were still cool and refreshing, just not ice cold like they normally serve them.
The menu is laced with German food, and my wife and I had german sausages, goulash, and the standard pretzel. All were good and paired well with beers, especially the german sausage.
The three bartenders that served us during our trips were friendly, but seemed to be overworked with constant pours and serving tables outside the bar. They definitely knew the beers.
An older lady working in the gift shop told me the other two Weeping Radish's were just recently closed, and this is the original and only one remaining. Open since 1986, this place is worth a visit for a nice german food and beer experience.
1,510 characters
4.22
/5
rDev
+11.9%
vibe: 4.5 | quality: 4.5 | service: 4 | selection: 4
Very cozy interior, all German beerhall-type decor. There is a bar area with about 10 tables, and a separate dining hall, with about 15 tables, and a balcony with @10. Deer heads on the walls, reindeer antlers too. This place is for real!
I was in the bar area. There were locals at the bar, which is a little odd, considering this is a resort area. There was one barkeep/waitress, working her ass off serving everyone there. The beers were good. I didn't eat here. There are two other Weeping Radish restaurants, gotta check them out!
538 characters
4.18
/5
rDev
+10.9%
vibe: 4.5 | quality: 4 | service: 4 | selection: 4.5 | food: 4
The Real McCoy, if only they let you take the liter beer glasses OUTSIDE! Drinking from plastic cups should be verboten.
Inside is a beer hall and a tavern. This German food is the best you can get in the Outer Banks (what do you expect) and the beer is served in THE glass. Got to love a place that gives you beer in a real liter glass. The beers are very good and they put some thought into them- with an occasional Stone beer. But why not let us take the beer outside in the liter glass like in REAL Germany? Why must we drink from plastic cups!
Don't forget to bring a couple of liter bottles home.
Returned on 8/4/2005 and found the place as good as usual. Beer was $6.99 a liter, though entres were pretty expensive ($21.99 for the Bavarian platter), but hamburger (see lunch) was reasonable.
802 characters
4.35
/5
rDev
+15.4%
vibe: 5 | quality: 4.5 | service: 4 | selection: 4 | food: 5
There are three of these out on the Outer Banks, but this one is the only one I've been too, and it appears to be the most atmospheric (it's also the first one they opened). Anyway this place is a must see if you're at the Banks. The atmosphere is great, as it feels like a real Hofbrauhaus, but since it's in a tourist area it's very casual. The beer garden is great, and a nice Christmas store is adjacent to the property.
The food is plain awesome. Big selection of all the German classics plus American stuff too. For the beer selection, the focal point would definitely be their own beers. Sure they have other stuff, but it would be a sin not to try their brews since they are so good. Weeping Radish beer is available all over the Banks (I've seen it in Brew-Thrus, 7-11s, and grocery stores). The owner does tours of the facilities, and he's really cool about answering questions. Nice gift shop too.
What else can I say? Check it out if you're in the area, and you won't be disapointed.
1,002 characters
Weeping Radish Bavarian Restaurant in Manteo, NC
Place rating:
3.77
out of
5
with
14
ratings