Kplus Pivo
| Pivovarna Laško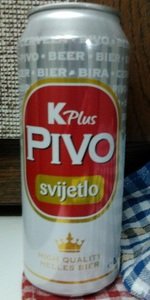 BEER INFO
Brewed by:
Pivovarna Laško
Slovenia
pivo-lasko.si
Style:
Euro Pale Lager
Alcohol by volume (ABV):
4.00%
Availability:
Year-round
Notes / Commercial Description:
No notes at this time.
Added by djura on 01-09-2012
Ratings: 11 | Reviews: 4
Reviews by apasternak:
More User Reviews:

2.72
/5
rDev
+20.4%
look: 1.5 | smell: 2.5 | taste: 3 | feel: 2.75 | overall: 2.75


2.48
/5
rDev
+9.7%
look: 2.5 | smell: 2 | taste: 3 | feel: 2.5 | overall: 2
Don't know why am i reviewing this one,but someone must do it.
This is made in Lasko for Croatian supermarket Konzum. So it is like Tesco lager and similar market beers.
It is cheap lager,maybe little more above average for this kind of product.
Golden color,white foam,bubbling's lasting for few minutes,skunky smell and taste.
Overall-It is supermarket beer,so it taste's as you could expect it..
402 characters

3.04
/5
rDev
+34.5%
look: 3 | smell: 2.75 | taste: 3 | feel: 3 | overall: 3.5
.5 litre green can purchased at a Mercator supermarket (outside Slovenia). Cost was 0.60 euros.
It's an above average refreshing supermarket lager bereft of the usual metallic and/or buttery diacetyl off-flavours, with a clean barley/Pilsner malt backbone, generic minimal hopping (a bit of grass and that's it), and a light body. Not watery or thin.
It pairs well with food, it's cheap, and in high quantities it will impart intoxication. Unremarkable albeit drinkable, this is a brew I'd return to over many other beers in its price point and market category. But it won't impress anyone.
C+ (3.04) / ABOVE AVERAGE
619 characters
1.87
/5
rDev
-17.3%
look: 1.25 | smell: 1.75 | taste: 2 | feel: 1.75 | overall: 2
500ml Can from Konzum, Zagreb (5.49 kuna):
This was a very cheap & boring beer, thankfully it feel short of being nasty but it wasn't a great one by any stretch of the imagination. Full of cheap adjuncts & corn, there wasn't really much going for it at all other than hinting at some grassy hops. Definitely not the worst lager I've ever tried but at the same time I'll not be looking to try it again.
401 characters
2.08
/5
rDev
-8%
look: 2.5 | smell: 2 | taste: 2 | feel: 2.5 | overall: 2
this is not nice. its a generic beer brand here brewed for a chain of grocery stores. the moderately cheaper price does not justify purchasing this, although its not as miserable as i suspected it would be. still might take it over a budlight on principle. pours clear and overly carbonated, diluted pee color. smells like a glass of water almost, just a faint hint of pale malt in there, but man this is odorless. flavor is equally absent, although i suppose that limits its repulsiveness. just doesnt taste like much, except for an acidic and tart aftertaste, theres not much happening. mouthfeel is like a soda, tons of carbonation leaves you gassy, and at 4% i wouldnt drink enough of these to get a buzz under any circumstances... well... almost any. bad, but not as bad as i thought itd be, but dont try this just to review it, as i did. there is nothing new to contribute here.
884 characters

1.62
/5
rDev
-28.3%
look: 2.5 | smell: 1 | taste: 2 | feel: 1.75 | overall: 1.25
Kplus Pivo from Pivovarna Laško
2.26
out of
5
based on
11
ratings.